Rising rates of addiction to heroin and prescription drugs have been making headlines across the country. People suffering with addiction have often been stigmatized and viewed as being too weak to address either moral or personal failings. But the reality is that addiction is one of the most common forms of mental illness that impacts tens of millions of Americans every year.
Recent advances in neuroscience have transformed our understanding of addiction and paved the way for new treatments.
Amy Lasek, an assistant professor in the departments of psychiatry, anatomy and cell biology at the University of Illinois at Chicago, says that scientists and treatment specialists now understand addiction as a biological phenomenon. Genetics, environmental influences and early trauma or stress can alter the brain's chemistry and give certain people predispositions to addiction.
"People need to realize that it's a biologically driven disorder, and people need to seek out treatment based upon the fact that it is driven by biology and understand that there are some treatments out there that can help people," Lasek said. "That doesn't mean that people aren't personally responsible. There has to be a desire and a need to quit the drug, but people need to know that there's help out there from the medical community."
T. Celeste Napier, a professor of pharmacology and director for compulsive behavior and addiction at Rush University, agrees.
"The organ – the brain – is no longer functioning normally, so it's a disease, just like heart disease or pancreatic disease. Now that we know the brain is no longer normal, I think we are comfortable with the idea that we can treat drug abuse with therapeutic drugs just like you would treat any other dysfunctioning organ with drugs," Napier said.
Dr. Christopher Holden, a visiting assistant clinical professor of psychiatry and director of addiction services as the University of Illinois College of Medicine, said treating addiction like a moral failure is harmful.
"Throughout history, addiction has been viewed as a moral failing. The model of understanding addiction is that of a moral model – that someone is evil or lacks willpower," Holden said. "And the implications of that are you blame the person, you don't treat them. Rather than treat them if they don't change, you punish them."
Some science is pointing to personality as a factor in addiction, too. 
"I think there is evidence that people can have impulse control disorder or personality types that means they are much more likely to abuse drugs," Lasek said. "There's an anti-social personality disorder, and people with that have predispositions that mean they are more likely to develop an addiction."
Part of what makes overcoming addiction so challenging, Napier said, is how the brain might experience pleasure after being exposed to drugs.
"One of the problems is that your brain adapts and gets used to you having this drug repeatedly. And so what your brain is always trying to do is to adapt to keep things stabilized ... so that if you don't have that drug onboard it can no longer function normally without it," Napier said.
"The very brain regions that we have to use to make good decisions, healthy choices – 'Do I use heroin or go to work today?' – that brain region is the brain region that is hijacked by the abused drug," Napier added. "So the capacity of someone who is addicted to make a good choice is highly compromised."
In recent years, heroin overdoses have surged, leading to a national discussion about how to treat opioid addiction. Holden said that restriction on prescription drugs has had an unintended consequence.
"Starting about five years ago, for the first time, more people started dying from drug overdoses than they were from motor vehicle accidents, and the overwhelming majority of that has been prescription opioids," Holden said. "Heroin, cocaine [and] these other things have been contributing to overdose deaths, but the real major culprit has been prescription opioids. And it appears that one of the results of trying to address that and limit access to these substances has been that some people have shifted over to heroin use."
There has also been an evolution in how we understand other addictive behaviors.
"The science is telling us now that behavioral addictions, such as compulsive shopping, pathological gambling, many eating disorders – they are actually engaging the same brain regions and the same brain chemicals," Napier said.
Upcoming Event: The Science of Addiction
An upcoming health and wellness event at DePaul University (1110 W. Belden Ave., McGowan South, Room 108) gives an overview of the most up-to-date understanding of addiction as a disease of the brain. The event takes place from 6-7:30 p.m. on Wednesday, March 23. Registration begins at 5 p.m. A suggested donation of $5-$10 is recommended. For more information, visit the event website.
Addiction Services
Substance Abuse and Mental Health Services Administration
National Helpline: Call 1-800-662-4357 or find a treatment location.
Hazelden Betty Ford Foundation
312-943-3534
867 N. Dearborn St.
New Hope Recovery Center
888-707-4673
2835 N. Sheffield Ave., Suite 304
Rosecrance Health Network
888-928-5278
For Chicago area offices, go here.
Gateway Foundation
877-505-4673
For locations across Chicago and the surrounding suburbs, go here. 
---
Related 'Chicago Tonight' content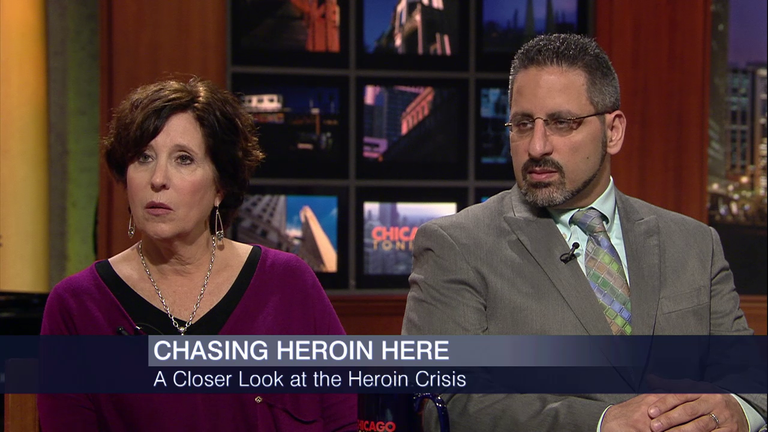 As Heroin, Opioid Overdoses Rise, Push for Antidote Availability Grows
Feb. 23: Opioid and heroin overdose deaths hit record levels in 2014, according to the Center for Disease Control and Prevention. The alarming rise in heroin deaths has tripled since 2010. "Chicago Tonight" talks about the heroin crisis with the executive director of a treatment facility and the founder of an anti-heroin education and advocacy foundation.
---
Combating the Rising Use of Heroin in City, Suburbs
Aug. 4, 2015: Some advocates and law enforcement officials say heroin use is rising in Illinois and that Chicago has one of the largest open drug markets in the country.
---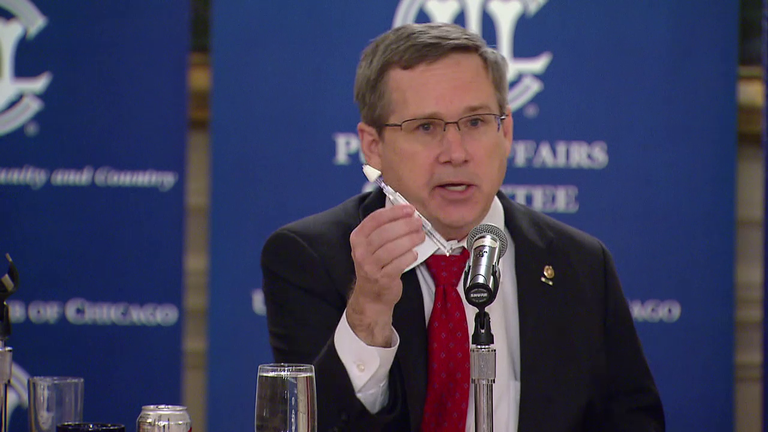 Sen. Kirk Expands Heroin Overdose Efforts
Dec. 29, 2014: U.S. Sen. Mark Kirk expands efforts to fight heroin overdoses in Cook and surrounding counties.
---