With just three weeks to go before the GOP Convention in Cleveland, the jockeying to be the running mate of presumptive Republican Party nominee Donald Trump is heating up. There's no shortage of names being mentioned, from Sen. John Thune of South Dakota to Sen. Bob Corker of Tennessee to former Speaker of the House Newt Gingrich.
There is also speculation Trump could generate even more ratings for the convention by making his big announcement there. The last time that happened was when George H.W. Bush surprised conventioneers with the nomination of Sen. Dan Quayle.
Here are the names being floated as potential VP picks for Trump: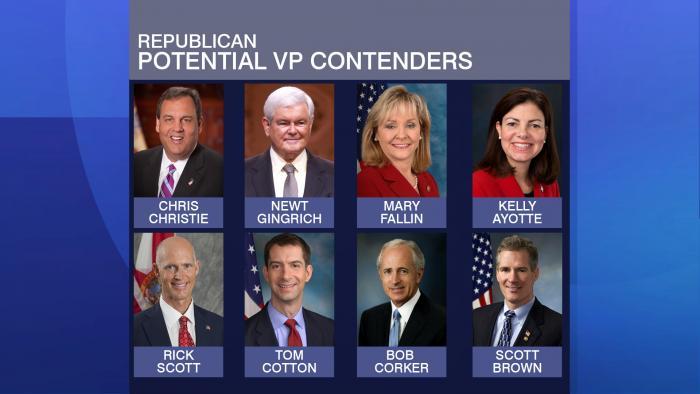 U.S. Sen. Richard Burr could also be a potential vice presidential candidate, said Doug Ibendahl, an attorney and former general counsel to the Illinois Republican Party. He's a supporter of Donald Trump.
"I think he is top-notch. I have no inside information but I would not be surprised if they choose him," he said of Burr. "All of these folks that you're mentioning, I think they have a place at a minimum in a Donald Trump administration. I think Trump really sees this as a team event and I think the VP is just going to be part of that team."  
Despite being the presumptive nominee, there's a growing list of people who have publicly stated they don't want to be Trump's VP, including former presidential candidate and Ohio Gov. John Kasich.
"Everybody on that list you just put up there with the exception of one has already said they wouldn't do it," said Pat Brady, former chairman of the Illinois Republican Party who now works as a consultant. Brady co-chaired Kasich's campaign in Illinois.
"He's not within Republican orthodox," Brady said of Trump. "I don't think it's going to make a difference if they're moderate or conservative. The problem is nobody wants to hitch their wagon to him because he's a train wreck. It's a career-ending thing."
The Democratic Convention follows a week later in Philadelphia. The leading candidates to be on the ticket with former Secretary of State Hillary Clinton would appear to be Massachusetts Sen. Elizabeth Warren – creating a historic all-female ticket – or Sen. Tim Kaine of Virginia, past chairman of the Democratic National Committee.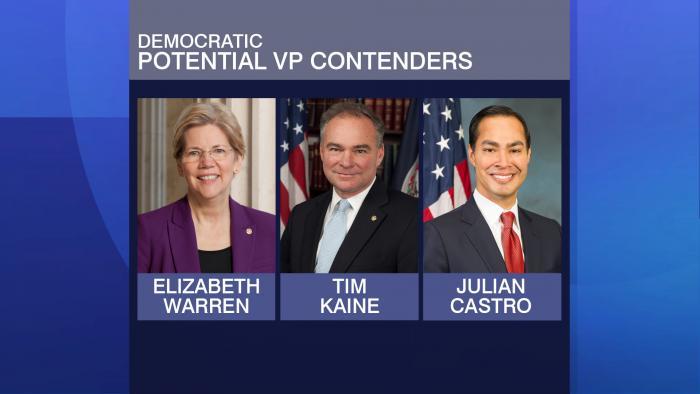 "I think that, as she has said, she will pick someone who will be a heartbeat away and can take over at a moment's notice. Clearly all of the people she's looking at are qualified," said Rebecca Sive, academic director of the Women in Public Leadership Executive Education Program at the University of Chicago and Clinton supporter.
"I think a dream team of two women after 200-plus years of tickets with two men on them would be terrific. I think the American public is ready for that."
While Clinton is the presumptive nominee, Bernie Sanders has yet to suspend his campaign.
"If that's the dream team, we're hoping a lot of people wake up," said Andre Vasquez, a Sanders supporter who was instrumental in organizing Sanders events in Chicago. "The concern for us is not necessarily the person, but the platform."
As for the possibility of a Clinton-Sanders ticket, Vasquez called it unlikely.
"I think it'd be very unlikely for her to pick Sanders, and I don't know if he was chosen he'd accept it," he said.  
---
Sign up for our morning newsletter to get all of our stories delivered to your mailbox each weekday.
---
Related 'Chicago Tonight' stories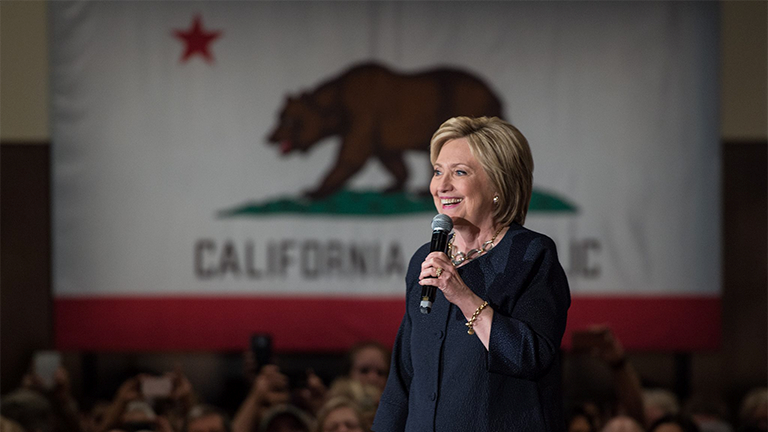 Clinton Clinches Historic Nomination But Sanders Vows to Continue Fight
June 8: The day after Hillary Clinton became the first female candidate of any major party to claim a presidential nomination, all eyes turned to her rival Bernie Sanders, who said he has no intention of backing down.
---
As Primaries Wind Down, Trump Seems Assured, Clinton and Sanders Scuffle
May 19: With less than a month until the end of the presidential primaries and caucuses, Donald Trump appears confident he'll pick up the Republican nomination. Despite Hillary Clinton's commanding lead in pledged and unpledged delegates, Sen. Bernie Sanders pushes on.
---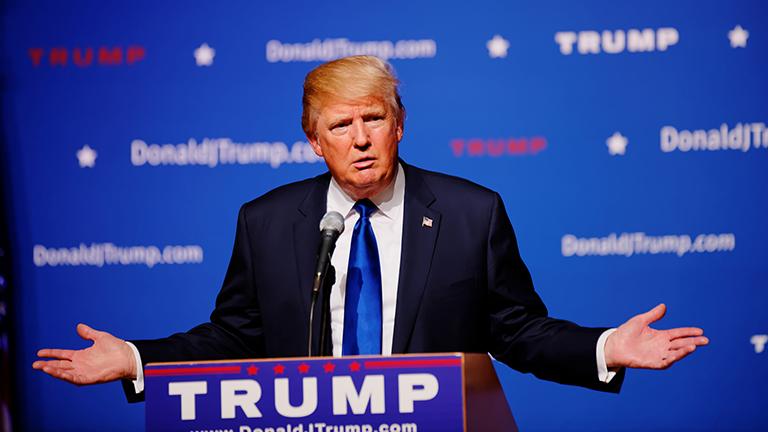 How Donald Trump's Rise Could Impact Illinois Races
May 5: Now that Donald Trump is the presumptive Republican presidential nominee, the hand-wringing and discord within the party is growing.
---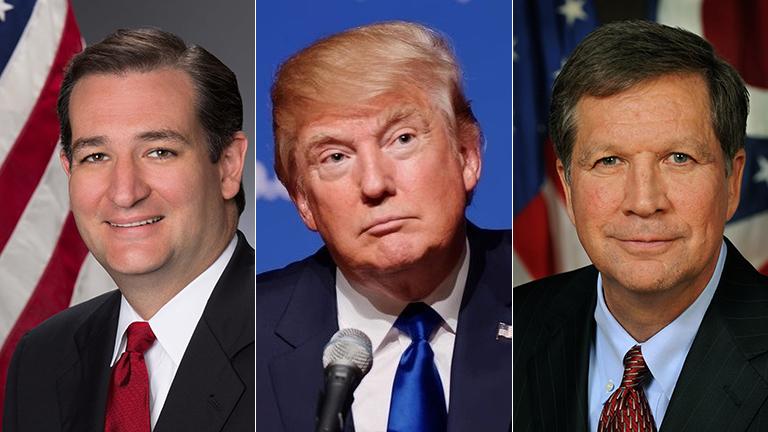 Indiana Primary: Front-Runner Trump, Cruz in War of Words
May 3: The barbs turned personal during Tuesday's primary battle in Indiana. Trump claimed another victory, and Cruz suspended his campaign. What will these results mean for the big picture?
---