The motto of the Union League Club of Chicago is "community, country and culture." That commitment is on display in the club's recent support of a cultural institution in the Kenwood community called Little Black Pearl.
TRANSCRIPT
Brandis Friedman: On the corner of 47th and Greenwood stands a high school and cultural arts center. At Little Black Pearl Art and Design Academy the curriculum can include painting, jewelry making and dance. At the Union League Club in the South Loop, an exhibition on the third floor gallery features paintings made by aspiring young artists who study at Little Black Pearl. And the students have been mentored in more than creativity.
Daria Amerik, teacher at Little Black Pearl: All teenagers have attention spans that they're going crazy all the time, so this teaches them to be consistent. It also teaches them professional development.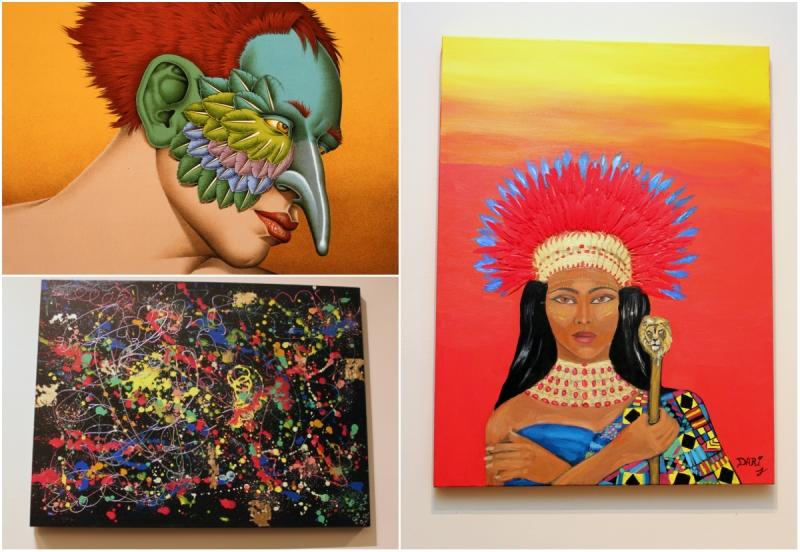 Artwork by Little Black Pearl students on display at the Union League Club.
Kyrin Hobson, Union League Club member: An important focus of all of this is the realities of careers in the arts. We talk a lot about that. What does it take to become an artist? If you love art and you might not wanna be a practicing artist you could be a curator, and they'll meet a curator. You could direct a cultural foundation. They meet a cultural foundation director. You could be a gallerist, work at an auction house, work in museums where there's woeful underrepresentation of people of color.
Amerik: This is really an example of what the art world is like for them as opposed to just sitting in a school creating stuff that they like and not knowing where to take it. This is a direct example for them, and it's to help them also with their portfolios for art school.
Friedman: The theme for the students this year is "I Am." We asked one young artist about her painting.
Shabrea Austin, student artist: I was born on 63rd and California, so that's where that comes from. And we used to go to the store and you know get snacks and all that, so that's where Mike's Corner Store came from. You gotta go back to your roots. We're African-American, so we come from Africa so that's where the jungle is inspired. And downtown Chicago—everybody loves it so, and I'm always there, so I felt like I needed to put that in there.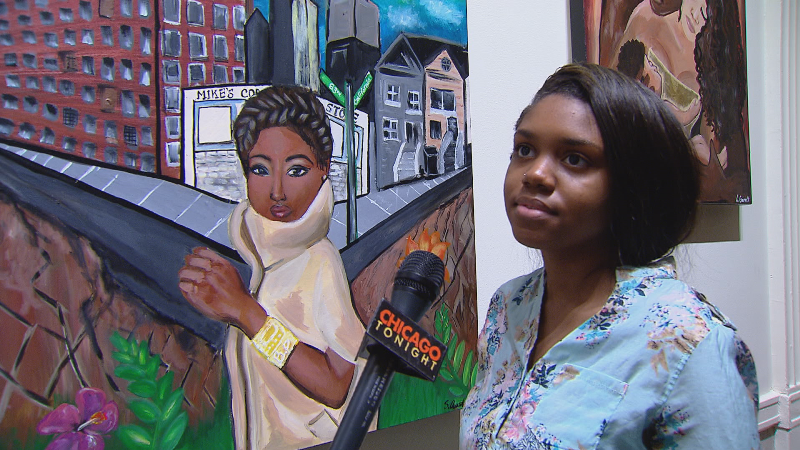 Shabrea Austin
Hobson: To declare who you are, capture it in a work of art and put it out there for the public is tremendously affirming for these students, and the depth of thought that they've put into this, and that their classroom teacher brings out of them, is extremely compelling. 
Friedman: The Union League Club has collected art since the late 19th century. This Claude Monet painting was purchased in 1895 for $500.
(Claude Monet)
Sally Metzler, Union League Club, art director: We have around 800 works in this collection. In the early days, we did collect European art, and we've started to focus more on the past 10-20 years on local art and supporting Chicago artists and in particular the Midwest as well. And emerging artists is really one of our passions now. We have a wonderful art committee that is all led by members of the Union League Club, and they go out into the community and search for new artists, new talent and bring those artists here.
Friedman: Students from Little Black Pearl studied the club's collection.
Austin: When we first started we had a look around, got some inspiration.
Amerik: They look at the paintings by the great masters here, the collection here, and they gain inspiration. We go back to the studio and they whip up their own ideas and this is the outcome. 
Hobson: They don't hold back. That's the great thing about teenagers, yes, they're all in. Their classroom teacher is in there with her sleeves rolled up, guiding them every day. The school fosters a climate of joy.
The exhibition of art from the Little Black Pearl is expected to be displayed at the Union League Club through the end of the week. All of the artwork by the students is for sale, and all proceeds benefit the Little Black Pearl and its students. Anyone interested in purchasing the artwork should contact Sally Metzler. 
---
Sign up for our morning newsletter to get all of our stories delivered to your mailbox each weekday.
---
Related 'Chicago Tonight' content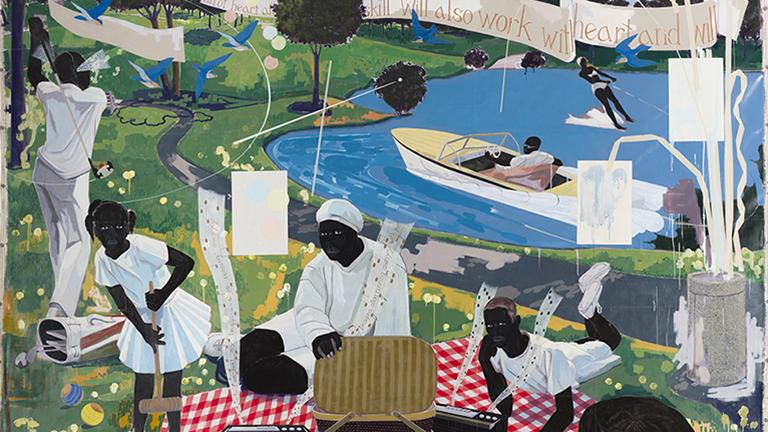 Master of Painting Brings Art from Bronzeville to the World
June 16: From his studio in Bronzeville, Kerry James Marshall creates large-scale canvases that are prized in museums around the world. A 1997 winner of a MacArthur "genius" grant, Marshall spoke with "Chicago Tonight" at the opening of his career retrospective at the Museum of Contemporary Art. 
---
In Chicago and Des Plaines, 2 Artists Driven by Myths and Dreams
June 3: A pair of Midwestern artists makes richly detailed paintings that explore mythology and nightmares. Aside from mysterious themes and striking visuals, the works of painters Gina Litherland and Paul Lamantia are essentially different.
---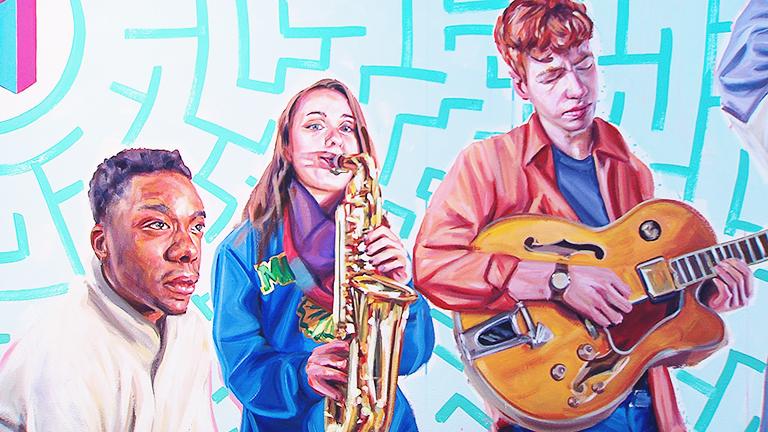 Big Mural on Campus: Lane Tech High School Adds to Art Collection
May 23: Students are the focus of a new mural at a CPS school that has a nationally recognized art collection. Join us for a behind-the-scenes look at the contemporary work.
---
CPS Students Learn about Mariachi  Music Through Performance
Feb. 25: It's the kind of story that might make you ask, Why didn't they teach music like that when I was in school? Moving to a mariachi beat, a talented group of students on the Southwest Side are learning about music by making it.
---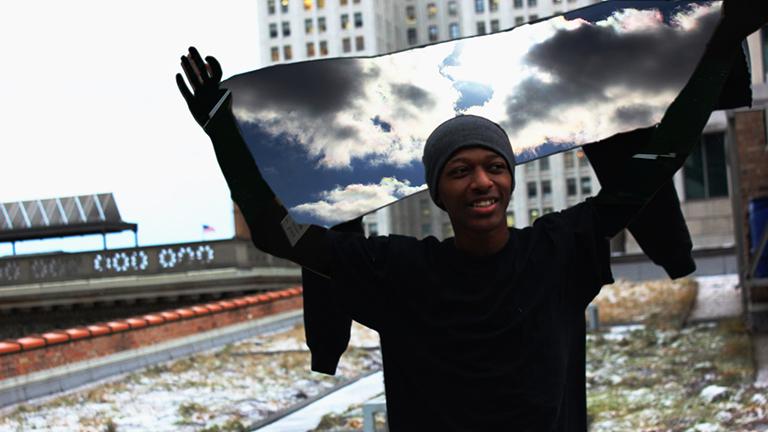 CPS Denies Arts Program At Gallery 37 Faces Chopping Block
Jan. 29: Chicago Public Schools denied Friday that about 150 students from around the city could lose a widely celebrated magnet arts program at the end of the current semester, despite statements made earlier this week to the contrary.
---