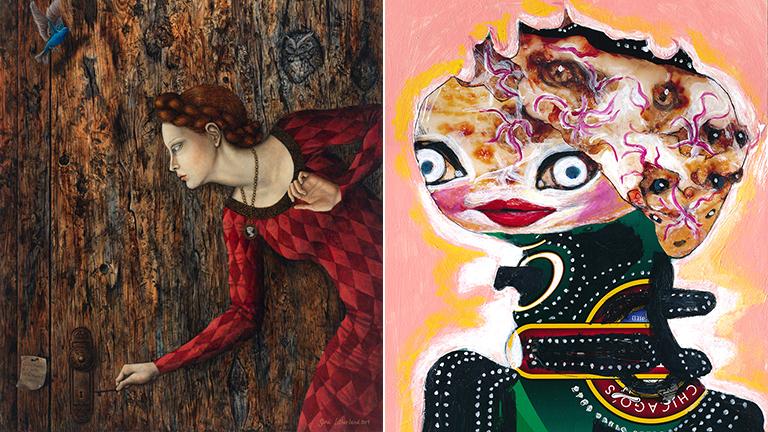 "The Unknown Room" by Gina Litherland, left, and "Lady Fukushima" by Paul Lamantia.
A pair of Midwestern artists makes richly detailed paintings that explore mythology and nightmares. Aside from mysterious themes and striking visuals, the works of painters Gina Litherland and Paul Lamantia are essentially different.
Litherland must be the only painter from Gary, Indiana to be dubbed a surrealist, but magic realist is a more accurate description of the artist. Litherland's oil paintings and watercolors bring to life a world of supernatural animals, literature and legends – not what you'd expect from a person who grew up in Steel City in the 1960s (she's now based in Wisconsin).
In pictures like "Conversation with a Cat" and "The Unknown Room," improbable scenes don't seem all that far-fetched. Layers of details add up to form folkloric images where animals and humans share a secret bond. This is a painter with an abundance of technique and a fertile imagination.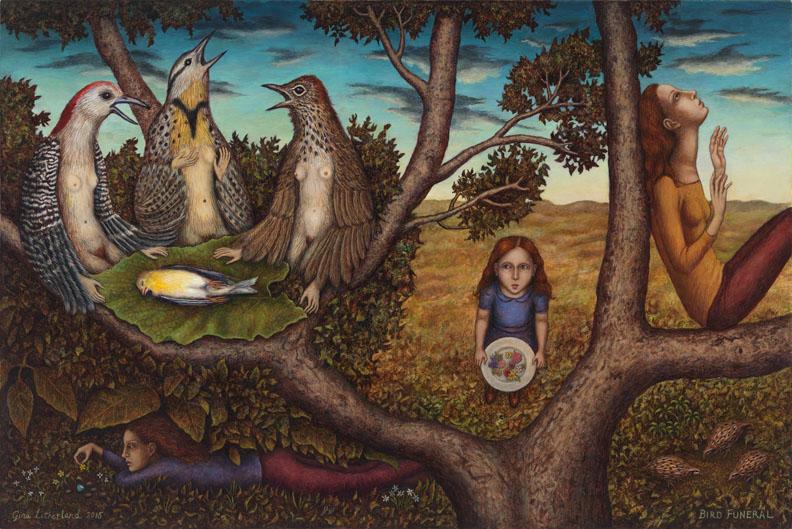 The painting "Bird Funeral" by Gina Litherland.
The artist says, "I have always been interested in the interplay between myth, the natural world, and the domain of dreams and memory. As a child, I spent many hours exploring natural wooded areas and empty lots inhabited by multitudes of insects and wildlife. This, along with a fervent interest in reading, particularly fairy tales, laid the foundation for my investigations as an artist."
The exhibition of new work by Litherland, "Unknown Rooms," opens Friday at Corbett vs. Dempsey gallery, 1120 N. Ashland Ave., 3rd Floor.
The dreamy paintings by Litherland are contrasted by the nightmarish works of Lamantia, now on view at Oakton Community College's Koehnline Museum of Art in Des Plaines.
The native Chicago painter has described his dark-edged art as an "obsession with my dreams and visions, and the need to record and communicate my feelings about them." Curator Nathan Harpaz adds that the images of this retired Chicago public school teacher are "rooted in deep psychological self-exploration."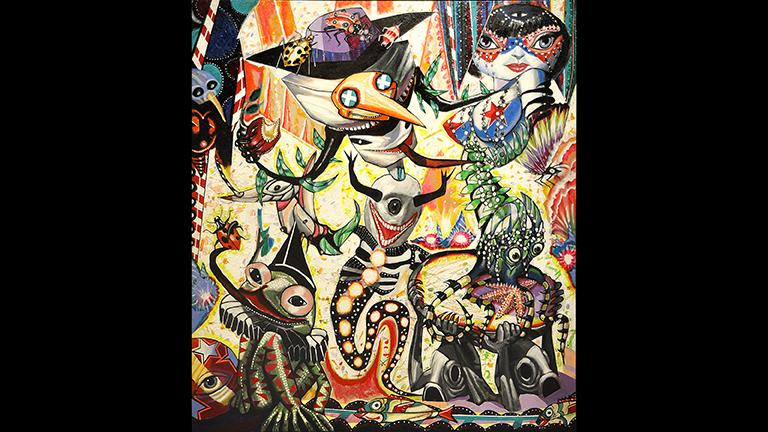 The painting "The Collector of Unfulfilled Dreams" by Paul Lamantia.
Lamantia's manic pictures can resemble a science fiction cosmos that is both scary and highly sexualized. With titles like "The Collector of Unfulfilled Dreams" and "Forbidden Reflections," it's no wonder the writer and critic Margaret Hawkins said of his paintings, "They are not conducive to a good night's sleep."
Adding a touch of absurdity to his surreal visions, Lamantia's more recent works are painted on frozen pizza boxes. Paintings and drawings from 1993 to 2016 are on view through June in the exhibition "Under the Skin of the Subconscious" at the small but vital museum.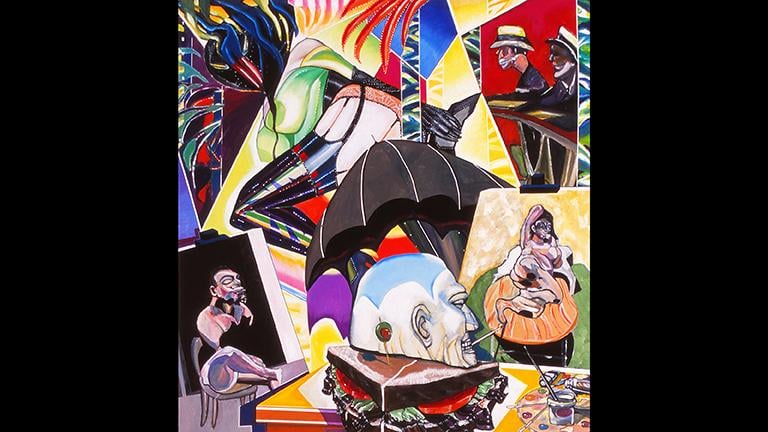 The painting "BLT" by Paul Lamantia.
Like Litherland, Lamantia studied at the School of the Art Institute of Chicago. Both artists have a fascination with the otherworldly – and talent that most of us can only dream of – but that is where their similarities end.
---
Sign up for our morning newsletter to get all of our stories delivered to your mailbox each weekday.
---
Related 'Chicago Tonight' stories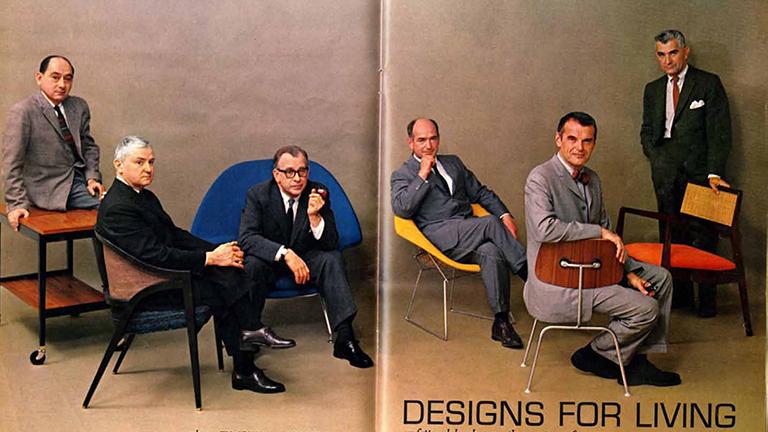 How Playboy Magazine Created a Taste for Architecture and Design
June 2: A new exhibition at the Elmhurst Art Museum examines how Playboy exposed its readers to new concepts in architecture and design.
---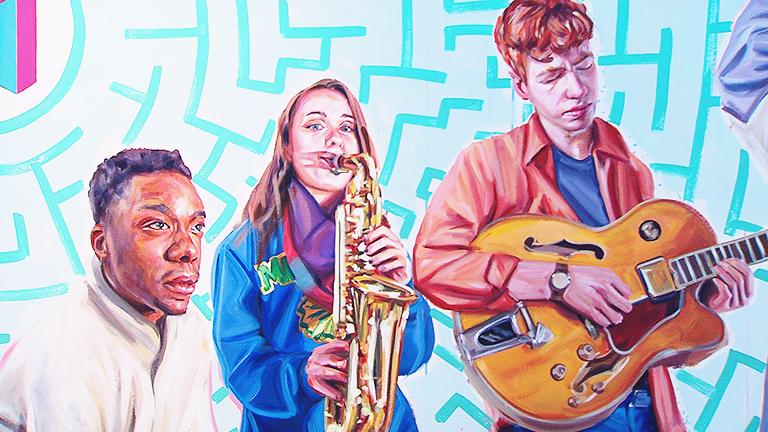 Big Mural on Campus: Lane Tech High School Adds to Art Collection
May 23: Students are the focus of a new mural at a CPS school that has a nationally recognized art collection. Join us for a behind-the-scenes look at the contemporary work.
---
Chicago Painter's Artwork Began in Suburban Kitchen, Ended Up in Museums
May 10: A Chicago artist makes photo-realistic paintings you have to see to believe. We take a look at the artist's self-taught beginnings in her suburban kitchen and how her hard work paid off. 
---