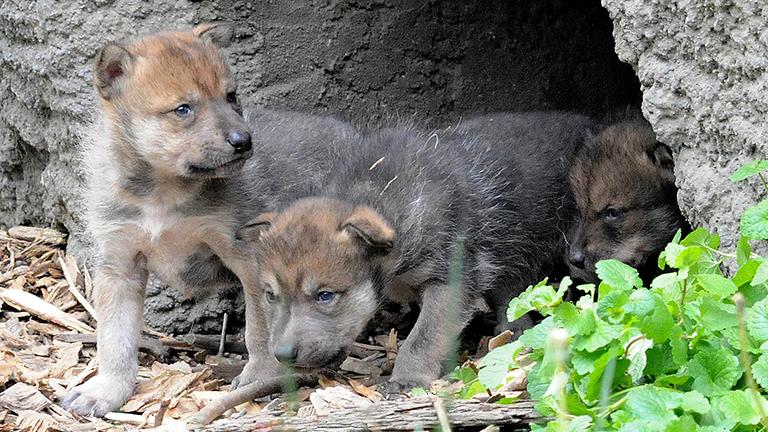 Mexican gray wolf pups, an endangered species, at Brookfield Zoo. (Brookfield Zoo)
Two Chicago-area institutions are the first in the nation to receive certification in a new program that assesses the well-being of animals held in captivity.
The Shedd Aquarium and Brookfield Zoo are among four institutions worldwide to receive the American Humane Association's inaugural Humane Conservation recognition. Mexico's Delphinus Aquarium and the Vancouver Aquarium also earned certification under the new initiative.
The program was developed by the Washington, D.C.-based nonprofit to recognize institutions around the world that provide stimulating and safe environments for the animals in their care, in addition to top-notch health care and preparedness for medical or operational emergencies.
According to the AHA, just over 2 percent of the world's 10,000 to 12,000 zoos and aquariums have been accredited in some way since 2008, and there is no independent certification based solely on the treatment of animals under human care – until now.
Any zoo or aquarium in the world can apply for certification, which is contingent upon the results of a third-party audit. 
According to the AHA's website, certifications programs "are built on the foundation of science and evidence-based practices, with independent third-party leading experts, scientists, behaviorists and ethicists determining what practices are indeed humane."
The application and review period includes a pre-audit process and on-site evaluations of animal health and housing conditions. Interactions between animals and their handlers are also observed, while habitats are checked for proper lighting, sound levels, air quality and temperature regulation.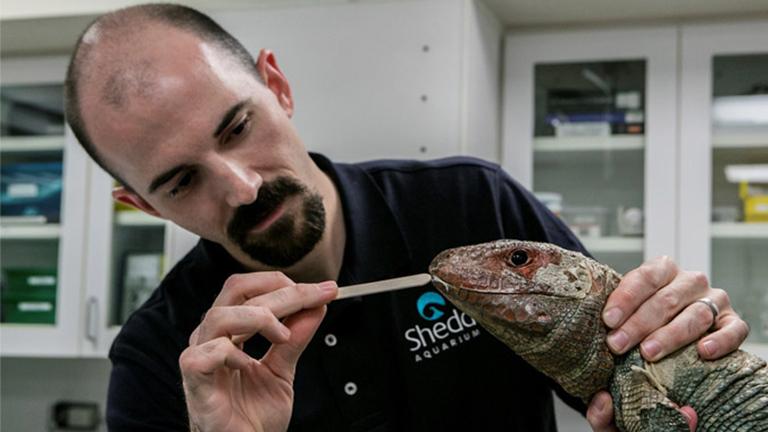 American Humane Association CEO and President Robin Ganzert said the Shedd Aquarium and Brookfield Zoo both "hire top talent that are there for their genuine love of animals." (Shedd Aquarium / Brenna Hernandez)
Setting the standards for certification is a scientific advisory committee made up animal welfare scientists, veterinarians and ethicists.
Two of those committee members are directly connected to the local institutions recognized by the AHA. Tim Binder is executive vice president of animal care at the Shedd; F. William Ziegler is senior vice president for animal programs at the Chicago Zoological Society, which operates Brookfield Zoo. Both serve on the program's advisory committee.
AHA president and CEO Robin Ganzert said the auditors employed by her organization to perform boots-on-the-ground inspections are completely independent from the advisory committee and merely subscribe to the standards set by that committee.
"Chicago is very fortunate to have some of the world's top experts in zoos and aquariums," Ganzert said. "But they were not the auditors at all."
Ganzert said the Shedd and Brookfield Zoo, which formally applied for evaluation, were certified not only for their animal treatment policies, but also for their conservation research and breeding programs. They have so far been the only institutions in the country to complete the evaluation process.
"These two institutions really want to showcase these incredible animals for the next generation," Ganzert said. "And we hope this can help save species today because that's one of the most critical issues we face in our time."
Ganzert said the list of zoos and aquariums applying for certification is growing as news spreads about the program. Currently, 16 are waiting to be evaluated. Among them are other institutions based in the U.S., and facilities in Hong Kong and Valencia, Spain. The length of the application and evaluation process varies, depending on an institution's size and number of species in its care, the AHA said.
"Many of the top zoos and aquariums want to show their consumers that these animals have enriched lives," Ganzert said.
A spokeswoman for the Lincoln Park Zoo said that institution was unaware of the AHA's new certification program.
Follow Evan Garcia on Twitter: @EvanRGarcia
---
Sign up for our morning newsletter to get all of our stories delivered to your mailbox each weekday.
---
Related "Chicago Tonight" Stories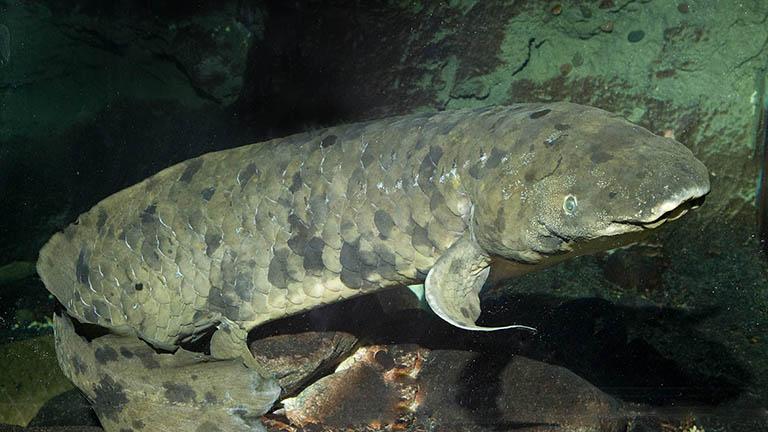 'Super Slimy' Granddad at Shedd the World's Oldest Aquarium Fish
May 19: Granddad is believed to be the oldest fish in captivity at any public aquarium or zoo in the world. The Shedd estimates he's at least a century old and that an "excess of 100 million visitors" have passed through the aquarium since his arrival.
---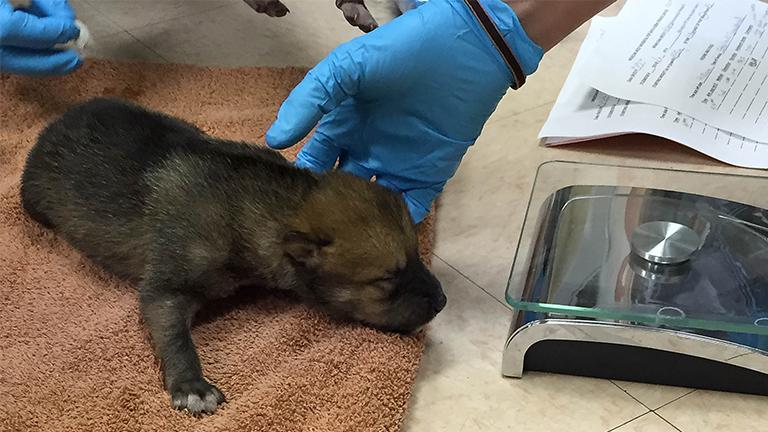 5 Endangered Gray Wolf Pups Born at Brookfield Zoo, 2 Sent to the Wild
May 13: Two Mexican gray wolf pups born at Brookfield Zoo last month were released into the Arizona wilderness as part of a carefully timed conservation effort. The species has been threatened by extinction for over half a century.
---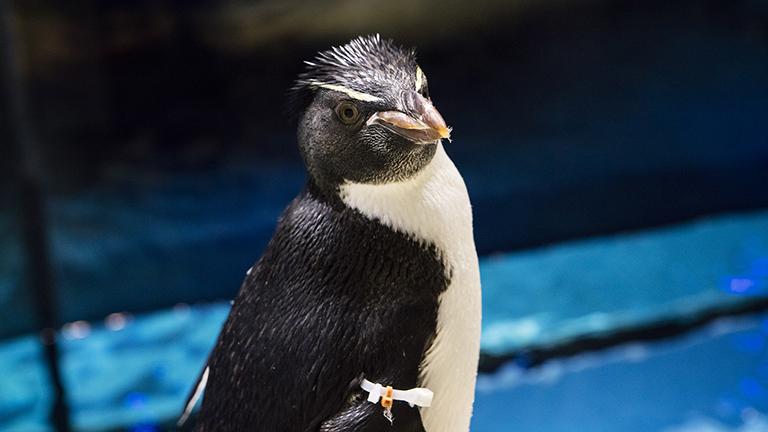 Young Hospital Patients, Staff Help Name Shedd Penguin Chick
April 25: After Lurie Children's Hospital of Chicago patients, families, staff and volunteers took part in a voting contest last week, the 10-month-old penguin previously known as Chick No. 23 is now called Diego.
---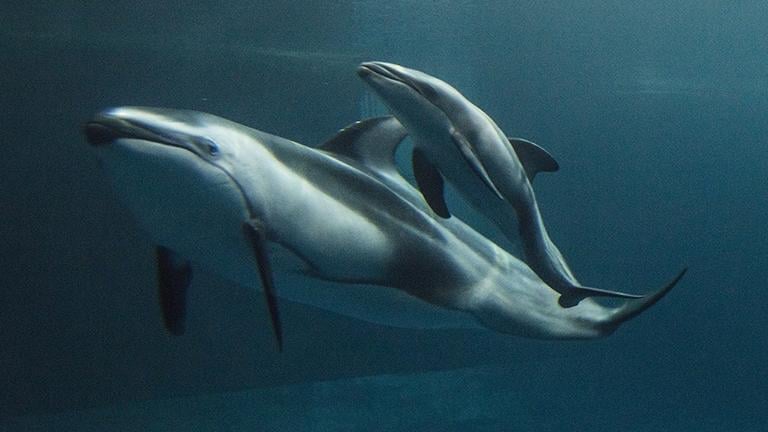 Pacific White-Sided Dolphin Gives Birth at Shedd Aquarium
April 19: Shedd Aquarium staff are watching a 28-year-old female Pacific white-sided dolphin and her newborn calf around the clock during what they call "a very crucial time."
---