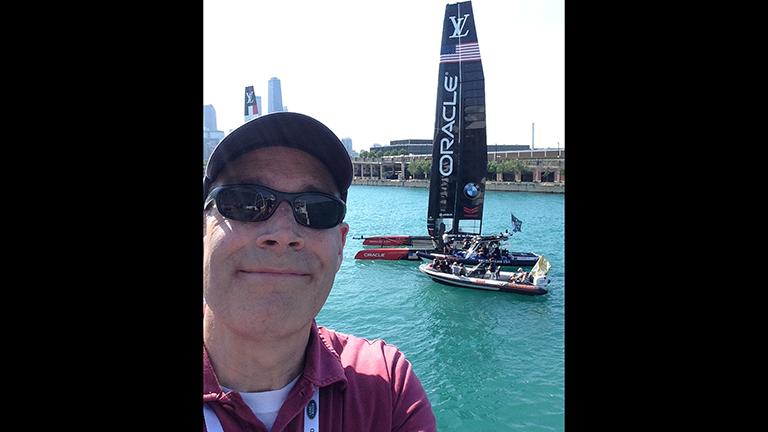 Geoffrey Baer snaps a selfie at the America's Cup World Series practice races on Friday at Navy Pier.
It's a boat ... it's a plane ... it's, well, kinda both.
I'm an experienced sailboat racer.  But I'd have no more idea how to sail the vessels I watched Friday during the America's Cup World Series practice races off Navy Pier than I would know how to pilot an F-14 aircraft.
My view of the event was from the Land Rover BAR spectator boat – BAR stands for "Ben Ainslie Racing." Ainslie (that's Sir Charles Benedict Ainslie to you and me) is the Olympic gold medalist the British Land Rover team has hired to helm its campaign.
I boarded the well-stocked observation boat at Navy Pier along with a bunch of very British Land Rover reps decked out in their BAR garb and guests including the Chicago-based British consul, a Toronto-based fashion photographer, Fox 32 morning anchor Natalie Bomke, and assorted foreign and domestic VIPs and we motored to a spot about even with Buckingham Fountain. Unfortunately, it was pretty far from the race action. I was left to zoom my telephoto lens to the maximum and envy my colleague Elizabeth Bracket who actually got a chance to get up close to these water-borne flying machines (you can see her report here on "Chicago Tonight").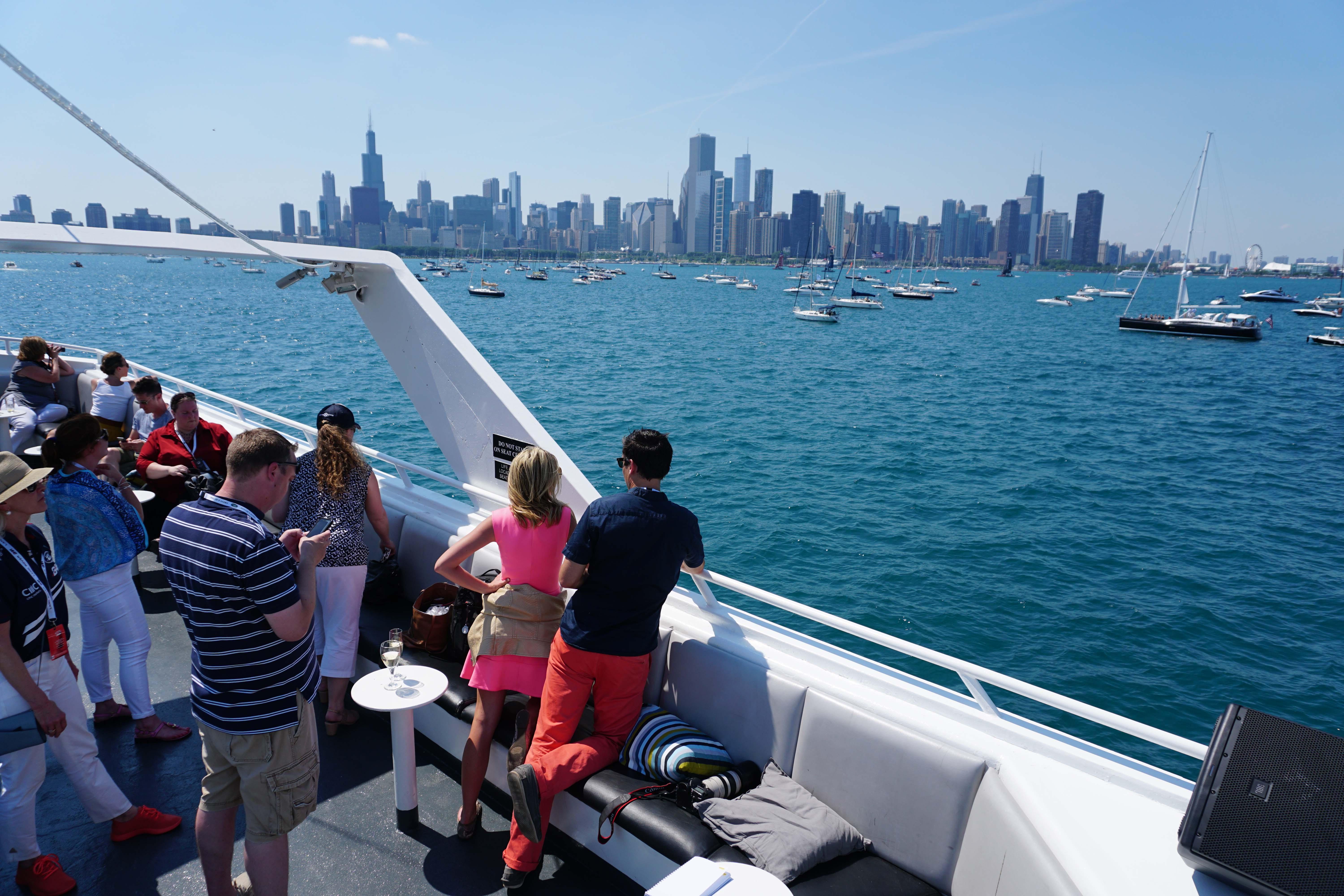 I boarded the well-stocked observation boat at Navy Pier along with a bunch of very British Land Rover reps decked out in their BAR garb and guests. (Geoffrey Baer)
Off-duty BAR crew member Matt Cornwell served as our play-by-play announcer on the observation boat as guests sipped champagne or guzzled rum drinks and chowed down on a decadent spread of food. Cornwall explained that in place of a sail, each sleek twin-hulled America's Cup boat has a rigid wing with flaps on the trailing edge. In other words, it's a vertical airplane wing. They actually sail faster than the wind. A lot faster. How is that possible? You'll need to ask a physicist, not me. They're especially fast downwind when the boats rise up out of the water and skim across the surface. The only part of the boat in contact with the water is a slender fin (a "foil" in tech-speak) extending below the boat amidships and the twin steering rudders astern. It's a truly bizarre sight.
The conditions on Friday proved extremely challenging. There was a lot of wind, but it was constantly changing speed and direction. At times boats would sail into a gust and take off like someone stepped on a gas pedal. Then just as quickly a boat would sail into a lull and simply stop as boats just a few feet away charged on by.
The unpredictable winds caused two of the boats to actually capsize during racing. It's rare for that to happen even once during a race. Some crew members were catapulted into the water. Cornwell explained that all crew wear flotation devices and carry knives in case they become entangled in lines underwater. They even have a small capsule with one minute of emergency air to breathe if needed. No one was injured in either capsize on Friday and both boats were righted quickly and were sufficiently undamaged to continue sailing.
Video: Emirates Team New Zealand capsizes during practice on Friday at Navy Pier. (Video courtesy America's Cup.)
---
It should be noted that although the term America's Cup World Series might suggest some sort of championship (especially to giddy Cubs fans this season) the races held this past weekend in Chicago really amounted to preliminaries to the preliminaries; part of an eight-city international tour in 2015 and 2016 with minimal point value designed mostly to build interest for the main events. Even the boats aren't the same as those the teams will sail when it really matters. As mind-boggling as they are, the catamarans we watched in Chicago this weekend are considerably smaller than the ones that will compete in the America's cup qualifiers and finals in Bermuda in 2017.
---
Sign up for our morning newsletter to get all of our stories delivered to your mailbox each weekday.
---
Related Stories from "Chicago Tonight"
America's Cup Chicago Sails Into Freshwater
June 9: The America's Cup hits freshwater for the first time as it comes to Chicago this weekend. Elizabeth Brackett takes us to Navy Pier where teams are preparing for the races.
---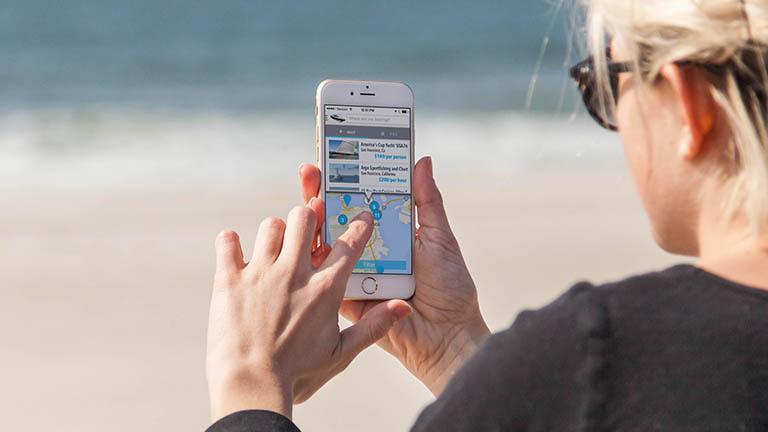 Sharing Economy Plunges into Chicago Waterways
June 9: The sharing economy is surfacing on Chicago's lakes and rivers as boat rental app GetMyBoat joins the likes of Uber, Lyft and Airbnb.
---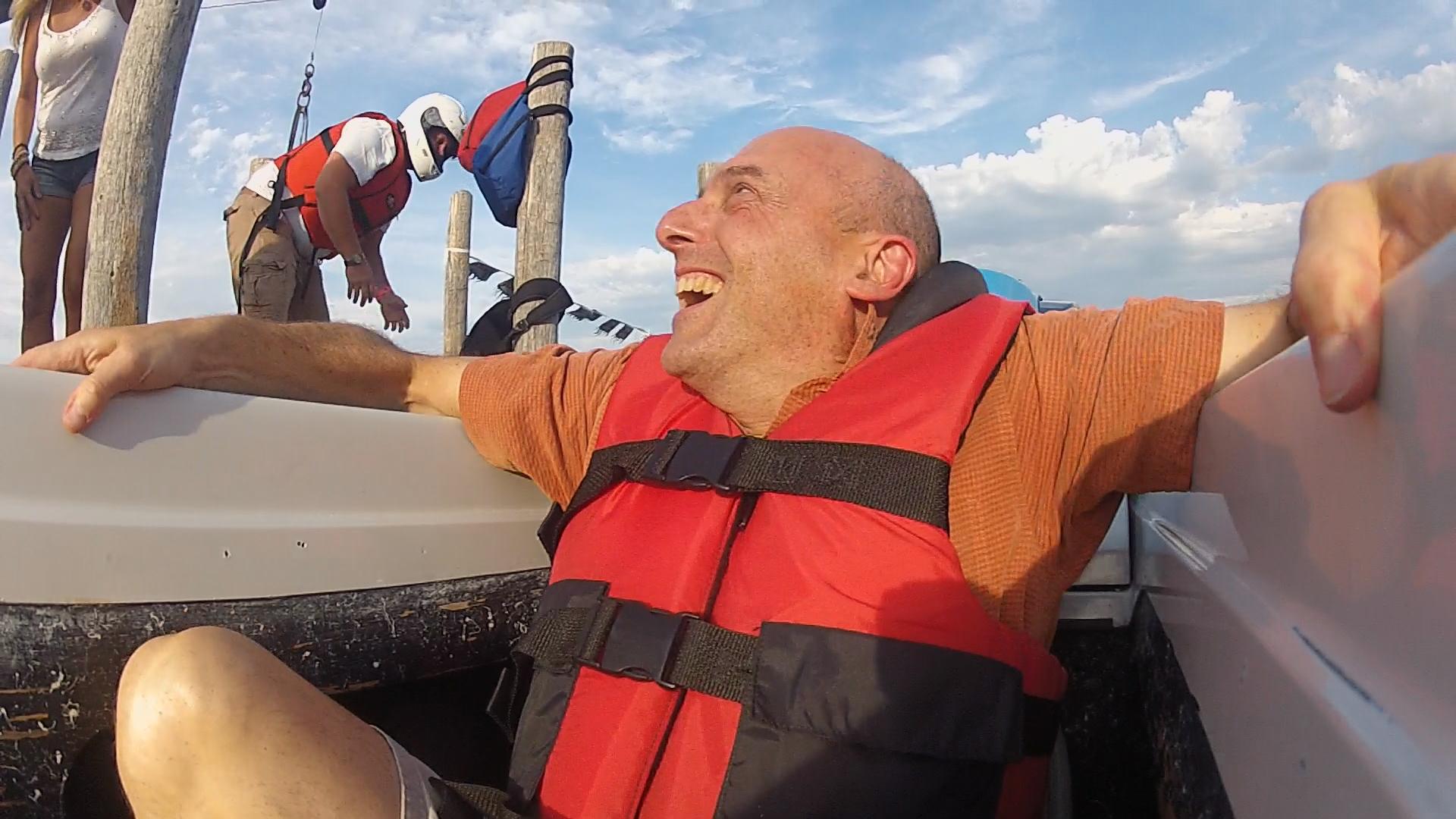 A Rowdy Good Time: Drag Boat Racing at Blarney Island
Aug. 26, 2015: Boats fly by at speeds up to 150 miles per hour on an 800-foot course. There is drag boat racing every Thursday night all summer long at Blarney Island on Grass Lake. Chicago Tonight's Jay Shefsky goes to the races and takes a 94 mph ride on a race boat.
---