The video cannot be displayed.
The Grant Park Music Festival opens in just one week, making classical music accessible to anyone who's interested.
But the makeup of orchestras across the country doesn't always reflect that of the surrounding communities. Brandis Friedman has this look at orchestra diversity.
TRANSCRIPT
Brandis Friedman: On stage, Isaias Nava is obscured by his instrument.
Isaias Nava, junior at Lincoln Park High School: The tuba takes a lot of my air. It's really heavy. I have to take it on the train sometimes to school. And sometimes, it's not really convenient. People are just looking at you and are like, "What is this big thing you're taking on during rush hour?"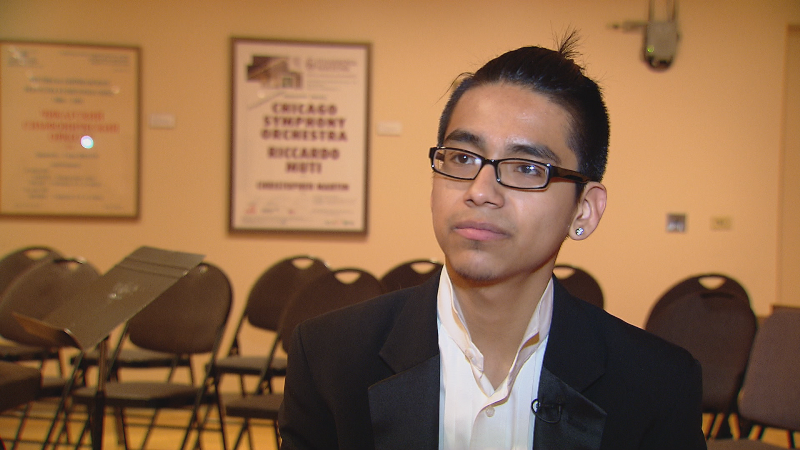 Isaias Nava
Friedman: Despite the inconvenience, the 17 year old says the tuba provides the rhythm to his life.
Nava: I love the tuba. It's really the base for everything in the orchestra. That's how I feel about myself that with my achievements I feel I shouldn't be too loud and showing off. I feel like more quiet, like my instrument, the tuba. It's there, no one really pays attention to it, but it's there and everybody needs it.
Friedman: Isaias is among thousands of students participating in Merit-Fest, a two-day performance festival for young musicians at the Merit School of Music, a school that works to bring music education and training to students across the city.
Charlie Grode, executive director Merit School of Music: We want to make sure that we're removing financial, personal and geographic barriers so that we have kids of all backgrounds making music together.
Friedman: Kris Hedlund teaches students at Chopin Elementary School in Ukrainian Village.
Kris Hedlund, teacher at Chopin Elementary School: So many of these kids come from challenging homes. It's difficult. But music is a staple in their day, and they're happy to be there. They work hard for us.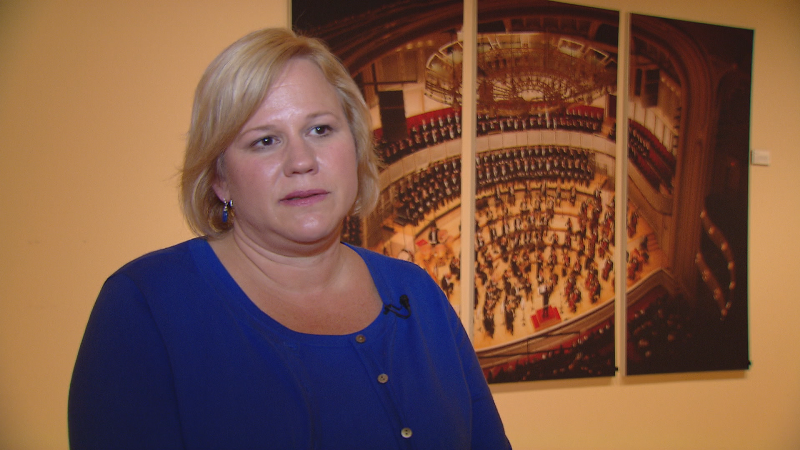 Kris Hedlund
Friedman: Merit's Executive Director Charlie Grode knows it's not just the cost of instruments or lessons that could prevent students like Isaias from learning the orchestra.
Lack of exposure to classical music at a young age is another barrier.
Grode: The point about role models is an important one. You want to see individuals who look like you, who share similar experiences, achieving success. Even within our conservatory, and within our bridges programs, you see high school age students, who are like grown-ups to the little ones. I don't know what you remember about being a fourth-grader, but you thought eighth-graders or high school students knew everything and they could do everything.
Friedman: A survey of the League of American Orchestras' members shows that only 1.8 percent of orchestra musicians are African-American. Just 2.5 percent are Latino, and Asian and Pacific Islanders make up 9 percent, while 85.5 percent are white.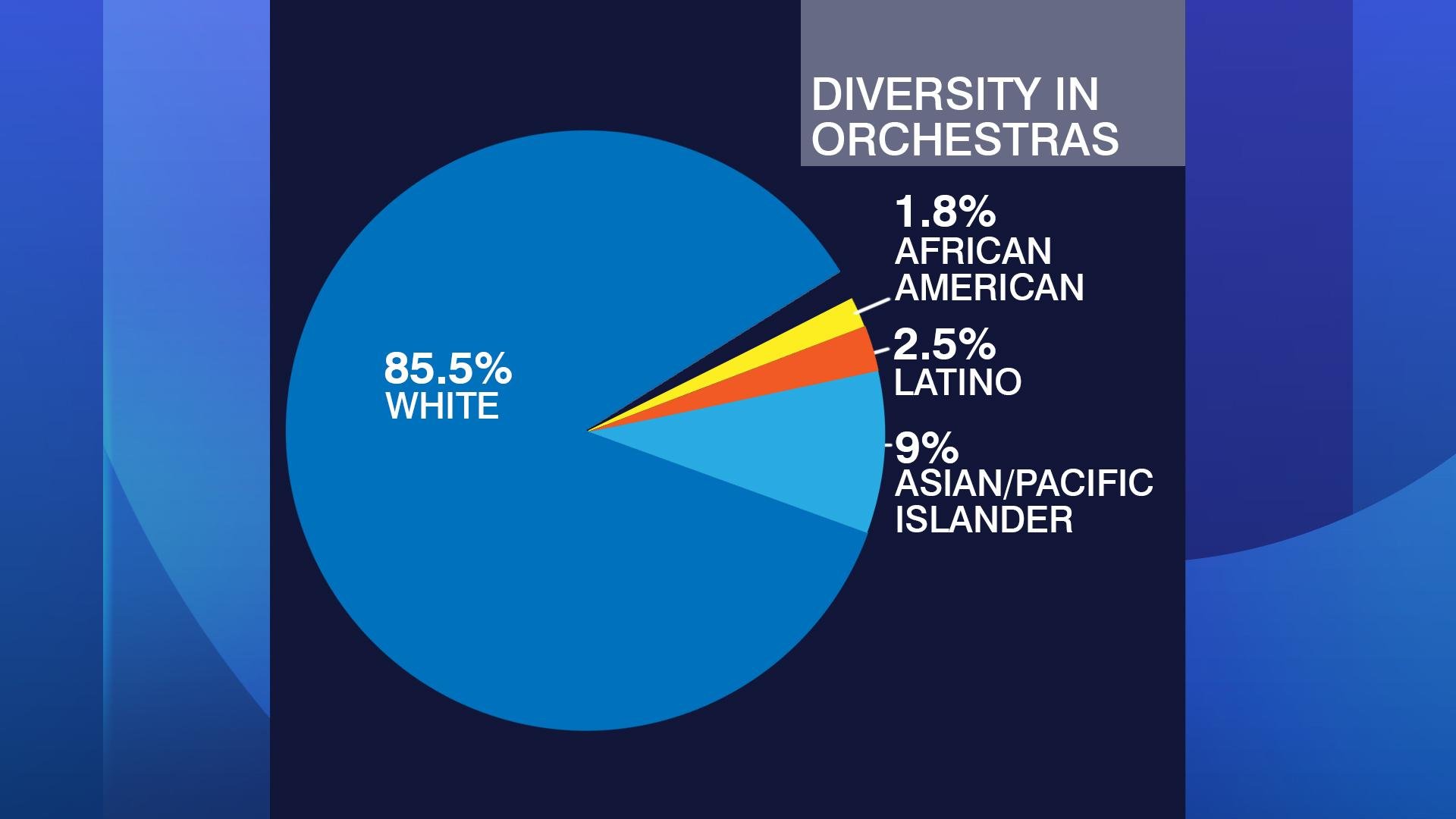 Marlea Simpson, 21, is one of the few African-Americans.
Originally from Dallas, and a junior at the Oberlin Conservatory, she also plays principal viola for the Chicago Sinfonietta.
Marlea Simpson: Working with the Sinfonietta is the first time that I've really been in an orchestra that is so diverse, and that's really exciting to see.
Friedman: She earned that spot after being a part of Project Inclusion—the Sinfonietta's fellowship program designed to increase diversity in orchestras.
Simpson:  A lot of orchestras that I have been a part of have not been very diverse, and I think that's kind of what's really unique about the Project Inclusion program is that we were given the opportunity to go out into communities and really introduce classical music to a lot of people that probably wouldn't have heard about it. And really open up opportunities for people to become a part of classical music world.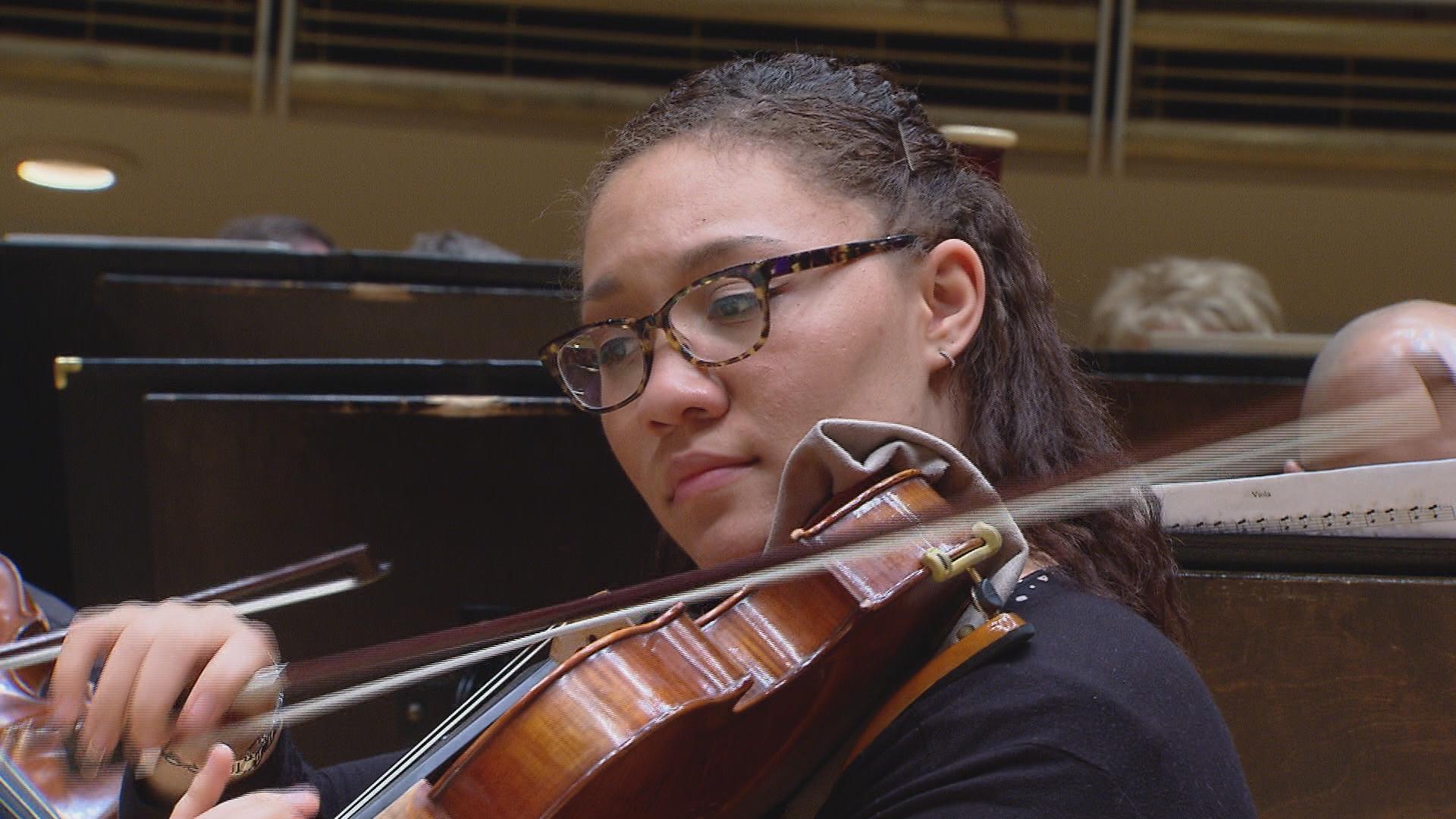 Marlea Simpson
Friedman: She's also earned a position in the Grant Park Orchestra during this summer's festival. Her conductor there, Carlos Kalmar, recognized Marlea's ability during the long audition process.
Carlos Kalmar: She's a very special case for two reasons: First of all where she comes from, minority and second age. Usually you start getting a job at age 23-24.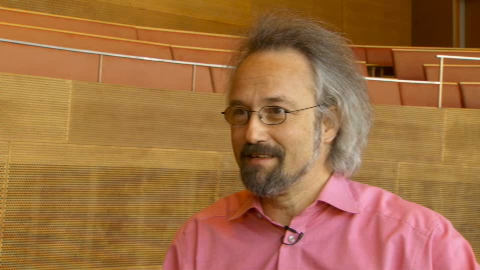 Carlos Kalmar
Friedman: Kalmar admits to seeing very few faces of color in many of the orchestras he's worked with.
Kalmar: You have to start in order to be in an orchestra of this level, with string instrument, no later than 6 years of age. Exposure to instruments at a young age is not in the genes. What I am absolutely sure is in the genes, is the talent.
Friedman: In Marlea's case, she did start at a young age and so did Isaias, in fourth grade with the Merit School.
Nava: If I don't stay busy, then I'll become like the rest of kids in my community. End up, not going to college, I'll go find a part-time job and just start living like that. That's what most of my friends do. They don't really pay attention to school much, and they just start working. Merit gives me the opportunity. And I take advantage of the opportunity.
Friedman: Isaias hopes to play his way into college in a year. Tops on his list: Eastman School of Music, Oberlin and Julliard.
---
Sign up for our morning newsletter to get all of our stories delivered to your mailbox each weekday.
---
Related 'Chicago Tonight' stories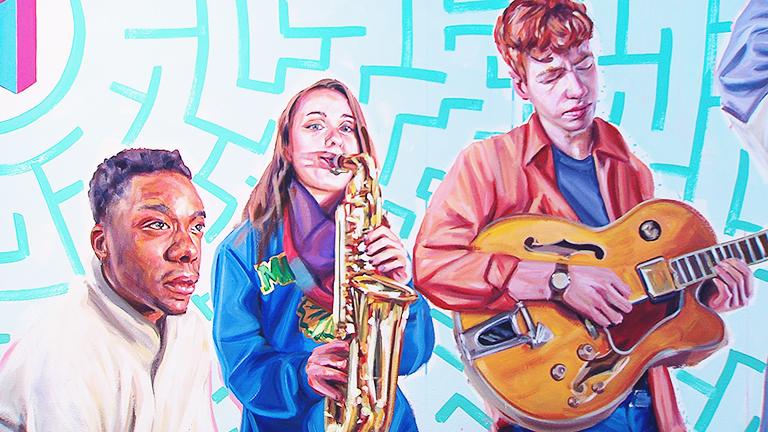 Big Mural on Campus: Lane Tech High School Adds to Art Collection
May 23: Students are the focus of a new mural at a CPS school that has a nationally recognized art collection. Join us for a behind-the-scenes look at the contemporary work.
---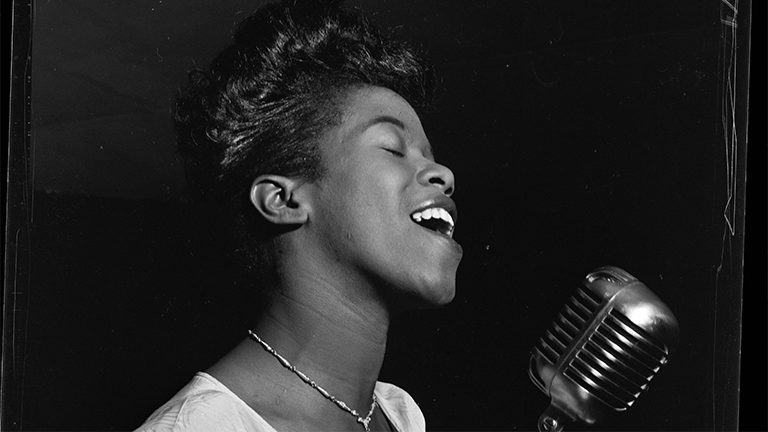 Chicago Symphony Orchestra Pays Tribute to Singer Sarah Vaughan
May 18: Her nicknames included "Sassy" and the "Divine One," but whatever you called her, Sarah Vaughan was an exceptional voice. On Friday, the CSO pays tribute to her with performances by the Chicago Jazz Orchestra and three vocalists, including Ann Hampton Callaway.
---
CPS Students Learn about Mariachi Music Through Performance
Feb. 25: It's the kind of story that might make you ask, Why didn't they teach music like that when I was in school? Moving to a mariachi beat, a talented group of students on the Southwest Side are learning about music by making it.
---