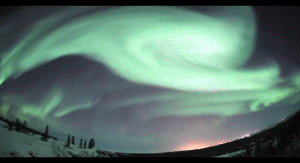 The Grant Park Music Festival is premiering a new Science and Symphony production. Based on a children's story about the aurora borealis, this world premier blends classical musical with a visual journey of the Northern Lights. The film and music are the result of collaboration between the Canadian Space Agency, Adler Planetarium, Grammy-nominated composer Christopher Theofanidis, and the film of producer and astronomer José Francisco Salgado.
Concerts for The Legend of the Northern Lights will be held 7:30 pm-9:30 pm to Friday, Aug. 8, and 7:30 pm-9:30 pm Saturday, Aug. 9 at the Jay Pritzker Pavilion.
Friday's concert will also be broadcast live on 98.7WFMT and streamed online at wfmt.com.
View a slideshow of images from the production.
Watch an clip from the Science & Symphony's work, The Legend of the Northern Lights.