Ninety percent of the world's opium originates in Afghanistan. In Chicago, three war veterans are hoping to give farmers there a viable alternative to growing poppy for opium. Learn how their business, Rumi Spice, is connecting the world's most expensive spice to the rebuilding of a war-torn country.
TRANSCRIPT
Jay Shefsky: In a former meat processing plant in the Back of the Yards neighborhood, a group of women meticulously package tiny amounts of the prized spice saffron. The company is called Rumi Spice. It was started by three Afghanistan War veterans, including West Point grads and longtime best friends Kimberly Jung and Emily Miller.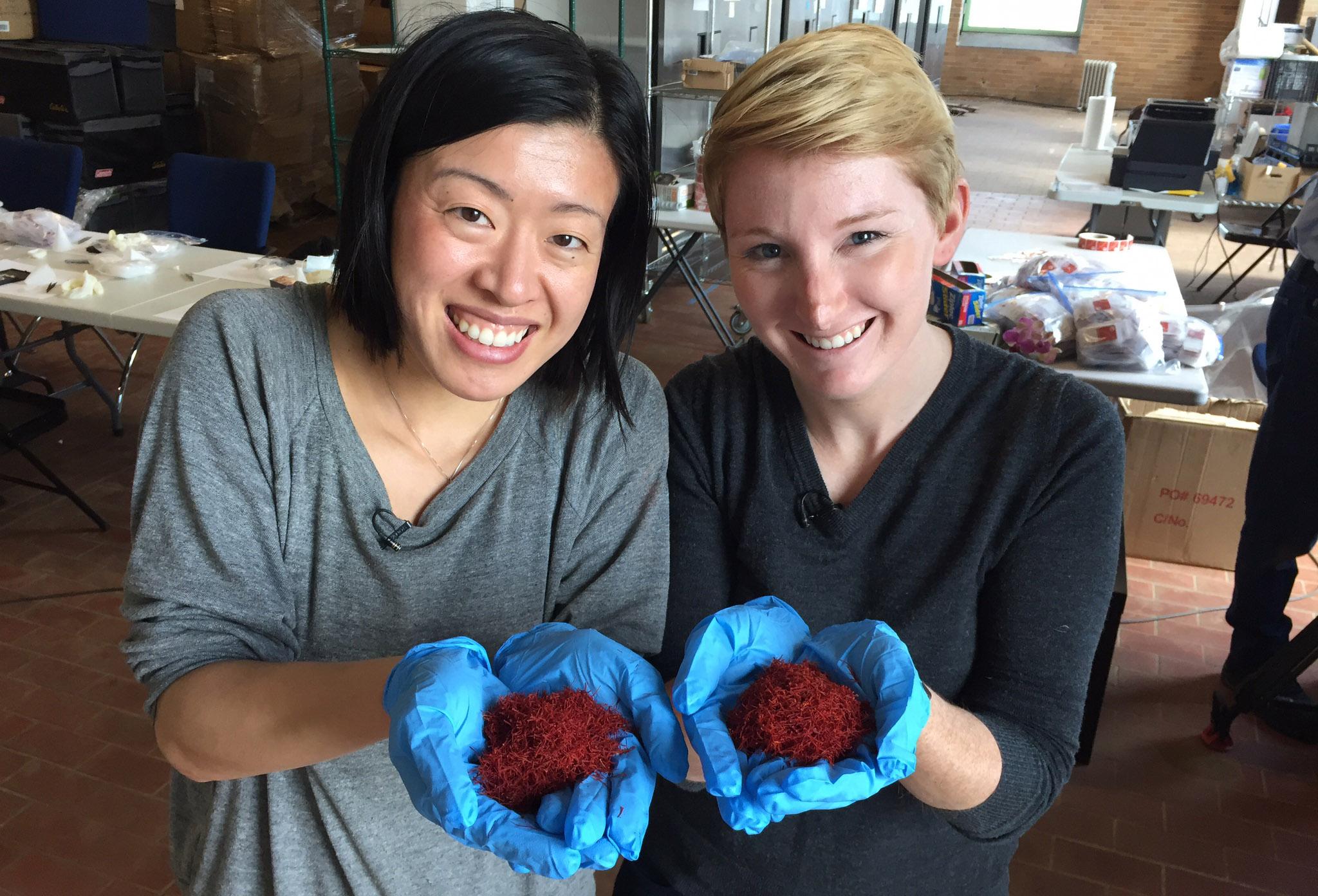 Kimberly Jung, left, and Emily Miller, founders of Rumi Spice.
Kimberly Jung: Well she didn't know that we were best friends but I knew we were, and then we became best friends.
Shefsky: Kimberly was a platoon leader looking for and disarming roadside bombs. During Emily's two deployments, she was a "cultural support" team leader with special operations, working closely with Afghan women and children. They both came to love the Afghan culture and also to see the limits of the military's rebuilding efforts, especially in rural areas.   
Emily Miller: I know I was personally a little frustrated that the military wasn't solving the long-term problems that Afghanistan needed.
Jung: We are very proud for our service and very proud of our fellow service members, but we wanted to continue that service through a different avenue, which was through business.  
Shefsky: After the army, both women were accepted to Harvard Business School, where one day, they got a call from their friend Keith Alaniz, still deployed in Afghanistan.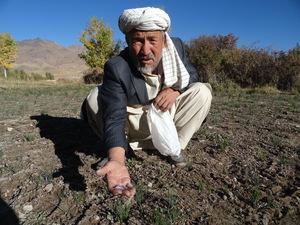 Haji Yosef Jung: He told us about this farmer named Haji Yosef. And he had just recently started growing saffron, but he had not found any markets for it.
Shefsky: Within months, and still in school, the three of them launched Rumi Spice.   
Miller: We first started with 11 farmers, so it was a pretty small operation. We wanted to test it out and see if there was demand for the product, and we did so well, that this past year we've grown to 34 farmers, which is great, and next year we're probably going to be over 60 farmers. 
Shefsky: At $109 an ounce, saffron is easily the world's most expensive spice. But luckily for the saffron-loving cook, a little goes a long way.
Jung: You only need a tiny bit to impart this really amazing, floral, sweet flavor to a dish. That's why it's absolutely amazing in paella, or risotto Milanese, or in every single Indian dessert, like phirni.
Shefsky: These precious red saffron strands come from a kind of crocus flower. Why so expensive? Each flower has just three strands, or stigmas, which must be removed by hand in the early morning once a year. So to produce one bag of saffron (or half a kilo) requires 75,000 flowers. A 10 kilo box? 1.5 million flowers.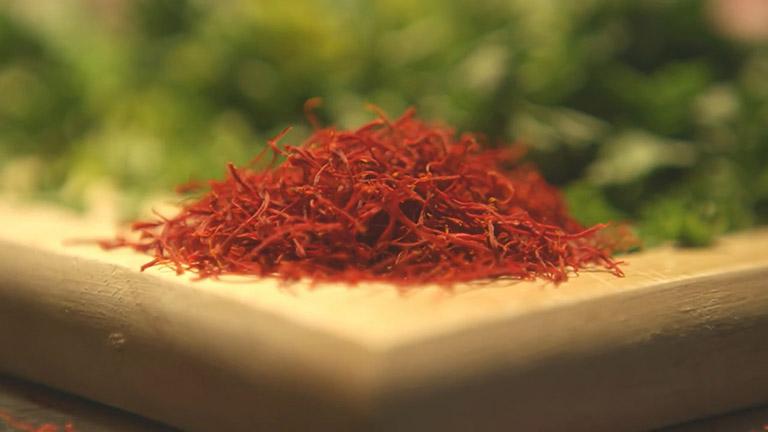 Miller: It's called red gold. That's where it gets the name. You can tell if it's quality saffron by the deep, red color. Sometimes people adulterate it to make it look like it's a deep, red color, but maybe it's not, but they'll get a higher price for it.
Shefsky: In fact, before the Rumi Spice saffron is packaged, it gets another painstaking examination to pick out any imperfect strands. Rumi spice sells its saffron to several Michelin-starred restaurants in New York City.
Growing saffron in Afghanistan is still relatively uncommon, while neighboring Iran grows most of the world's saffron. 
Abdul Shakur Ehrarri, right. Jung: Even though it's the same growing region, which is dry and hot, Afghan farmers have not been able to grow it simply because they lack the knowledge.
Shefsky: So, Rumi Spice has a full-time employee in Afghanistan, Abdul Shakur Ehrarri. 
Jung: He actually is a farmer himself as well. And Shakur goes out and he works with the farmers. He is an agricultural specialist so he's been teaching the farmers these past couple years how to grow saffron very well.
Shefsky: But they emphasize that this is not a charity or aid organization. 
Jung: This is export and economics and capitalism at its finest. We are buying saffron directly from these Afghan farmers who are growing some of the best saffron that is now found in Michelin-star rated restaurants across the country. And it's coming here to Chicago, where we have been able to employ people and create jobs here in Chicago.
Shefsky: Yet Rumi Spice is incorporated as a "public benefit corporation," which means it has a mission in its charter beyond maximizing profits, like improving the lives of Afghan farmers. The average Afghan farm family, they say, makes $500 a year. Growing saffron for Rumi brings them roughly $2,000 a year.
But the mission is even more ambitious than that: 90 percent of the world's opium originates in Afghanistan. Rumi wants to give farmers a viable alternative.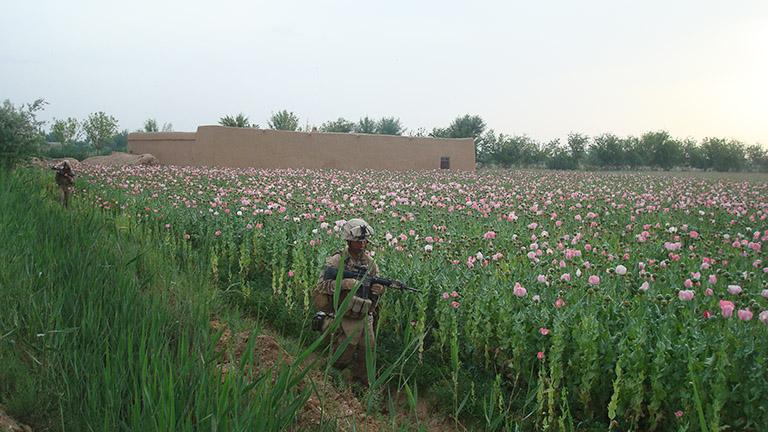 Miller: The U.S. Military has probably spent millions, if not billions, of dollars on poppy eradication in Afghanistan. And thus far it's been largely unsuccessful. They've done things like set fire to the crops or just outright try to destroy the fields. But at the end of the day, we truly believe that farmers need an economic alternative. And saffron is definitely the way.
Shefsky: They say farmers can make up to seven times more money growing saffron than poppy. 
Jung: We're not in this to make lots of money. We're in this because we believe that connecting Afghan farmers to the international marketplace is something that's worth fighting for – it's worth fighting for for our global security, it's worth fighting for for everyone's future – and that it's going to make economic sense.
To learn more about Rumi Spice, visit their website.
---
Sign up for our morning newsletter to get all of our stories delivered to your mailbox each weekday.
---
Related Stories from "Chicago Tonight"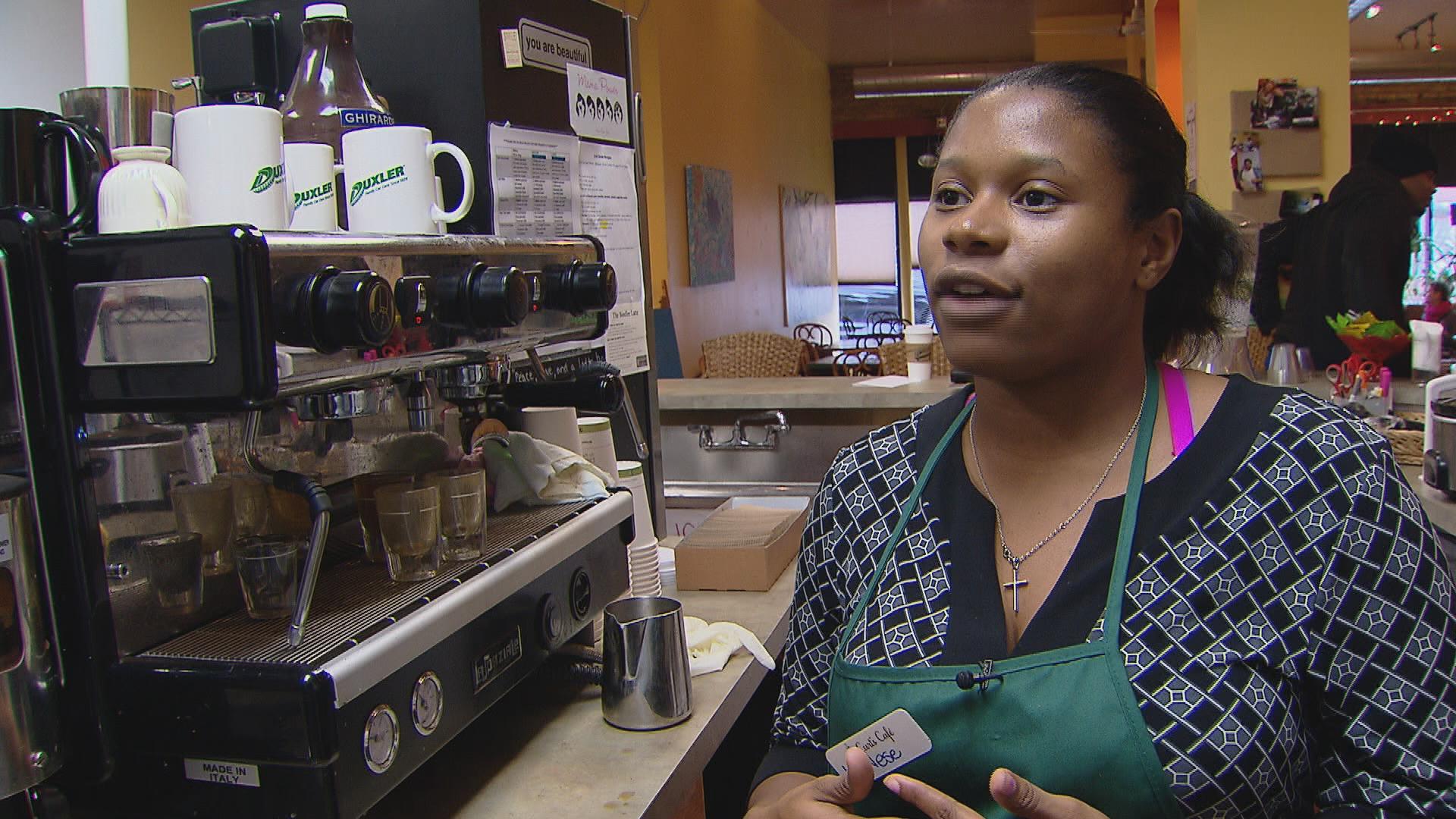 Curt's Café Serves Up Job Training, Food for Thought
March 30: Every discussion of crime, poverty or high incarceration rates points back – in part – to jobs. For the last three years an innovative restaurant job-training program in Evanston has been providing support and practical experience to young men and more recently, women. Jay Shefsky went to Curt's Cafe to learn more.
---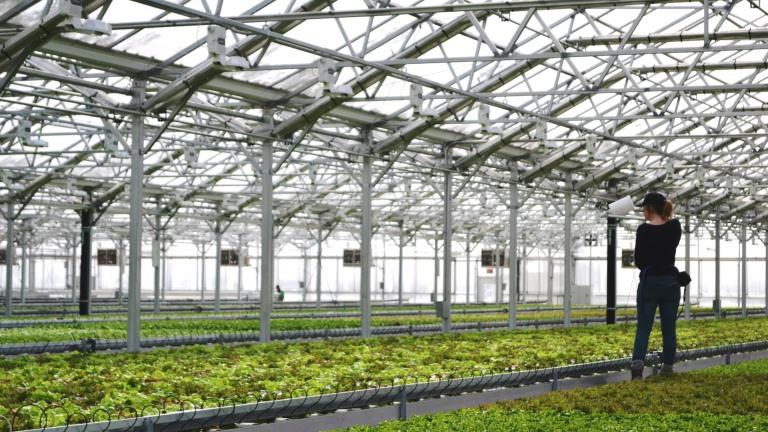 Inside the World's Largest Rooftop Greenhouse
Feb. 16: An enormous rooftop greenhouse on Chicago's South Side is growing crops year-round and providing the area with much-needed local produce. Joining us to talk about Gotham Greens' growing power is co-founder and CEO, Viraj Puri. 
---