So far this year, Chicago has seen almost 1,300 shooting victims and 215 homicides.
It is one of several major cities, including Los Angeles, Las Vegas and Nashville, to experience dramatic increases in the murder rate.
The violence has led some Chicagoans to move elsewhere, seeking a safer community for their families.
Brandis Friedman has their stories.
TRANSCRIPT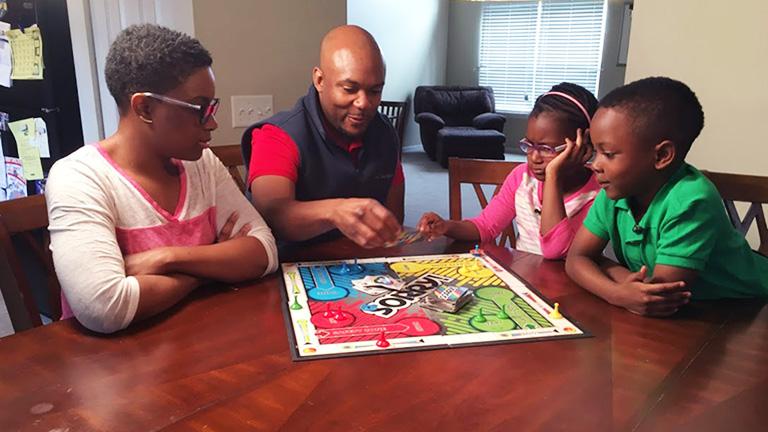 The Travis Family moved from Bronzeville to the suburb of Matteson.
Brandis Friedman: It's game time at the Travis household. Kyle and Carla Travis moved with their two children from Chicago to the suburb of Matteson three years ago. They've been in this house for a year.
Carla Travis: Love the neighborhood, plenty of kids. Not too far from the school that they go to.
Kyle Travis: In Matteson, it's a different sense of community to me. Definitely one where you see a sense of freedom with students and the kids and whomever to come go as they please. Definitely you need to be on a heightened sense of awareness, so to speak, in the city.
Friedman: That heightened awareness became outright fear after the violence hit home in their old neighborhood of Bronzeville, a center of African-American culture in Chicago.
Kyle Travis: It was absolutely something I didn't think would happen to me at the age in which I was. You know, I graduated university – the University of Illinois in Champaign-Urbana, was pursuing my master's as far as for health administration, family and doing well.
Friedman: In broad daylight, Kyle was driving home from the grocery store, waiting at a red light, when he heard gunshots.
Kyle Travis: Bullet came through the passenger side window, struck me on this side of arm. The bullet exited here. If I would've maybe just taken foot off brake for a split second, it could've possibly struck me in the cheek or the head or whatever may have you, I mean, who knows?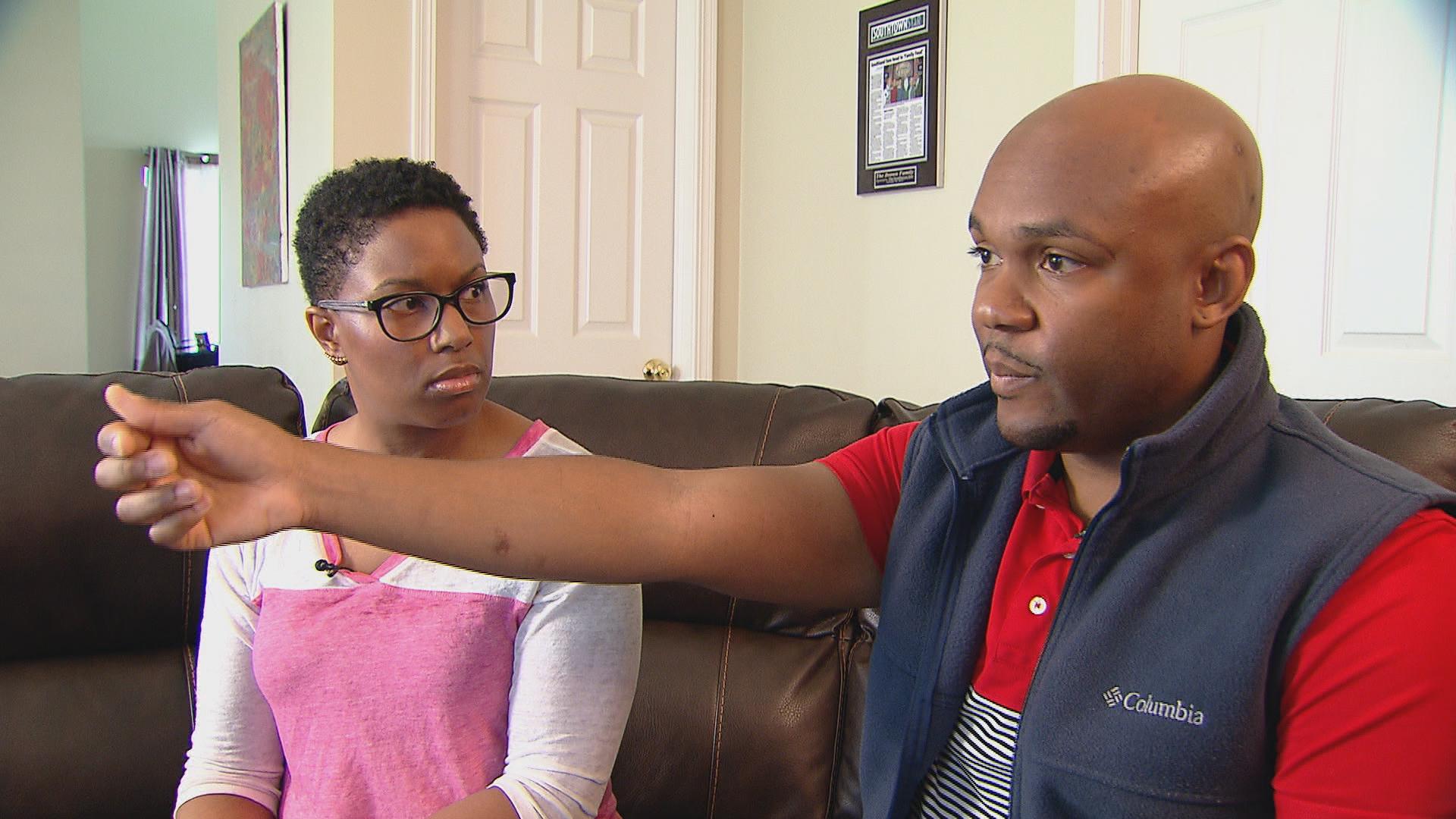 Kyle Travis shows where he was shot while driving in the Bronzeville neighborhood.
Carla Travis: You make all the right choices, you make the right decisions, and to have something like this happen. It was sobering.
Friedman: Kyle was able to drive himself to a nearby hospital, where he was treated and sent home with a bandaged arm. The couple's decision to leave the city was accelerated by their concern for 5-year-old Chase and 7-year-old Emerson.
Emerson Travis: I like it because I like my room, and I like more space, and I like the neighborhood!
Friedman: The Travis family is part of a trend here in Chicago. On average, more than 10,000 African-Americans leave the city every year. Meanwhile, data shows the number of blacks living in the suburbs is on the rise. Researchers are beginning to call this migration "black flight."
U.S. census data shows between 2000 and 2010, some 200,000 people left Chicago, and 9 out of 10 of them were black. From 2010 to 2014, another 23,000 blacks left. That means roughly one in every five African-Americans has left the city over the past 15 years.
University of Illinois at Chicago urban planning professor Janet Smith says gun violence is a key factor in the migration, especially for families with children.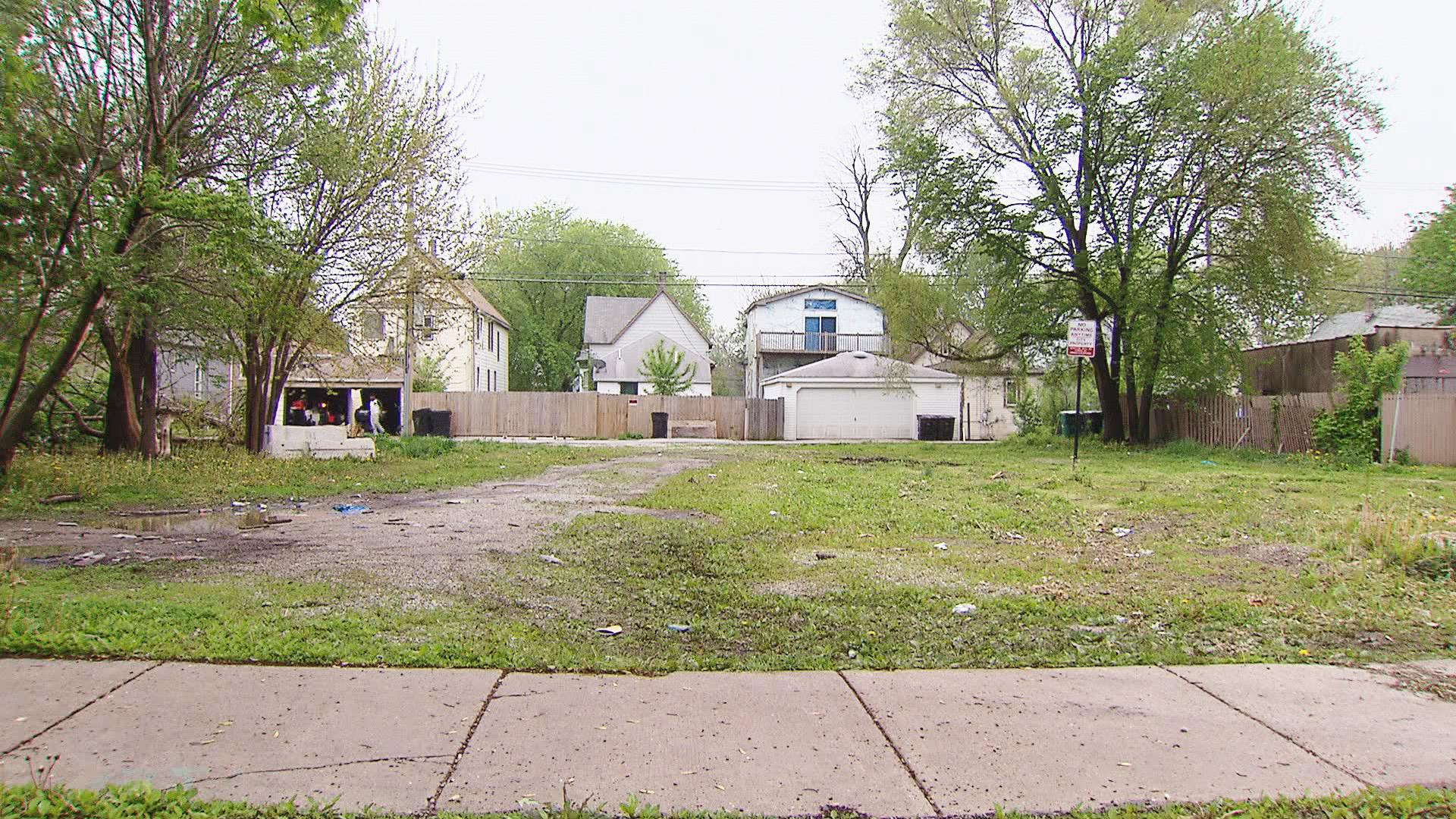 Janet Smith: When we map over population loss and look at where crime is, and we look at the fact that that population loss has a lot of children, you see a relationship. It's a strong visual relationship there on the map. So we're seeing families lost, more so than households, single people or two-person households with no kids.
Friedman: The city's violence turned Tierra Winston into a suburbanite. She and her 14-year-old son, Tyriek, were constantly worried about their safety in their old neighborhood, Roseland, one of the city's most economically depressed.
Tierra Winston: The area we lived in, of course, there's lot of gang violence, lot of drug trafficking. Sometimes I would be very leery about him riding a bike, going outside. Even going outside, my mother stayed next to a vacant lot … so if he's in the lot, I'd have to keep the windows open so I can kind of keep an eye on him.
Friedman: At home one school night, two years ago, they too had a close call.
Tyriek Briggs: I heard gunshots, coming, like running, running past my window. So, I went to my mom's room because she was asleep, and I woke her up. And I told her I heard gunshots through my window, and then I heard people running. I was, like, pretty scared. And, I was like, I don't know, I was like really shook up because my window was open, because I usually have my fan in my window and it was pretty loud.
Friedman: No bullets entered their apartment, and Tyriek was not hurt. But for Tierra, that was enough. She decided to move to the suburb of Dolton.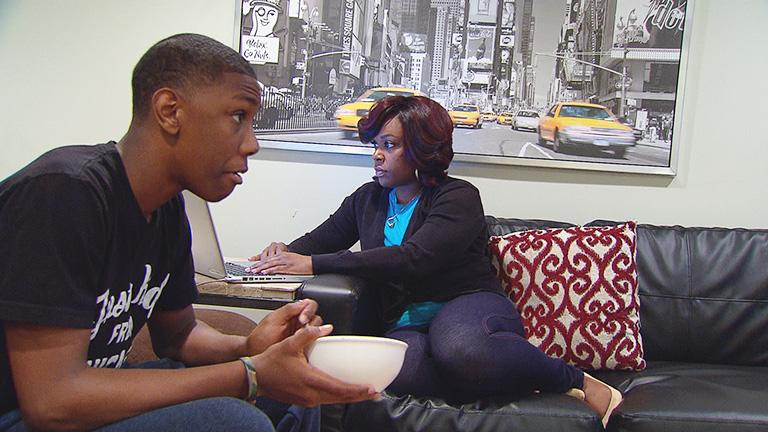 Tyriek Briggs and his mother, Tierra Winston, moved from Roseland to the suburb of Dolton.
Tierra Winston: As soon as I walked in, I was like, This is it! This is my house.
Friedman: Now Tyriek practices his jump shot without the fear of gunshots.
Tierra Winston: It's been different. I love my house, love the neighborhood.
Friedman: The neighborhoods the Winston and the Travis families have left behind now grapple with a dwindling population. Chicago Urban League president Shari Runner says middle-class black flight is hurting the city's tax base.
Shari Runner: So if you're thinking about being a planner, a city planner, you're thinking about anticipating revenue from taxes from people who work and live in the city. All of those assumptions have to be re-looked at, and how does that impact city as a whole in terms of how is it going to make that up and provide the resources that it needs as a city to provide for citizens.
Friedman: Runner says the city needs to reinvest more in these shrinking communities in order to have better housing and jobs. Though leaving Chicago was a tough decision for the Travises, Kyle and Carla haven't looked back.
Kyle Travis: You can't help anyone else, whether it be through civic engagement, social responsibility, et cetera, if you're not at peace at home. So, even moving to suburbs, we're still able to reach back, still volunteer, still meet with friends, just under different circumstances. What's most important for us is protecting the family nucleus and it starts with us two.
---
Sign up for our morning newsletter to get all of our stories delivered to your mailbox each weekday.
---
Related Stories from "Chicago Tonight"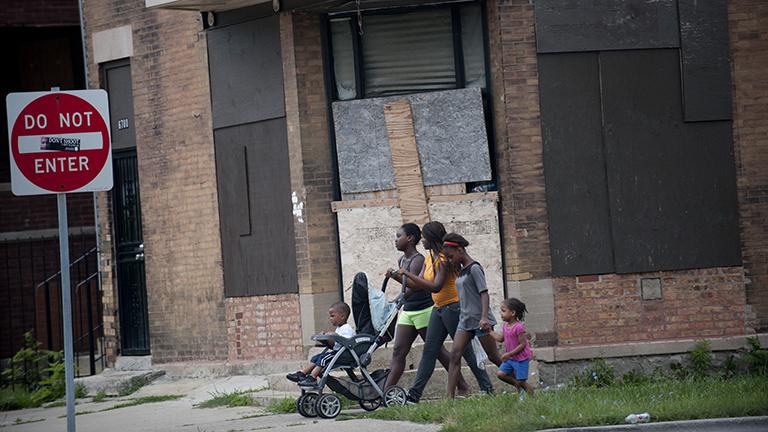 Segregation and Racial Barriers on Chicago's South Side
March 23: A new book by Natalie Moore about the South Side blends personal history with investigative reporting to tell the story of a segregated city and misunderstood neighborhoods.
---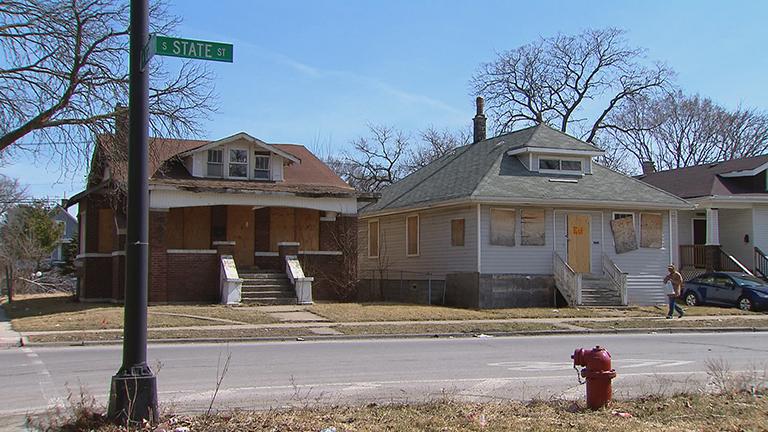 Report Highlights Struggles in Chicago's Segregated Communities
March 14: This year marks the 100th anniversary of the start of the Great Migration, but a new report from the Chicago Urban League says many blacks still live in racially segregated and impoverished neighborhoods.
---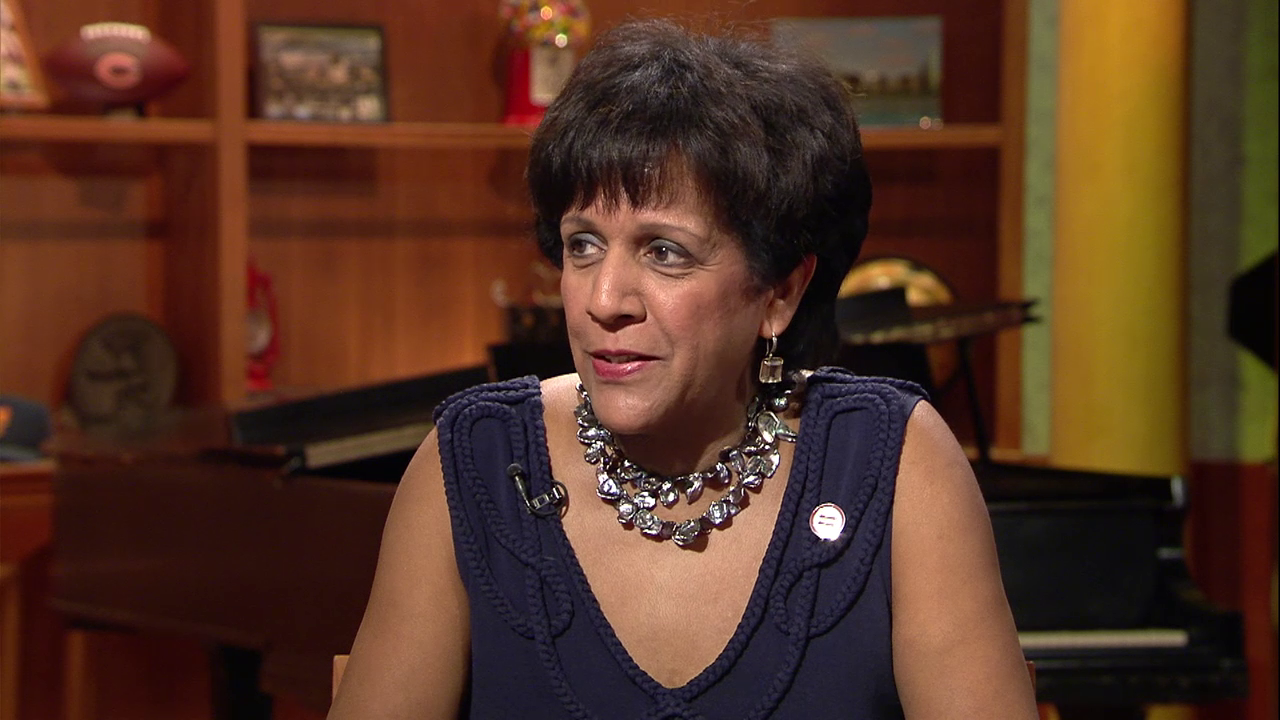 Chicago Urban League's Shari Runner Talks Gun Violence, Leadership
Nov. 5, 2015: The new head of the Chicago Urban League joins "Chicago Tonight" to talk about the city's gun violence and how the 99-year-old organization aims to help foster a new generation of black leaders.
---