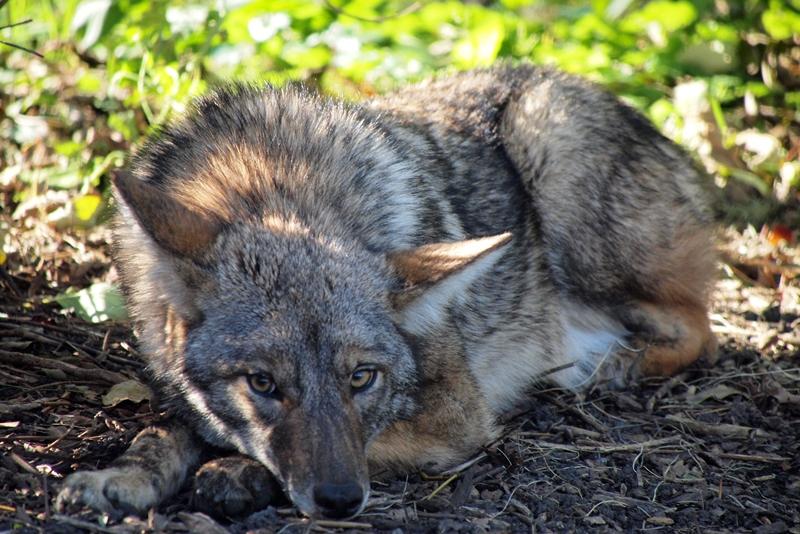 A coyote in Lincoln Park, near Belmont Harbor. (John Picken)
Coyotes are roaming the streets of Chicago, whether we notice them or not.
There are an estimated 1,500 to 2,000 coyotes residing all over Cook County, according to the Urban Coyote Research Program, a collaborative coyote-tracking project started in 2000 by the Max McGraw Wildlife Foundation, the Forest Preserve of Cook County, Ohio State University and Cook County Animal and Rabies Control.
But just because they're among us, doesn't mean we'll see them. Coyotes in urban environments are typically nocturnal, unlike their counterparts in nature. This is most likely behavior adapted to avoid human contact.
Still, every now and then, residents report daytime sightings.
Last week, 34-year-old Brendon Fox crossed paths with a coyote while walking his two dogs in Columbus Park. The coyote kept its distance but took notice of his dogs and howled for some time before running out of sight. Fox sent "Chicago Tonight" a video of the encounter, which you can watch below:
Seth Magle, director of the Lincoln Park Zoo's Urban Wildlife Institute, says the coyote appears to be "bark-howling," which may indicate that it perceived Fox and his dogs as a threat.
"I know firsthand that there are multiple coyotes in that park," said Magle. "I've seen them."
"There's a possibility that it was communicating to the others that there are other canids around in case it needed backup," he added.
Coyotes rarely pose any danger to humans, but for our pets, it's a different story.
[Archives: Chicago's Urban Coyotes]
Last week, Alderman Pat O'Connor of the 40th Ward warned pet owners that coyote mating season was upon us. During February and March, coyotes can be increasingly territorial and hostile.
They can be observed traveling solo or in packs and can develop intricate hunting behavior. While researching in Denver, Colorado, Magle noticed that some coyotes use a technique of tricking dogs into confrontation.
"They would behave like they wanted to play with these unleashed dogs," said Magle. "They'd lead them off into another area of the park where there was a pack of coyotes waiting to attack."
For this reason, it's strongly advisable that pet owners keep their dogs on a leash, unlike Fox, who says his dogs are well-trained and listen to him.
"It kept its distance and I respected its space," said Fox. "I took the message as, 'Get the hell off my turf,' so we left it alone."
[Never miss a "Chicago Tonight" headline! Get our daily newsletter delivered straight to your inbox.]
Magle warns that any coyote that appears unafraid of people has probably been fed by humans, which is strongly discouraged and dangerous for all involved.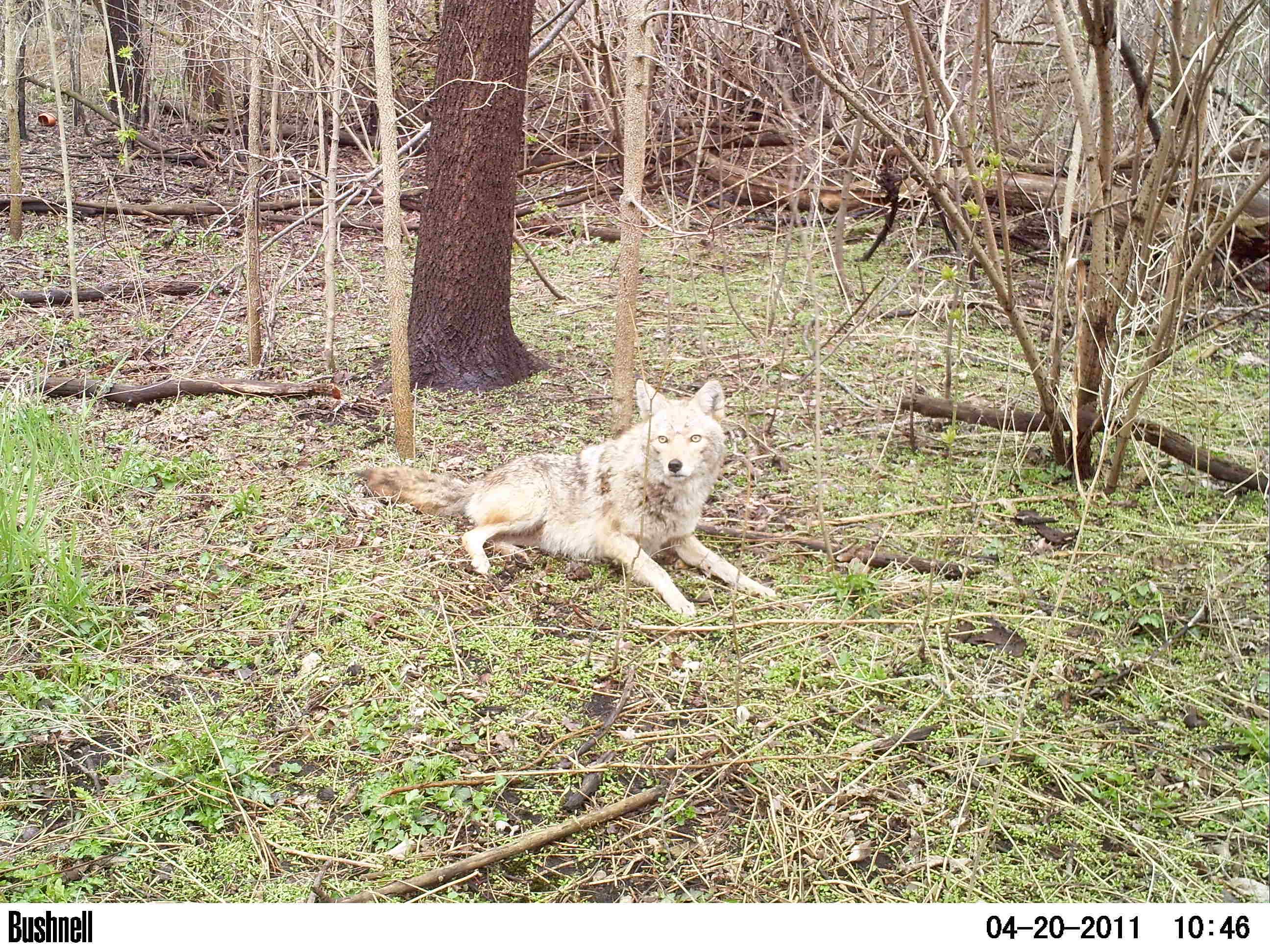 A Chicago Wildlife Watch camera trap snaps a photo of a coyote. (Courtesy of Urban Wildlife Institute / Lincoln Park Zoo)
Coyotes aren't new visitors to Chicago. The forest preserve estimates they came to the area sometime in the 1700s from the western deserts and plains. The coyote population in Chicago was eradicated in the 19th century due to loss of habitat, but their numbers appear to be resurging since the 1980s.
While they may frighten some dog owners, coyotes provide much-needed population control by way of their diet, which consists of rats, mice, rabbits, squirrels and other animals the region has no shortage of.
Follow Evan Garcia on Twitter: @EvanRGarcia
---
Related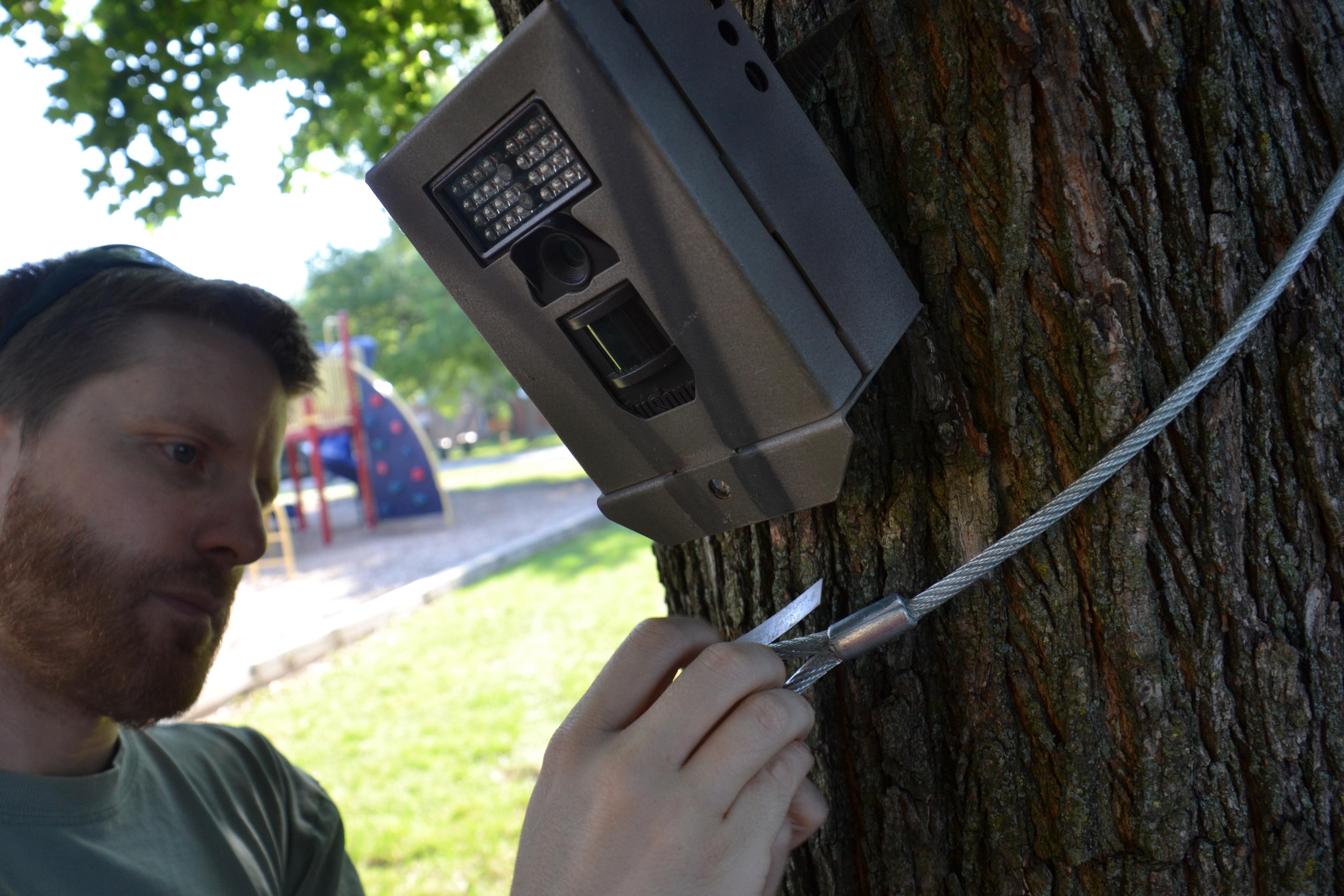 How You Can Help Chicago Researchers with a Wild Science Project
Sept. 14, 2015: A group of local science researchers want your help on a truly wild project. Learn about Chicago Wildlife Watch, and how you can help them better understand the urban ecosystem of Chicago.
---