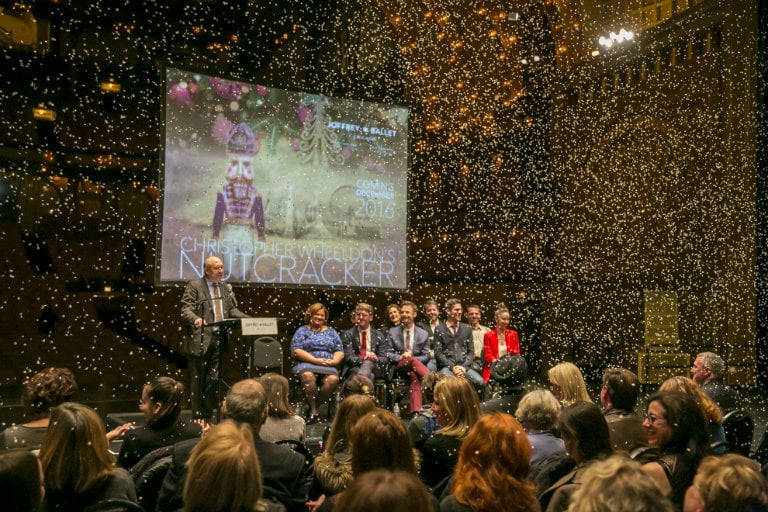 Joffrey Ballet's announcement around its new "Nutcracker" production (Todd Rosenberg)
Broadway dominated the Auditorium Theatre on Monday as the Joffrey Ballet announced plans for its brand new "Nutcracker" production and revealed a team made up predominately of Tony award-winning artists.
The new "Nutcracker" will have choreography from Christopher Wheeldon, who most recently won a Tony for his work on Broadway's "An American in Paris"; lighting from five-time Tony award-winner Natasha Katz; and projections from Ben Pearcy. Set design will come from Julian Crouch, whose Broadway work includes "The Addams Family," "Hedwig and the Angry Inch" and "Big Fish the Musical"; with puppetry from New York-based puppeteer Basil Twist.  
The new $4 million "Nutcracker" also dramatically switches gears from Robert Joffrey's vision, which has been performed at Joffrey for close to three decades. Instead of the wealthy 19th century American home setting, Wheeldon's production will be set during construction of Chicago's 1893 World's Fair. And instead of Clara, the new "Nutcracker" will follow Marie, the poor daughter of a fair worker. (The name Marie references the protagonist of E.T.A Hoffmann's original 1816 German story "Nutcracker and Mouse King.")   
"Don't worry, I'm not stealing Christmas," Wheeldon said Monday amid audience chuckles. "Rest assured, magic will abound, the tree will grow, children will be mice, and the snow will fall."
The production goes into previews Dec.1-4 at University of Iowa's Hancher Auditorium before opening at the Auditorium Theatre for 27 performances, from Dec. 10-30.
We spoke with Wheeldon about his plans for building up the new "Nutcracker" while still in the shadow of Robert Joffrey's classic – a production Wheeldon admits he's never actually seen.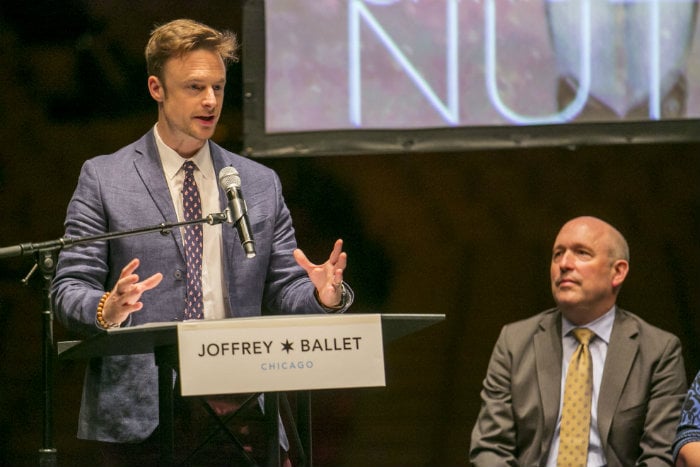 Christopher Wheeldon addresses the crowd Monday morning at the Auditorium Theatre (Todd Rosenberg)  
Chicago Tonight: The choice to set this during the 1893 World's Fair in Chicago. The choice to make this a poor girl's story rather than a rich girl's story. How did you come to those decisions?
Christopher Wheeldon: Nutcracker historically of course is about a privileged child who has a wonderful Christmas Eve and then is given beautiful gifts and falls asleep and dreams of more beautiful things. I think this is a city that was not just built by Americans, it's a city that built by immigrant workers, like many of the great cities of this country. And the fair itself as well, most of the workers were immigrants. So in a way, it'll be perhaps more relatable.
CT: Robert Joffrey replaced the ballet's former traditional European backdrop with a 19th century American home. Now you're moving the setting to be Chicago-centric. Is there any concern in narrowing the setting like that?
CW: No, I don't think so. There were always the concerns of whether our ideas could comfortably fit within the structure created by Tchaikovsky. You either have to take that into consideration or completely sort of throw it all out, and we do it from scratch. I believe that [Tchaikovsky] wrote the music in that order for a reason in telling a particular story and we wanted to make sure that it fit comfortably within the original structure of the score. And I think it's kind of wonderful, because it means that it's a Nutcracker that will only ever be performed by the Joffrey Ballet in the city of Chicago. Productions nowadays, if they're successful, often get bought by other companies and can travel around and I think this ensures in a way, that this is really a production for this company.
CT: Robert Joffrey died of AIDS-related causes before even seeing his Nutcracker enter a second season. In many ways, it feels like there's a lot of Robert Joffrey himself tied up in this ballet. Is there a pressure there – to follow in his footsteps?
CW: Yes, I suppose there is. But this is a choice that Ashley [Wheater's] made and it's now very much becoming his company and I think he wanted to make a statement that things change, classic productions get reimagined all the time and this will be a Nutcracker for this generation of dancers and this generation of audiences.
CT: Joffrey's version of the ballet has received some criticism over the years for his choice to downplay the relationship between Clara and the Nutcracker in favor of Clara's relationship to her uncle, Drosselmeyer. How have you approached those relationships so far? Will we see a different Nutcracker in regard to those characters relationships? 
CW: I'll be really honest with you, I've yet to see the Joffrey Nutcracker. I haven't seen the production here. And I sort of did that on purpose because I didn't want to in any way be swayed towards anything one way or the other. I really wanted to keep the palate fresh in a sense. But we are certainly dealing with the idea of family in ours and, without giving too much away, I can pretty much guarantee that the relationship between Marie and Drosselmeyer in the new production will be very different from the Joffrey production.
CT: Why do people keep coming back to this ballet? Here we are in 2016 – why is this a ballet that still really brings people in?
CW: It's one of the greatest ballet scores ever written, first of all. So I think the music has a lot to do with it. And I think it's become a tradition. It's become a beautiful Christmas tradition where parents can bring their children. And it's huge in America, it's not the same in Europe. European ballet companies often put the Nutcracker on in the spring. I just saw the Nutcracker at the Paris Opera two weeks ago – and Christmas had been completely removed from that production, it was very contemporary. So, it's a part of the American Christmas tradition and I think we like to hold onto those things, those beautiful traditions.
It's a very kind of innocent and familial thing and we live in a really harsh world where we have to deal with a lot of issues on a daily basis and there's a lot of pressures and the Nutcracker is one thing we can all sort of share as a family at Christmas.  
---
Related from "Chicago Tonight"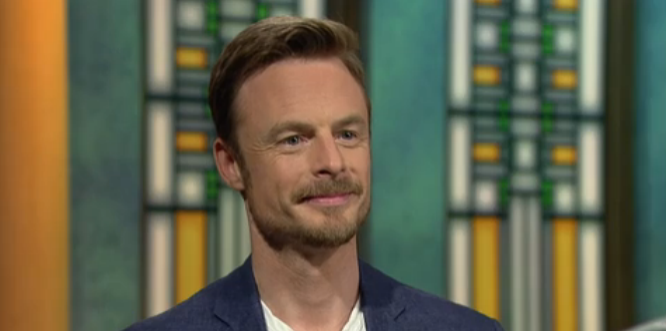 Tony Award-Winning Choreographer Works with New Joffrey Talent
Choreographer Christopher Wheeldon won a Tony Award in June for his work on Broadway's An American in Paris and next year he revamps the Joffrey Ballet's beloved Nutcracker. The Englishman is currently in town to work with veterans of his choreographic style and some new kids on the block – the Joffrey recently added 10 dancers to the company.
---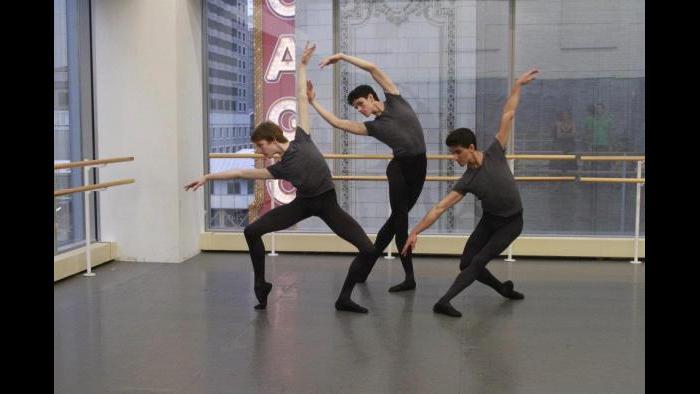 New Joffrey Ballet Recruits Talk Dance in an Increasingly Digital World
The Joffrey Ballet just hired 10 new dancers; you may have already met 2 of them
---