The video cannot be displayed.
For decades, a cocktail called the Downscope was served up at Skipper's Marina on the Calumet River. Its recipe was a closely guarded secret – until now. Geoffrey Baer tells us what's up with the Downscope.
Also in this edition of Ask Geoffrey: a history of the statues across from Midway at 63rd Street and Central Avenue and an answer to the question, Where have all the monk parakeets gone?
---
Do you have any info on the components of Downscope, a drink served for many years at Skipper's Marina on the Calumet River near 134th Street?
– ­Mary O'Sullivan, Gold Coast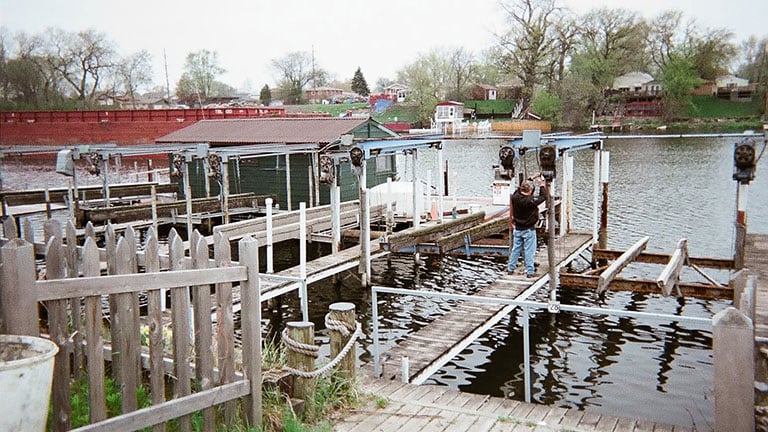 Skipper's Marina
Skipper's Marina was a boat storage facility and bar on the Calumet River in the Riverdale neighborhood of Chicago, which is right across the river from the suburb of Riverdale. The marina closed for business in 2010.
The marina was originally named Temulac and was owned and operated by Rose and Earl Strombeck since the 1940s. Earl developed the Downscope drink in the 1970s. Their son Paul "Skip" Strombeck took over the marina in the late '80s.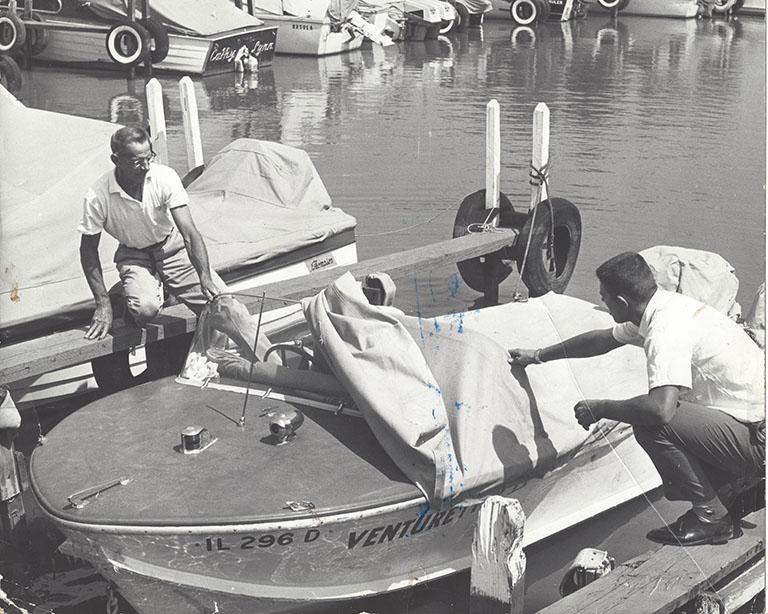 Earl (left) and Skip Strombeck
The Downscope was mixed and sold in half-gallon jugs for convenient transport to boats. (We should note that it's illegal for a boat operator to drink, but perfectly legal to have open containers aboard.) Paul Strombeck passed away in 2013, so we couldn't get it straight from him, but we spoke to his cousin Patricia Browall, and she shared the recipe her aunt had given her long ago. Patricia said that at Skip's memorial service, everyone in attendance toasted him with a Downscope.
We don't know why the drink was christened the Downscope, but Joe Szabo, former mayor of the town of Riverdale, said he thought it was because if you drank too many, you were going down. We have to agree.
To make about half a gallon of Earl's original Downscope recipe, mix together a quart of orange juice and a quart of lime juice with a few glugs each of rum and gin (a little more gin than rum), then add a few drops of green food coloring for that bright green color. You can find a few different versions of the recipe on the Internet that add vodka and triple sec, but this one is Earl's original recipe.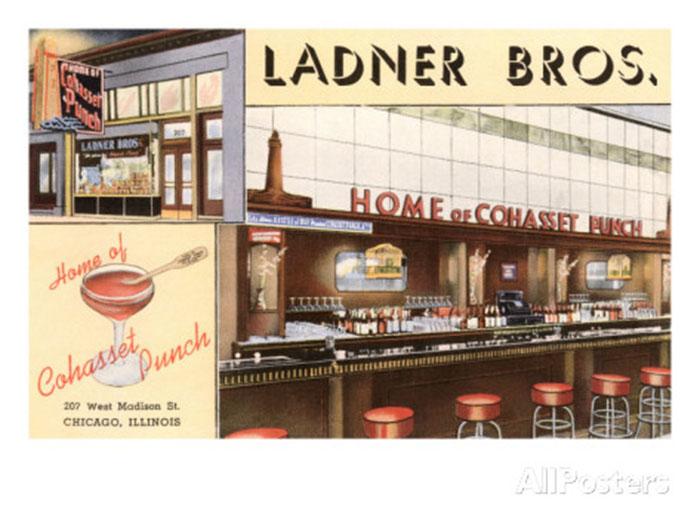 This got us to thinking about other cocktails with origins in Chicago. With what seems like a bar on every corner, new cocktails are being invented all the time, but we thought it might be time to bring back some historical Chicago tipples.
Fans of Chicago history might notice that we left out Chicago's most infamous cocktail, the Mickey Finn. The cocktail adulterated with a knockout drug was apocryphally invented by a (very real) Chicago bartender of the same name. Finn would serve the drink and then relieve the unconscious patrons of their wallets – a story that would eventually get his liquor license revoked by the city, and the source of the phrase "slip [someone] a mickey." We thought it best to skip the Mickey Finn. These cocktails are all above-board.
Chicago Cocktail
2 ounces cognac or brandy
¼ teaspoon Grand Marnier or orange liqueur
Dash of bitters
Champagne
Rim highball glass with sugar. Mix brandy, liqueur and bitters in a shaker with ice. Strain into glass and top with Champagne.
Cohasset Punch
1½ ounce rum
1½ ounce vermouth
Dash orange bitters
Juice of ½ lemon
½ oounce canned peach syrup
Place half a canned peach into flat-bottomed champagne glass, then fill glass half-way with cracked ice. Stir together remaining ingredients and pour over ice.
Chicago Fizz
1 ounce dark rum
1 ounce ruby port
1/2 ounce fresh lemon juice
1/2 teaspoon superfine sugar
Club Soda
Egg white
Mix rum, port, lemon juice, sugar, and egg white into a shaker with ice. Strain into a Collins glass. Top with club soda.
The Gilbert
1½  ounce gin
¾ ounce vermouth
¾ ounce absinthe
Mix in shaker with ice and strain into a coupe glass.
The Pink Lady
1.5 ounce gin
½ ounce orange syrup
Dash mineral water
½ lime
Combine over ice and serve.
---
What is the history of the statues across from Midway at 63rd and Central?
– Harry Betzel IV, Romeoville
The Crane and Moreland building
The towering sculptures and nearby planters are fragments of a building that stood on the site until very recently. It was the striking Spanish Baroque-style Crane and Moreland building right at the corner of 63rd Street and Central Avenue, built in 1927 and designed by Edward G. McClellan. The Crane and Moreland building and buildings on the other two corners were demolished in 2014 and turned into green spaces when the Chicago Department of Aviation ruled that these buildings were too close to the end of a Midway Airport runway.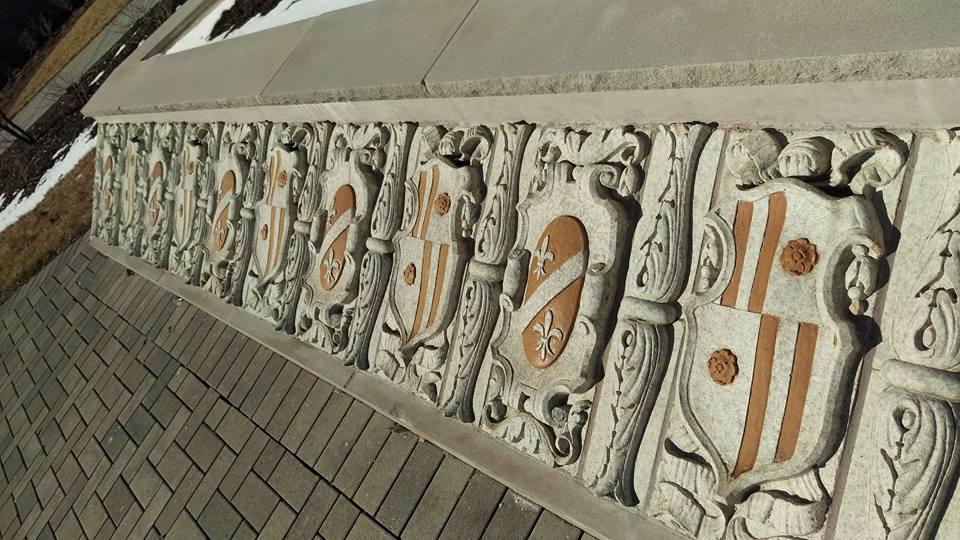 One of the remaining planters
Our viewers will remember the 2005 accident when a Southwest Airlines plane attempting to land in a snowstorm skidded past the end of a runway and crashed through the barrier wall and into traffic on Central Ave. Tragically, a six-year-old boy was killed. After that accident, the city acquired much of the land and buildings around the perimeter of Midway Airport as a buffer against potential future runway overruns.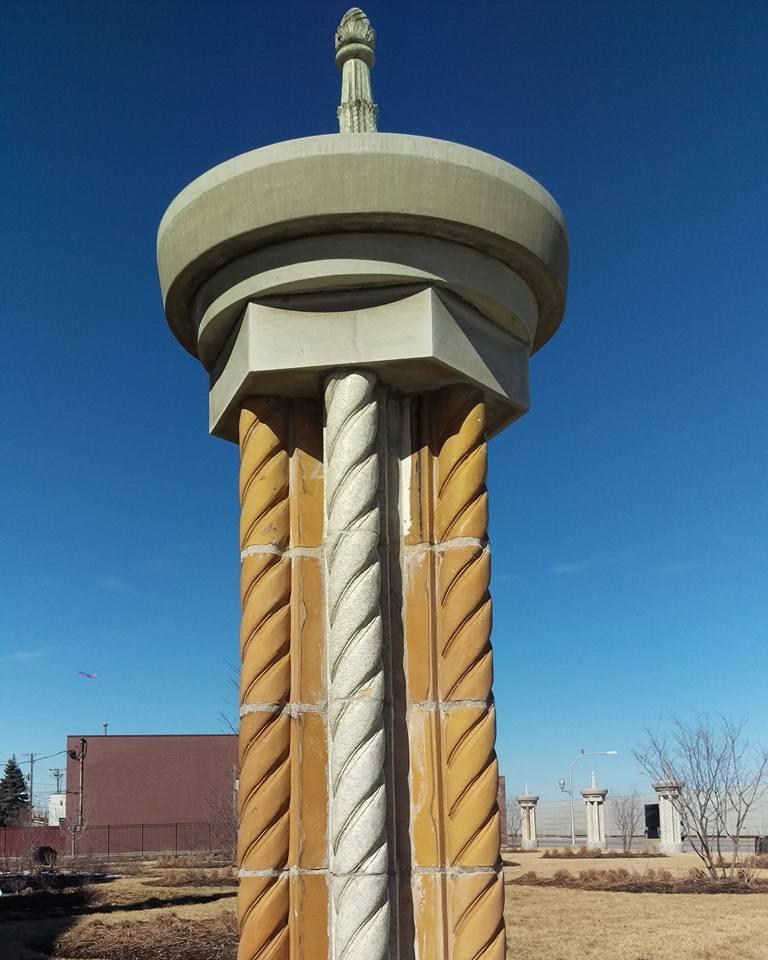 A meandering path in one of the green spaces where the buildings once stood is lined with these 10-foot-tall stone pillars made from trim and finials from the old Crane and Moreland building, which was constructed to house the offices of Crane and Moreland Real Estate.
A drugstore and other businesses and at one point a branch of the Chicago Public Library were also on the ground floor, and residential apartments on the upper floors. The distinctive building was a favorite in the neighborhood. Neighborhood associations tried to save it, but in the end the airport safety issue prevailed.
There's actually a precedent for removing surrounding buildings at Midway much, much earlier. Last year we answered a question about Nathan Hale Elementary School, which was across the street from the Crane and Moreland building, so even closer to the end of the runway. The school's tall smokestack was actually shortened after it was clipped by a plane. Nathan Hale Elementary relocated about a mile west of the airport in 1951 and the original building was demolished.
---
I heard you mention monk parakeets a few years ago. They used to feed in our backyard during winter but it has been years since I've seen one in the Hyde Park/Kenwood neighborhoods. What happened to them? Any sightings elsewhere? 
– Jose Maria Gabriel, Kenwood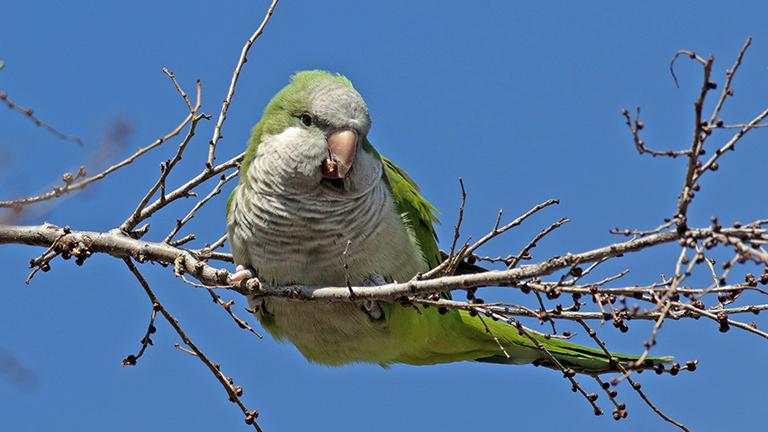 The monk parakeets are still around, but they're getting harder to find these days as the population has recently declined and they've moved out to the suburbs.
The birds are native to South America, but sometime in the 1960s, they came to Hyde Park, built homes and started raising families – the classic immigrant story. Even though the birds' native climate is temperate, they managed to thrive in Chicago's frigid winters thanks to their distinctive and often enormous stick nests built in trees, as well as in power lines and streetlights, which can be a nuisance.
Mayor Harold Washington enjoyed watching the noisy birds frolic from his home on 53rd Street and the Lake. After his death in 1987, a band of other bird-lovers in Hyde Park formed the Harold Washington Memorial Parrot Defense Fund to help protect them.
No one knows for sure how the birds came to live in Chicago of all places. The most common theory is that they were pets that escaped. Other theories hold that they were escapees from a University of Chicago experiment or from the pet trade. However it happened, it's happened more than once – monk parakeets have also created similar colonies elsewhere in North America, including Brooklyn and Cincinnati. But they definitely didn't migrate up here, according to University of Chicago Associate Professor Dr. Stephen Pruett-Jones – they're a non-migratory species.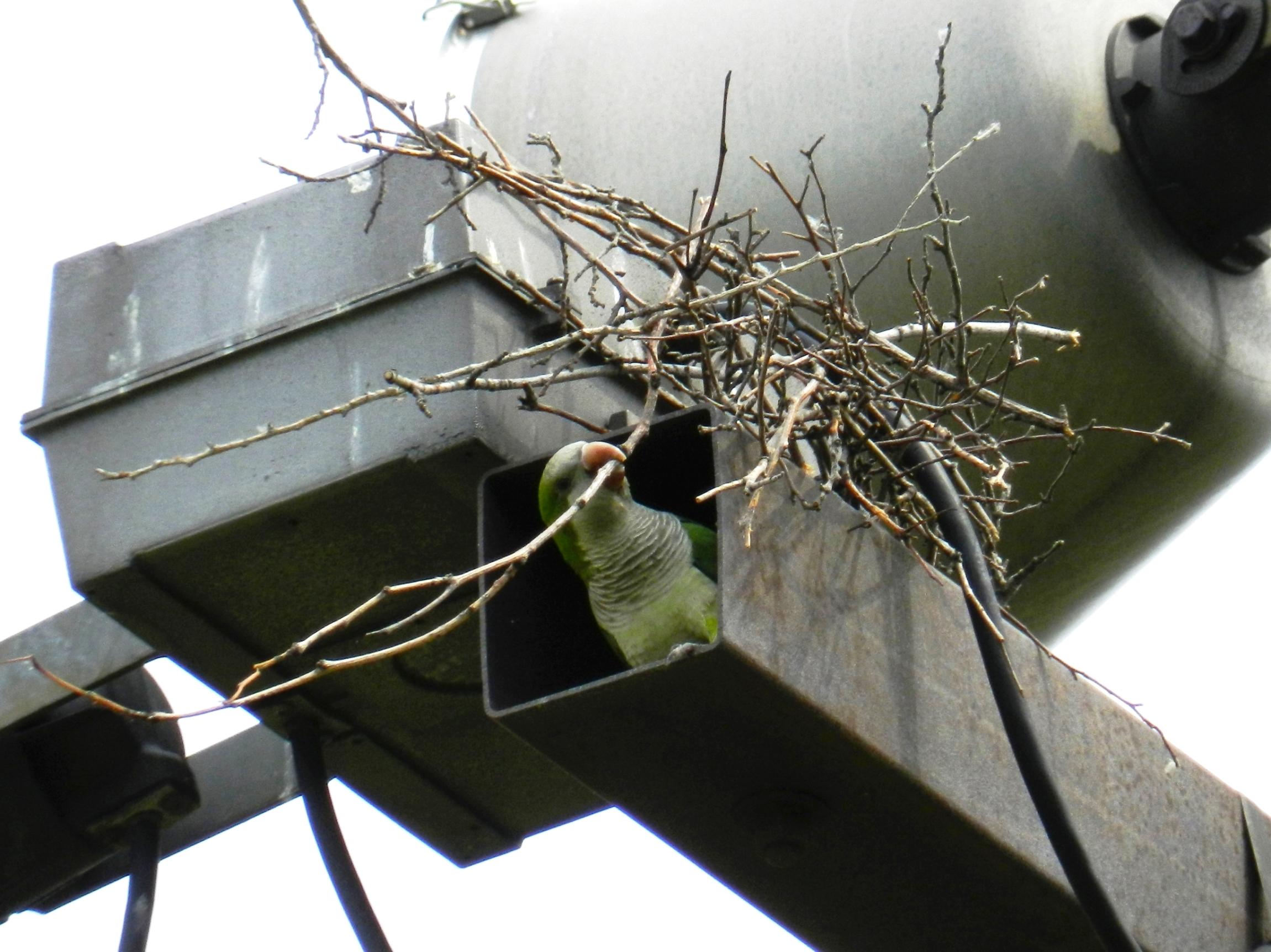 Monk parakeets are attracted to man-made structures like utility poles, where they have been known to build their nests. (John Iwanski / Flickr)
In 2011, a group of students mapped parakeets' nests in and around Chicago using reports from locals.
According to the survey's results, there were over 800 monk parakeets in the Chicago area, about half of which were in the west and south suburbs. But today, again according Dr. Pruett-Jones, only about 20 to 30 parakeets are still in Hyde Park, for reasons that researchers aren't yet sure of. Our colleague Evan Garcia looked deeper into what's happening to the Hyde Park parakeets, and you can read his report here. We also looked back into our archives and found a brief story on the monk parakeets on "Wild Chicago" as well as a 2007 "Chicago Tonight" story on the birds by Elizabeth Brackett. They really show how drastically the situation has changed in the last decade.
Do you have a photo of a monk parakeet nest near you? Send them to us at [email protected]. We'd love to see them.
---
More Ask Geoffrey: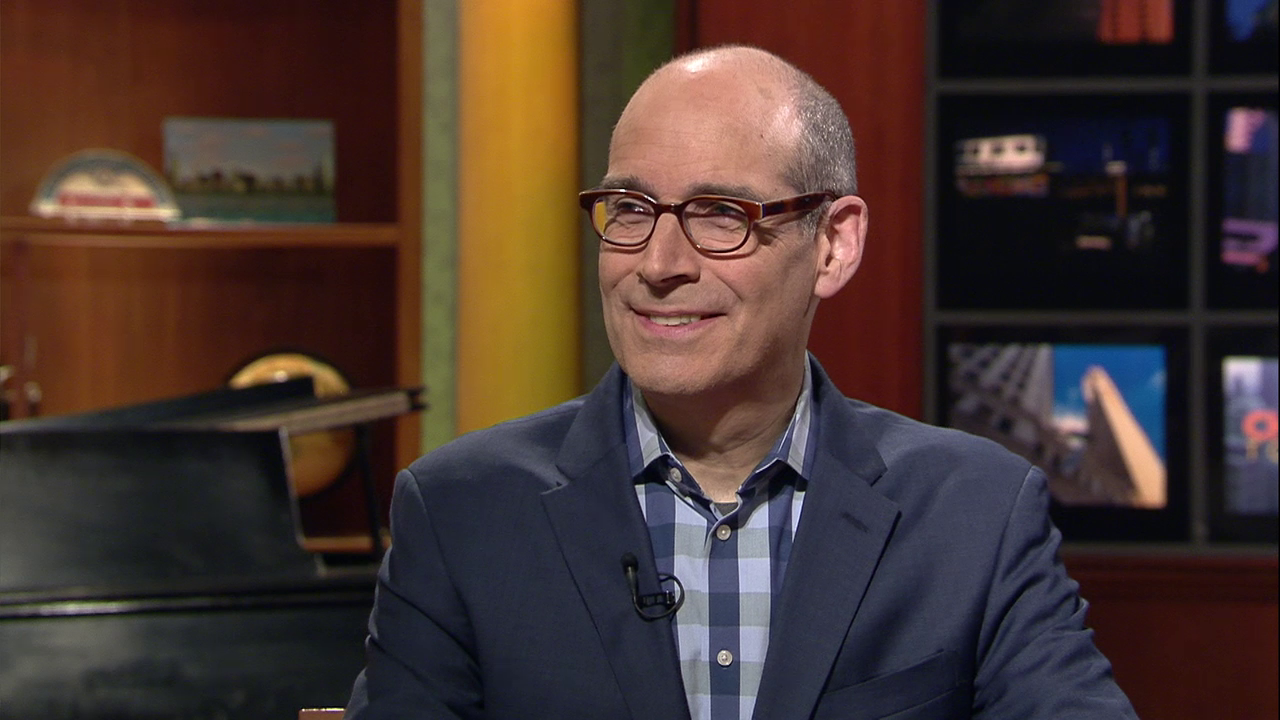 Did you know that you can dig through our Ask Geoffrey archives? Revisit your favorite episodes, discover new secrets about the city's past, and ask Geoffrey your own questions for possible exploration in upcoming episodes. Find it all right here.
Do you have a question for Geoffrey? Ask him.
---