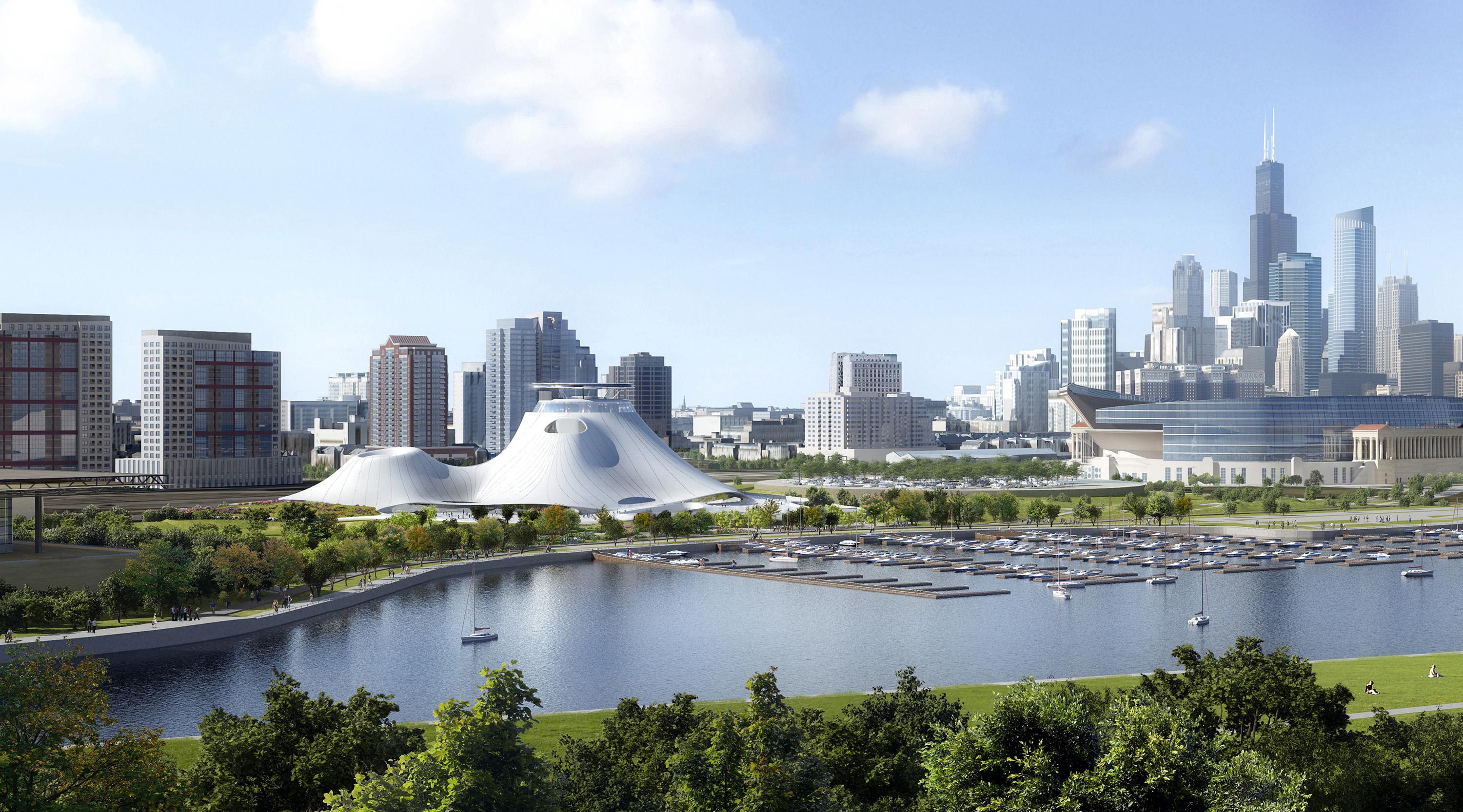 A federal judge yet again denied the city's request to begin early construction on the Lucas Museum of Narrative Art, the 300,000-square-foot museum proposed by film mogul George Lucas which would occupy some 17 acres of lakefront property.
The museum has already secured a contract with the Park District to lease the land, but that contract is being questioned in court by preservation group Friends of the Parks, which argues that it is illegal for the city to give away lakefront land intended for public use.  
At a federal court hearing Wednesday, Judge John Darrah again dismissed the city's request to begin construction – a position he's maintained since court proceedings first began in October 2014. Last month, an attorney for the city stressed that George Lucas was considering other locations for his futuristic museum project due to court delays. 
Mayor Rahm Emanuel echoed the same concern at a press conference Wednesday morning.
"I do not want to lose this for Chicago," he said, adding that he was trying to "turn a parking lot that has existed for decades into a park and a museum."
Stating that it would be "manifestly unfair" to Friends of the Parks to allow construction to begin on the Lucas Museum, Darrah laid the blame for any delays squarely on the city, citing its refusal to turn over documents that would shed light on the process by which the city handed Lucas the lakefront property. (Currently, the museum would lease that land from the Chicago Park District for 99 years at a cost of $10, with a two-time option to renew).
"Here we are two weeks later and there's still no resolution to this discovery issue," Darrah said, ultimately giving the city one week to come up with a schedule to hand over those documents. "The consequences of doing this wrong are severe."     
He also stressed that he could provide the city with a fall trial date if they would move swiftly on that discovery.
When asked if she believed the city would indeed comply with the judge's order to hand over the documents in question, Friends of the Parks Executive Director Juanita Irizarry said she wasn't certain.
"I was more confident after the last meeting when [the city] talked about cooperating, but since they haven't cooperated, I'm not as hopeful," she said.
The Lucas Museum's next court date is set for March 9 at the Dirksen Federal Courthouse. 
---
Related from "Chicago Tonight"
Should the Lucas Museum Be Allowed to Move Forward?
Father Michael Pfleger criticizes Friends of the Parks on social media. Tell us where you stand.
---
Case Against Lucas Museum Moves Forward
The city's move to dismiss a case against the Lucas Museum of Narrative Art was thrown out Thursday in federal court, paving the way for a longer fight and potentially delaying the museum's spring construction plans. 
---