A strong accusation from Gov. Bruce Rauner, who says that House Speaker Michael Madigan is strong-arming Illinois colleges and universities to reject any funding proposal that doesn't come from the speaker himself.
It's the latest salvo in an eight-month budget stalemate that's leaving Illinois colleges and universities without any state money.
There are two avenues to fund many of the state's colleges. One is a $721 million bill that would fund Monetary Assistance Program (MAP) grants for students and fund community colleges. It was was sponsored by Speaker Madigan and Democrats but vetoed by the governor because he says it would blow a bigger hole in the budget. Instead, Rauner's getting behind a few proposals that he says would fund those and state universities through cuts to things like pensions and workers' comp, and the creation of other efficiencies.
But Rauner says Speaker Madigan is blocking these proposals, and he says the speaker has strong-armed several state colleges, demanding that they stay silent on these proposals until after the March 15 primary.
"I haven't verified this directly, but I have good sources," Rauner said. "What Speaker Madigan has done is gone to the various universities and said, 'If you step out and support anything that the governor is proposing, I will cut you out of the final budget solution.' That's what I've been told. Speaker Madigan is managing this process for political gain in the primary election, not to help our students. It is outrageous."
The colleges almost universally denied these kinds of conversations taking place, beginning with Northeastern Illinois University: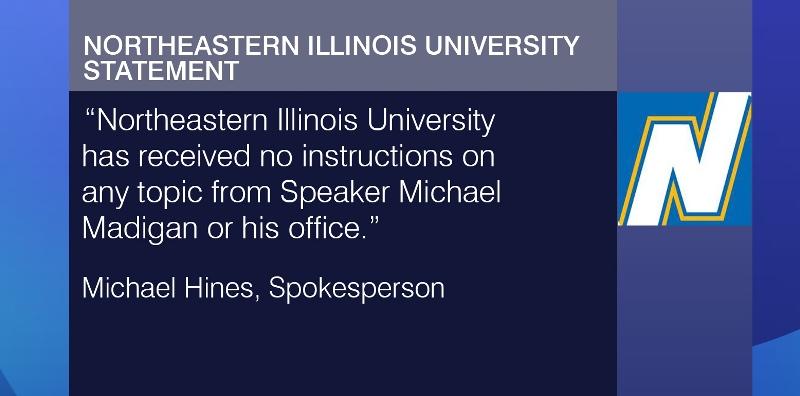 ---
Meanwhile, Western Illinois said they would not get in the middle of a political fight: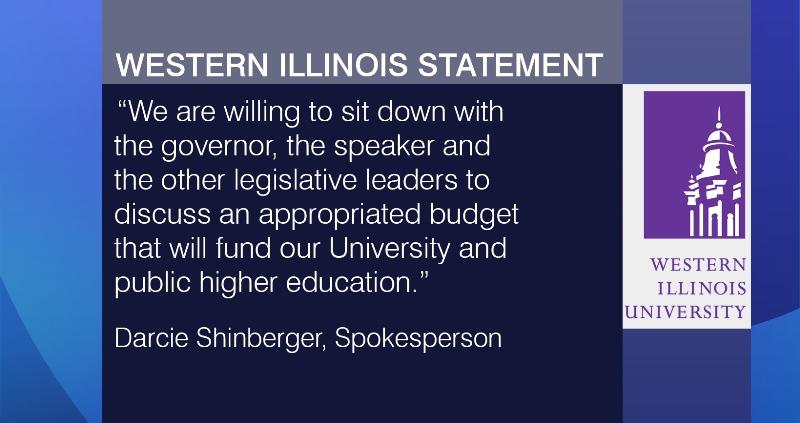 ---
And Chicago State University, which faces imminent closure because of no state funds, said: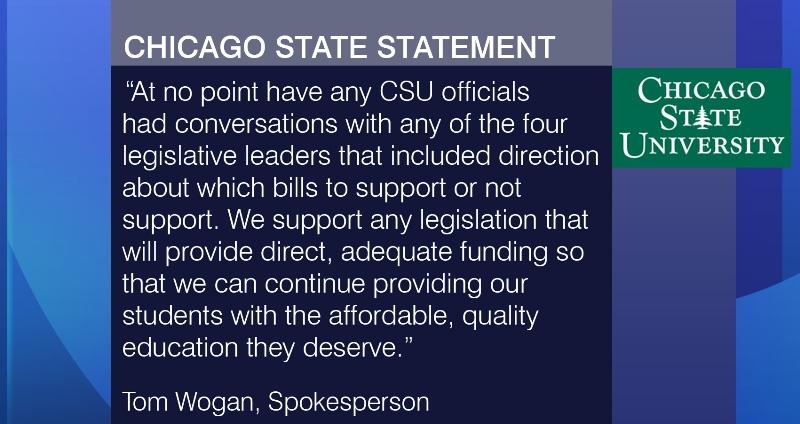 Also, the governor says Senate president John Cullerton personally told him that he'd been in the speaker's shadows for years and wasn't going to come out now. Cullerton said he wouldn't dignify the governor's claim with a response.
A spokesman for Madigan called Rauner's accusations ludicrous, noting that the governor appoints the university boards.
Madigan says they will instead try to override the governor's veto of their MAP grant funding bills either Tuesday or Wednesday.
Follow Paris Schutz on Twitter: @paschutz
---
Related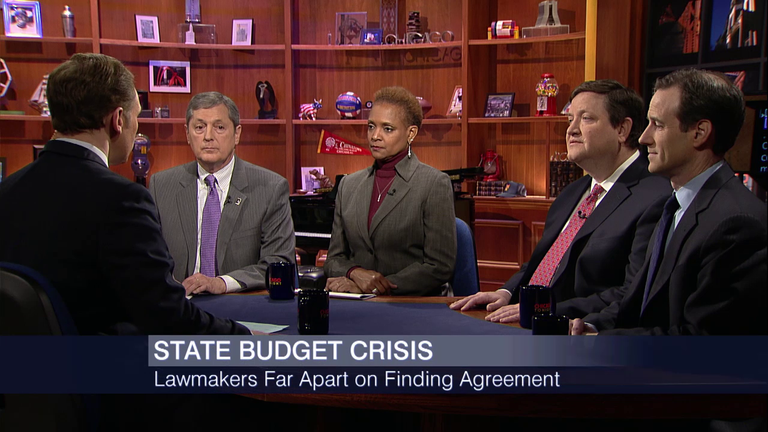 State Lawmakers on CPS, MAP Grants and Budget Woes at Universities
Feb. 25: The state's unprecedented political stalemate over the budget is increasingly sucking public education into financial uncertainty. State lawmakers discuss the fight over public education and Gov. Bruce Rauner's budget ultimatum.
---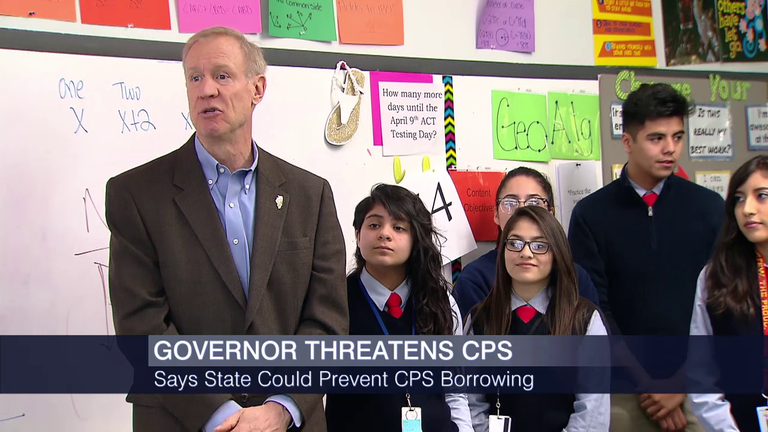 Gov. Rauner Threatens to Choke CPS Borrowing
Feb. 22: Gov. Bruce Rauner makes another move to take over Chicago Public Schools. This one, he says, could happen without legislative approval.
---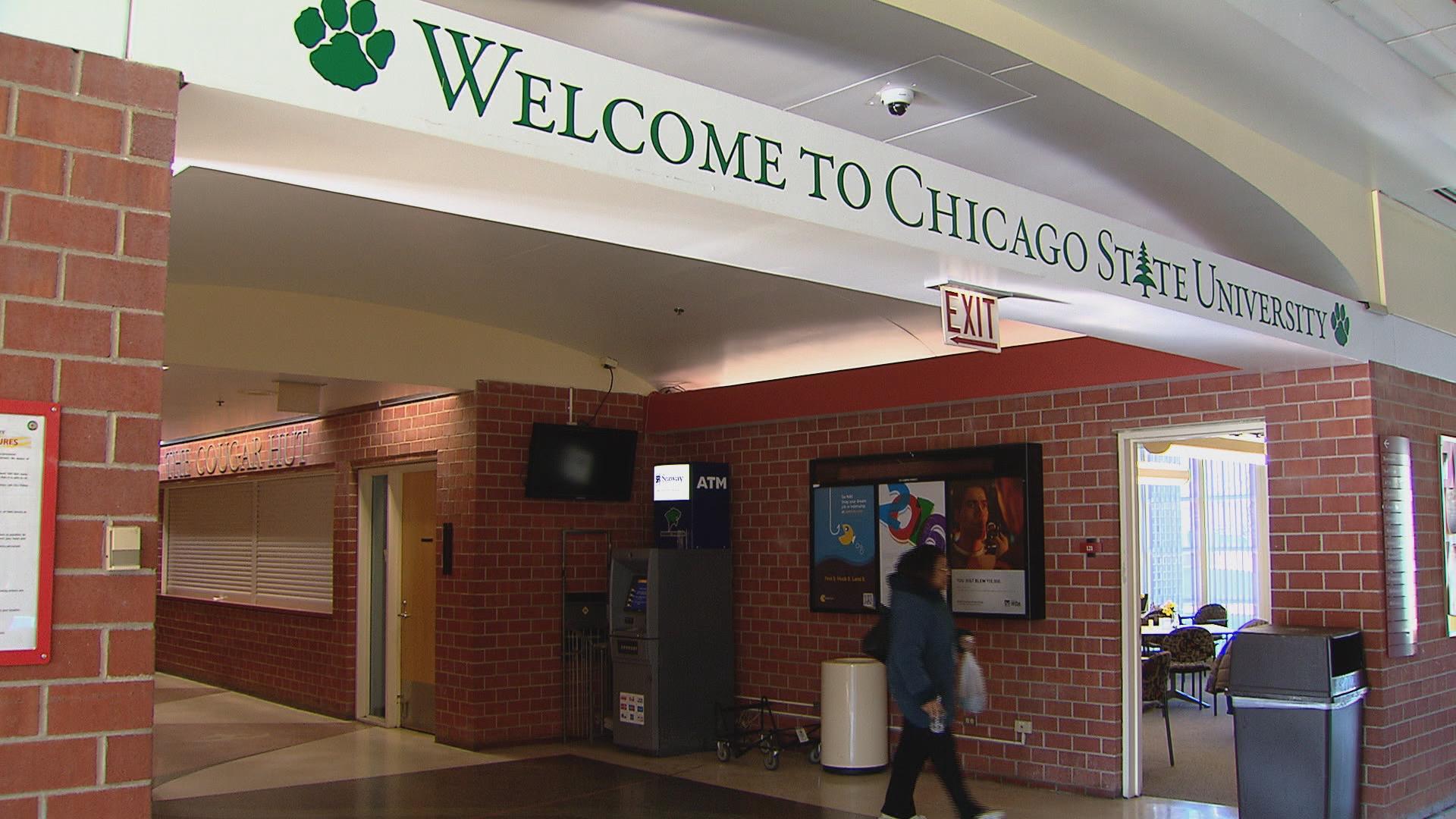 Chicago State University President on School's Financial Crisis
Feb. 16: Amid the budget stalemate, many public universities have been operating without funding from the state. Chicago State University has gone most of the fiscal year without a third of its budget. CSU President Thomas Calhoun Jr. tells us what's at stake.
---