The video cannot be displayed.
Justice Antonin Scalia was widely known for his conservative judicial philosophy and outspoken opinions on the U.S Supreme Court. But before his judicial rise to prominence, Scalia taught law at the University of Chicago. We caught up with one of his former colleagues who recounts Scalia as being a passionate, fiery professor with a penchant for debate, argument, and ... card tricks.
Scalia taught constitutional law at the University of Chicago from 1977-1982. His close colleague, University of Chicago law professor Geoffrey Stone, says Scalia was known even then on campus for his philosophy of originalism – or a strict literal interpretation of the Constitution and what he believed the founders intended.
Stone admits that he does not come close to sharing Scalia's legal philosophy, and he says they would have spirited disagreements but became friends because they had children in school together.
He said they cemented their friendship over monthly poker nights, where Scalia would tend to get creative in his role as dealer.
Geoffrey Stone "Scalia was a regular participant in these games," said Stone. "He wanted to have us play games that were off the beaten path. One of them he got a kick out of was insisting we play a version of poker where each player would hold a card on their forehead where other players could see their card but the holder was blind. So he got a kick out of things like that, and was a fun person to have engaged."
But Stone had a very public falling out with his friend when he wrote a scathing op-ed after a 2007 decision in which Scalia and the majority of the Supreme Court ruled against the legalization of late term abortion. Stone says he noted that all five of the majority justices were catholic – the four dissenters were not, and he says he believes religion may have trumped reliance on legal language in coming to the decision.
"Their passion for their religion may have led them to a result that in other circumstances they would not have reached," Stone says. "It infuriated justice Scalia who told people he was livid with me, and how could I possibly be so insensitive and inappropriate? He said he'd never step foot on U. of C. again as long as I remained on the faculty. He said he'd welcome an apology. I sent him a note saying I'm sorry I made him upset. He immediately called me and, being a good Catholic, forgave me for my transgression."
And he says they rekindled their friendship, last communicating with each other two months ago. But he says he believes that while Scalia's imprint on issues like gun rights, abortion and campaign finance are lasting – his philosophy of originalism is not.
"Although the debate over originalism in the academy and legal profession has been interesting and lively, the fact is it didn't win the war. When all the dust settled, it's an interesting and useful way to think about these issues, but it did not persuade enough people to win the war."
Meanwhile, the political fallout began almost immediately after Scalia's death.
Senator Dick Durbin reacted today to the call from Senate majority leader Mitch McConnell's suggestion that the vacancy should not be filled until the next presidency and that Republicans in the Senate would block any nominee from President Barack Obama.
"For Senate Republicans to reject the idea that the president would have the audacity to do his job for the remainder of his term shows you just how bad things are in this Republican Congress," Durbin said.
"The American people deserve a fully functioning government, and that means all three branches established by the Constitution. Senate Republicans continue to think that governing is as simple as being against President Obama at every turn."
Republican Senator Mark Kirk offered a very vague reaction, simply saying:
"Antonin Scalia was a giant in the history of American jurisprudence. His legacy and contribution to our nation will long endure. The political debate erupting about prospective nominees to fill the vacancy is unseemly, let us take the time to honor his life before the inevitable debate erupts."
Kirk is facing challenges from three democratic primary opponents: Tammy Duckworth, Andrea Zopp and Napolean Harris, all of whom called on Kirk to pick sides on whether or not he supports McConnell's stance.
Follow Paris Schutz on Twitter: @paschutz
Below, highlights from Justice Antonin Scalia's career
---
Related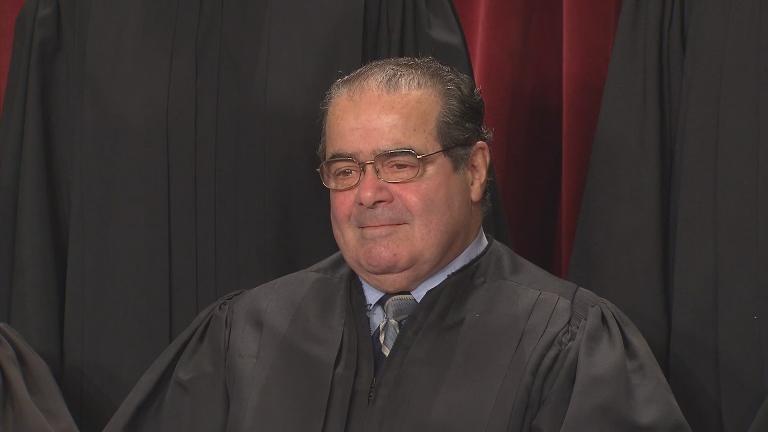 Former Supreme Court Clerks Remember Justice Antonin Scalia
Justice Antonin Scalia was known for his biting dissents and sharp wit. But who was the man behind the black robes? Four former Supreme Court clerks join "Chicago Tonight" to talk about the late justice.
---