Officials say the outbreak of the so-called dog flu throughout the Chicago area is now of greater concern than originally thought. Not only is it a strain of canine influenza virus that's never appeared in North America before but it also has the potential to infect cats. Dr. Donna Alexander, administrator of the Cook County Department of Animal & Rabies Control, tells us what the latest findings mean for pets and what animal control officials are doing to contain the outbreak.
---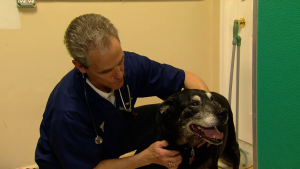 As the number of dogs infected with the highly contagious strain of canine flu climbs to over 1,100 in the Chicago area, pet care businesses are taking extra safety precautions to ride out the outbreak.
Happy Tails & Trails, a dog day care and boarding service in the West Loop, closed its doors for two weeks after some of its canine clientele became sick. In the meantime, the day care's walls and floors were power washed.
"We wanted to kill everything so we closed it off to clean it up," said owner Angie Lopez. "We reopened [Monday] but we're only allowing dogs with doctor's notes to come back."
Beyond proof of vaccination, Happy Tails continues to bleach surfaces and power wash every day and Lopez herself throws her clothes in the wash after work. So far, only 15 out of 50 dogs have returned but Lopez doesn't want pet owners to rush.
"Little by little, they're starting to come in," she said. "Some of the dogs are still sick. Some of them are walking but we want owners to take their time and make sure their pets are safe."
In Logan Square, pet groomer Temple of the Dog & Meow Lounge is not accepting appointments from any pets that have been at day care or to a dog park. While getting their fur trimmed, dogs and cats at Temple are kenneled to avoid contact with each other and potential exposure to the virus.
"It's so sad but we've had to turn down so many appointments. We want to be super, super cautious," said owner Tara Evangelist. "We're operating in a bubble."
Michele Goodman, owner of Zulu Dog + Cat Boutique in North Center, estimates that 3 percent of her customers have canceled appointments due to illness or fear of catching the flu. Zulu has upped its cleaning solution to a stronger disinfectant and recommends vaccination to its clientele. 
Because Zulu grooms no more than two dogs or cats at a time, Goodman says the small size of her operation is reassuring to customers. Still, if the epidemic worsens, Zulu may stop its grooming services while its retail store remains open.
"I think it's very important to not shuffle this off to the side," she said. "People need to take this seriously and immunize their pets, just as you should be immunizing your children."
Like Goodman, Lopez and Evangelist emphasized the seriousness of the epidemic.
"Even with ringworm or some other parasitic thing or fleas, which come back every year, it's never been this bad," said Evangelist.
"I've been in business for 14 years and I worked at an animal hospital before that. I've never seen anything like this," said Lopez. "I've seen some pretty bad cases of kennel cough but never something that's lasted this long. And we did lose one of our dogs to this, which really saddens me because I love them all."
Vet-technician Galdy Baptista, owner of grooming and day care service Grooming by Galdy in Rogers Park, disagrees and says canine flu is all bark and no bite.
"I'm a little aggravated about the situation. I get 70 to 100 people calling me. But I have over 4,000 customers, from Evanston, Edgewater, downtown, as far as Skokie, and no one has gotten it. No one has heard of anyone getting it," Baptista said.
Still, despite his doubts about the media hype over canine flu, Baptista says he's using bleach and cleaning more.