The video cannot be displayed.
Two musical revivals in the suburbs might take place at different points in history, but Chicago Sun-Times theater critic Hedy Weiss says their energy brings a newfound relevance to the stories. A group of plays currently showing around Chicago explore everything from the music of Louis Armstrong to the comical dynamic of a 1930s British office.
Hedy Weiss gives us her take on six highly recommended shows.
---
'Satchmo at the Waldorf'
Continues through Feb. 14
Court Theatre, 5535 S. Ellis Ave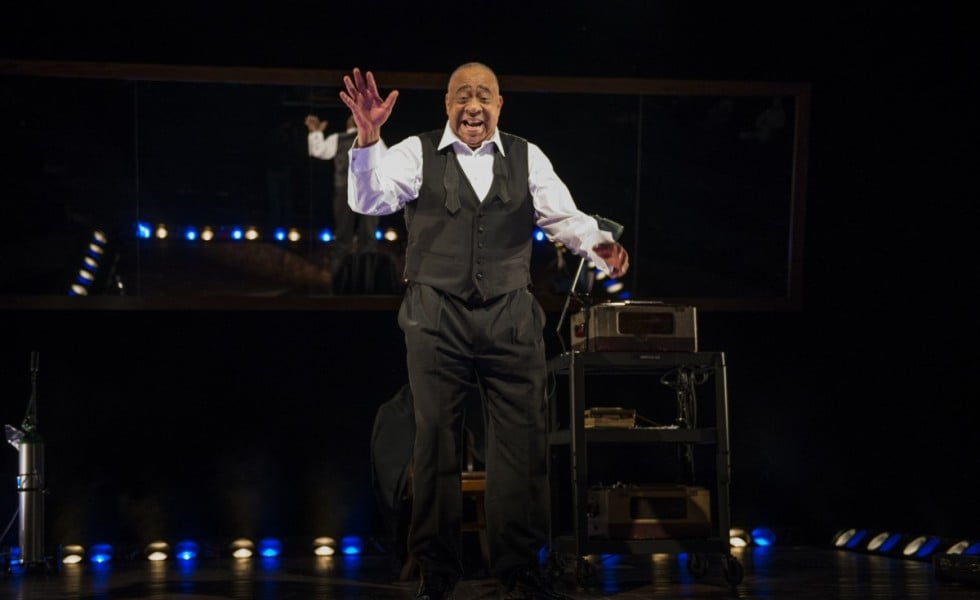 Barry Shabaka Henley in 'Satchmo at the Waldorf' (Michael Brosilow)
 "[Terry] Teachout's play suggests that Armstrong might have had more complicated and conflicted feelings about the whole thing," Weiss said her Sun-Times review.
"On the one hand, he was a pragmatist who understood what it took to sustain his fame, and he also had great respect for classical music (with one of the most intriguing sequences in the play suggesting how he echoed his love of opera singers' vocal flourishes on his horn). On the other hand, as a fatherless child of poverty who grew up in New Orleans' Storyville neighborhood, and endured the most virulent examples of Jim Crow racism throughout most of his long career, he needed no reminders of the many indignities foisted upon him, and more or less dismissed them."
"Under Charles Newell's understated direction, [Barry Shabaka] Henley (an actor with formidable stage credits who just happens to be best known for his work in film and television), gives a commanding performance. A large, solidly built man, he is, on the surface, less playful and impish than the Armstrong audiences recall. But he brings a gravity, a force of character, and an inherent dignity to the man, and his morphing from Satchmo to Glaser and Davis is wholly seamless."
---
'London Wall'
Continues through Feb. 14
Griffin Theatre at The Den Theatre, 1333 N. Milwaukee Ave.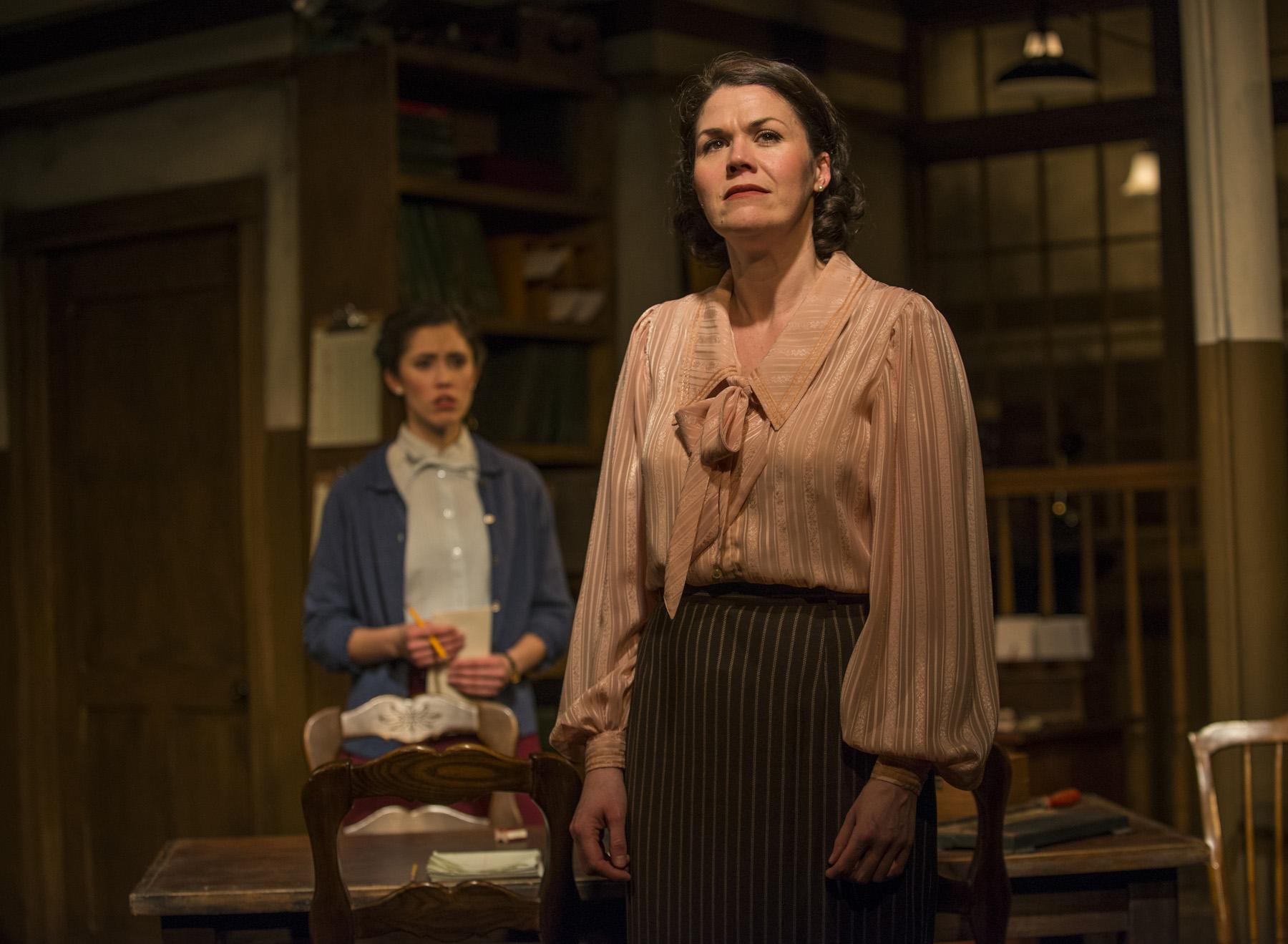 Rochelle Therrien and Venessa Greenway in 'London Wall' (Michael Brosilow)
"The law office that serves as the backdrop for 'London Wall' — a beguiling vintage piece by John Van Druten that has been revived with period-perfect flair in its Griffin Theatre production — is filled with all the old tools of the office trade: A manual switchboard whose operator can "listen in"; heavy wooden desks; steno pads; ribbons used to tie together the pages of documents; gracefully curved 1920's telephones," Weiss said in her review.
"But it is the occupants of this office, who are caught up in a variety of personal situations, who really capture the era in this often rueful comedy of manners, circa 1930. And they are a captivating bunch as they try to get ahead, in one way or another, in the decade that followed the devastating impact of World War I on British society."
---
'Sunset Baby'
Continues through April 10
TimeLine Theater, 615 W. Wellington Ave.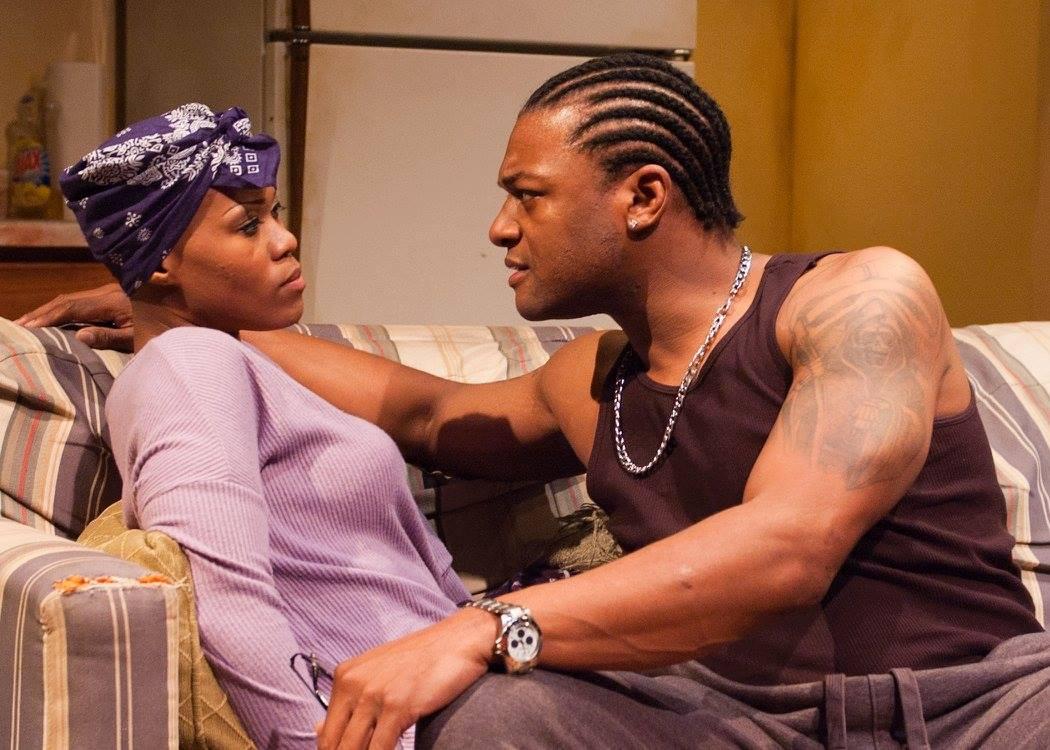 AnJi White and Kelvin Roston, Jr. perform in 'Sunset Baby.' (Courtesy of TimeLine Theater)
"What is the responsibility of a parent to a child? Why does fatherhood (and [playwright Dominique] Morisseau speaks to the black community here) so often come paired with failure, fear, shame, guilt, the quest for freedom and what Kenyatta describes as "unpreparedness," even when it also is bundled with such love? And is it ever possible to make amends?" Weiss said in her Jan. 21 Sun-Times review.
"'Sunset Baby' examines many aspects of that incredibly complex bond, a bond made even more complicated by the state of society, although Morisseau does not let these fathers off the hook for that reason."
---
'Animals Out of Paper'
Continues Through Feb. 27
Shattered Globe Theatre at Theatre Wit, 1229 W. Belmont Ave.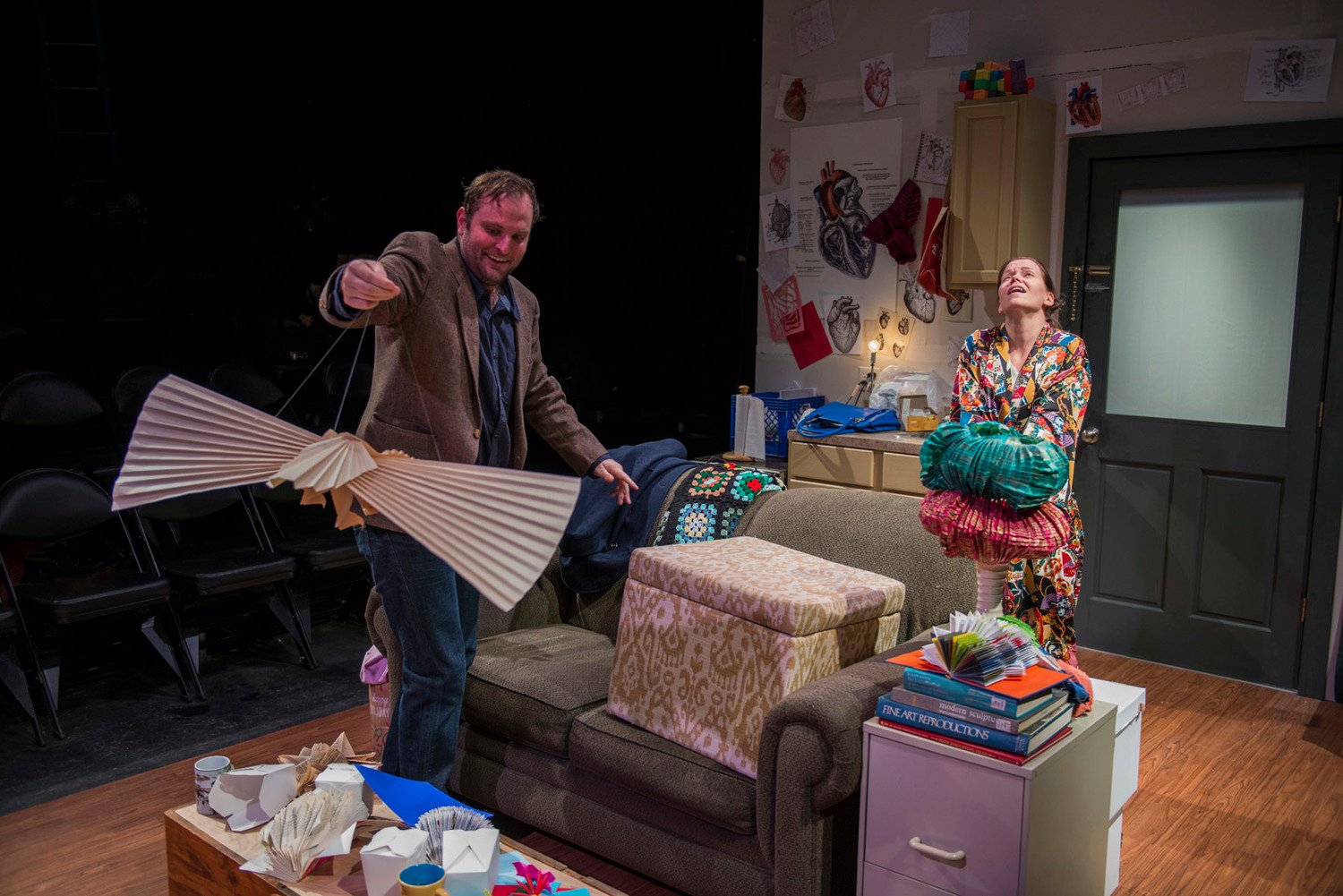 Joe Wiens and Cortney McKenna perform in 'Animals Out of Paper.' (Michael Brosilow).
Weiss said "Animals Out of Paper" playing at Theatre Wit is "a very smart play."
"[Playwright Rajiv Joseph] has a real gift for finding poetry, and being able to use metaphors, like origami, which is folding paper, and like hip hop," said Weiss on "Chicago Tonight."
"We see this in the scene where an origami specialist is talking to one of her new students, and he's trying to tell her how she should think about the folding and hip hop and lyrics,"
"The fascinating [part] is the set … the origami is really wonderful."
---
'Bye Bye Birdie'
Continues through March 13
Drury Lane Theatre, 100 Drury Lane, Oakbrook Terrace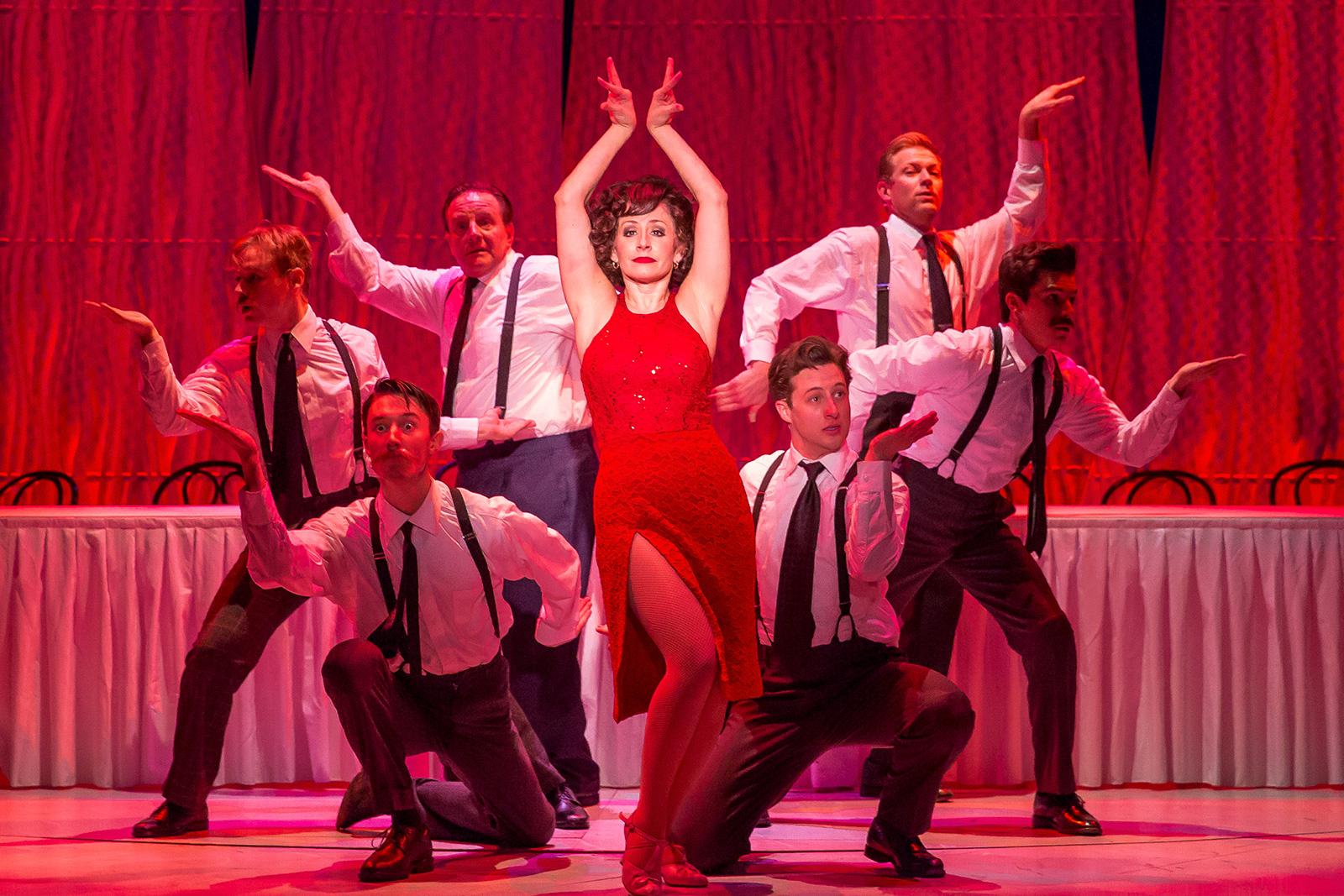 The cast performs in 'Bye Bye Birdie.' (Courtesy of Drury Lane Theatre)
 "How do you inject genuine fun, fizz and frenzy into 'Bye Bye Birdie,' the musical that arrived on Broadway in 1960, served as an homage to the 1950s, and now, in so many ways, could easily feel as dated as black and white console televisions, land line telephones, pedal pushers, saddle shoes and gas-guzzling cars with giant tailfins?" Weiss said in her Jan. 22 review.
"To begin with, you tap Tammy Mader, the Chicago director who forged her career as a dancer, choreographer (and vintage dresser). Mader understands that locomotion — and the sort of crazily cartoonish energy that suggests the birth of rock and roll and its associated fan club antics — is the key to making this show pop in ways you might never have thought possible."
---
'Hairspray'
Continues through Feb. 20
Paramount Theatre, 23 E. Galena Blvd., Aurora
Amelia Jo Parish plays Tracy Turnblad. (Liz Lauren)
"Broadway musicals can be intriguing barometers of where mainstream audiences happened to be at any particular point in history," Weiss said in her Jan. 24 review in the Chicago Sun-Times. "This was driven home after watching the exuberant Paramount Theatre revival of 'Hairspray.'"
 "Amber Mak, among the female director-choreographers (Rachel Rockwell, Tammy Mader, Brenda Didier and Linda Fortunato) who are now major musical theater forces here, easily takes command of this show with its infectious score by Marc Shaiman and Scott Wittman, and a snappy, feel-good book by Mark O'Donnell and Thomas Meehan. And not only has she winningly played down the campiness, but has she cast it ideally.
"Tracy's parents are a case in point, with Michael Kingston so happily larger-than-life and natural as Tracy's mom, Edna, that you almost forget he's in drag, and Michael Ehlers the essence of vaudeville joie de vivre as her fleet, adoring husband, Wilbur. Landree Fleming, a marvelous comedian, is perfection as Tracy's nerdy pal, Penny Pingleton, who is bound to blossom. And Henry McGinniss is a wiry, lush-voiced Link."
---
Video extra: Hear what Hedy Weiss has to say about "Hairspray" and "Bye Bye Birdie" on "Chicago Tonight":
---
Catch up on more reviews from the Chicago Sun-Times theater critic.
---