Geoffrey Baer visits an artist under glass, gets that sinking feeling at a Jackson Park garden, and reveals the hej hej history of the Andersonville neighborhood's name.
---
Everyone thinks I'm crazy. I thought an artist at the Museum of Contemporary Art was shot in the leg by a Chicago Police Sharpshooter in the 1960s. Am I right?
– Mitchell Kasprzyk, Portage Park 
Our viewer is not crazy, but he seems to be confusing two things, one that happened at the MCA and one that happened at another museum. The MCA confirmed that no artist was ever shot there, in the leg or anywhere else. Mitchell is probably thinking of a 1971 performance piece in a California gallery by artist Chris Burden titled Shoot in which a friend shot him in the arm with a .22 rifle. Watch a video of the piece here:
---
Burden made a name for himself with what he called "danger pieces" like Shoot in which he harmed himself or put himself at some physical risk. A few years later Burden appeared at the MCA in a different danger piece titled Doomed. Burden lay under a 5-by-8 sheet of glass in a gallery with a clock on the wall and remained motionless for more than 45 hours. The performance finally ended when an MCA employee set a pitcher of water next to him. Burden got up, left the room, and returned with a hammer, which he used to smash the glass and the clock.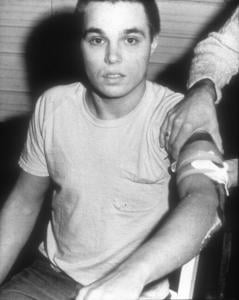 Chris Burden
Burden's concept for the piece comprised three elements: the glass, the clock, and the artist himself. Burden planned to end the piece as soon as one of those three elements was altered. Burden expected it to last a few hours until museum staff would somehow prompt him into ending it. But the museum staff thought that their role was not to interfere. By the second night, Burden reported his thoughts were, "My God, don't they care anything at all about me? Are they going to leave me here to die?" And while he obviously didn't die then, he never did another danger piece.
Back in 1978, WTTW produced an episode of the show Made in Chicago about performance art called You Call That Art?! featuring Burden's Doomed piece, followed by a commentary by none other than Roger Ebert himself – you can view that excerpt here:  
---
Burden did continue making art, though, like his 2008 installation called Urban Light, an assemblage of 202 restored, illuminated lampposts outside of the Los Angeles County Museum of Art. As our viewers might have seen in the news, Burden died this past May at age 69 not from his art but from melanoma.
---
Where did the name of the Andersonville neighborhood come from?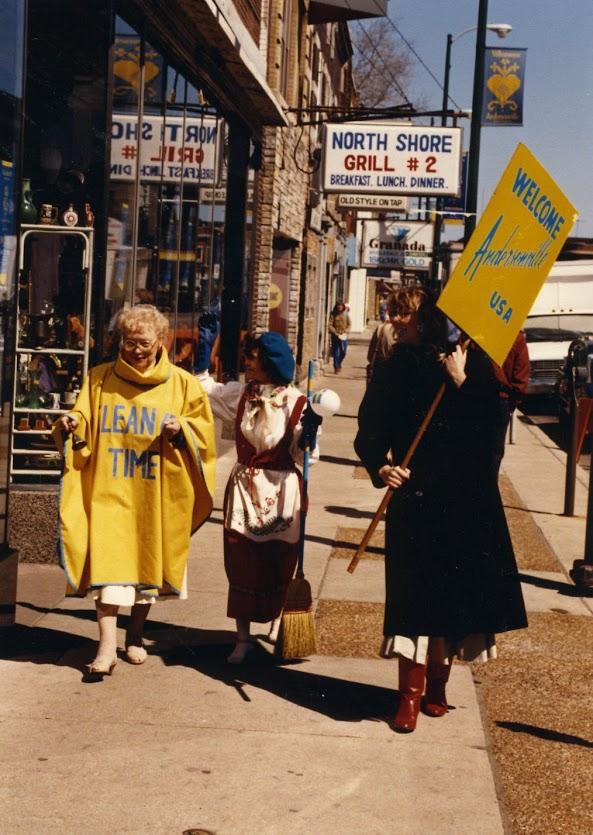 This is a neighborhood most famous for its Swedish heritage on Chicago's North Side around Foster and Clark streets. The name goes back as far as the 1850s when a portion of today's Andersonville was platted with that name, and a school called Andersonville School once stood on Foster between Clark and Ashland. But at some point the Andersonville name seems to have been forgotten, and the area was considered part of the Uptown neighborhood. 
By the 1960s, with people moving to the suburbs, Uptown experienced a decline. A group of business owners banded together to rejuvenate the neighborhood's image. Someone remembered Andersonville School, which sounded Swedish, so they decided to revive that name for their portion of the neighborhood. They hoped to draw visitors to the neighborhood's small businesses, many of which were Scandinavian-themed shops and restaurants. They put up flags along Clark Street and started a street festival called Midsommarfest, which is still held each June. In another marketing stunt, every day at 10:00 am business owners would sweep off their sidewalks when a bell rang. The new name was dedicated in October 1964 in a ceremony presided over by Mayor Richard J. Daley followed by a parade down Clark Street, which included a Viking ship float. 
So where did the original Andersonville name come from? Whether it was done to reflect the town's Swedish population or an actual farmer named Anderson is still a matter of debate.  And there's another twist. On the sign on the original school building, Andersenville is spelled with an "e", not an "o". That's more typical of Norwegian surnames, not Swedish, which leads some people to believe the school was named not for a Swede, but for a community leader of Norwegian descent, the Rev. Paul Andersen.
This year, the Andersonville Chamber of Commerce is celebrating the 50th anniversary of Andersonville's renaming. Right now, Andersonville shops are displaying over 200 large historic photos along Clark Street. They'll be up through the end of this month. 
---
I grew up near Jackson Park in the '40s and '50s. I remember a big rectangular sunken garden in the park. I can find no record of such a garden in that park. Am I remembering right or is it my imagination?
– Maryellen Shute, Sauganash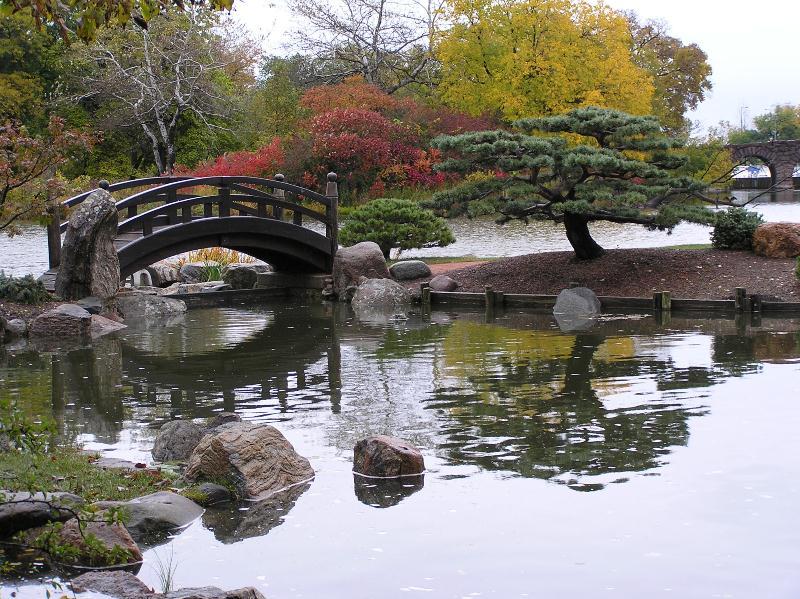 Our viewer has the right garden, but the wrong shape according to Park District historian Julia Bachrach. Maryellen is probably thinking of the Jackson Park Perennial Garden, a circular garden located where the Midway Plaisance meets Jackson Park. The site of the 300-foot wide garden was conceived in the late 1800s as a water basin by the park's renowned designer Frederick Law Olmsted. The basin plan was scrapped due to engineering concerns, and the sunken area was just left as a circular lawn. In the late 1930s, the sunken area was converted to a perennial garden designed by landscape architect May McAdams. The garden was fully restored in 1996 after many years of neglect.
The viewer also asked about the Osaka Garden, which stands on Wooded Island in Jackson Park. Our viewer said she doesn't remember Osaka Garden being there in the '50s, and she's right – it wasn't. But its history actually dates back to the 1893 World's Columbian Exposition in Jackson Park. Wooded Island was the site of the Japanese Pavilion at the Exposition. In 1934, the Chicago Park District restored the pavilion and spruced up the island with among other things, a Japanese garden. After Pearl Harbor, the garden was vandalized and the pavilion burned down in 1946 (so the garden was indeed gone in the 1950s.) Flash forward to 1981, the garden was replanted and rededicated after Chicago and Osaka became sister cities. It was renamed Garden of the Phoenix in 2013. 
In June, Yoko Ono announced that she is creating a permanent art installation on the long-vacant site of the burned Japanese Pavilion, called Sky Landing. She sees it as a way of healing what she considers a place of great significance. It will consist of a low hill, a sculpture, and a site for meditation, and is set to open in June of 2016.
---
Note: This episode of "Ask Geoffrey" originally aired on "Chicago Tonight" on Aug. 13, 2015.
---
More Ask Geoffrey: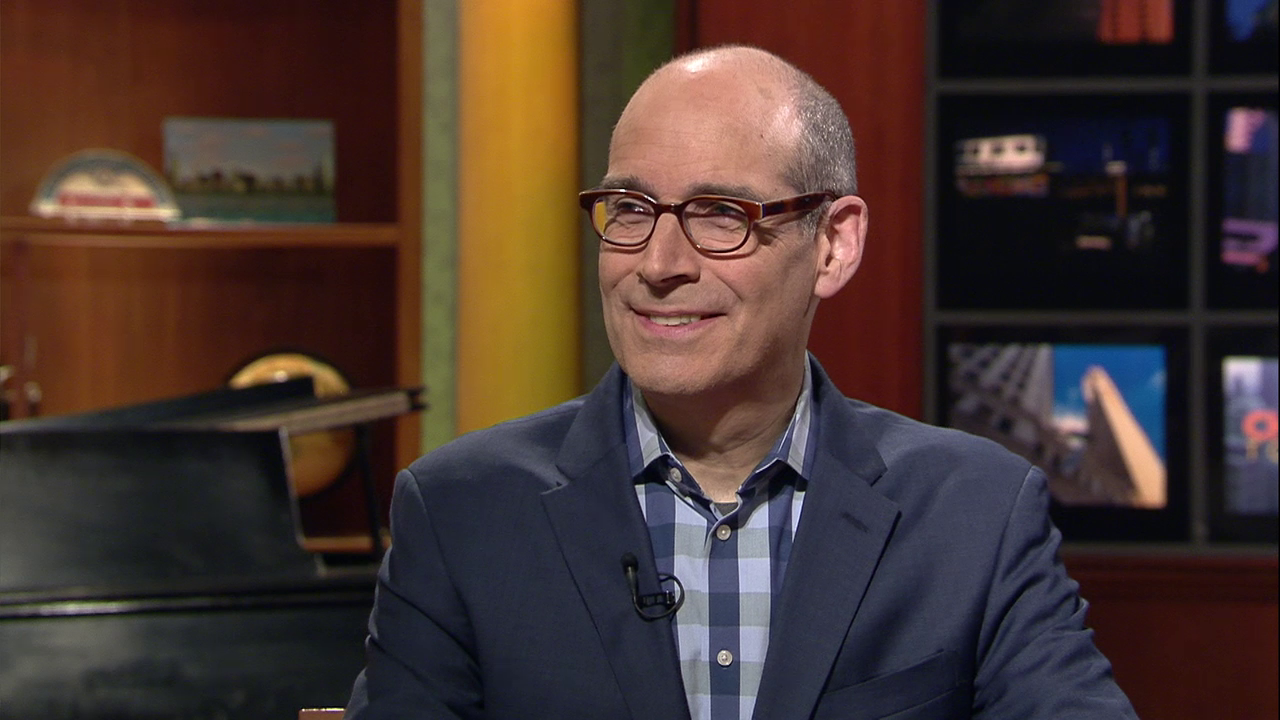 Did you know that you can dig through our Ask Geoffrey archives? Revisit your favorite episodes, discover new secrets about the city's past, and ask Geoffrey your own questions for possible exploration in upcoming episodes. Find it all right here.
---