Photographer Captures the 'Wilds of Chicago' in New Book
From the tall grass prairies to rare oak savannas, local photographer and humorist Mike MacDonald has captured the stunning beauty of the Chicago area in his new coffee table book, "My Journey Into the Wilds of Chicago: A Celebration of Chicagoland's Startling Natural Wonders."
The book features more than 200 landscape photographs and nearly two dozen essays and poems written by MacDonald about Chicago's wild side, ranging in geography from the lakefront to prairie lands just north of the border, to Kankakee, Lockport, Batavia and McHenry County.
MacDonald shares some of his favorite spots in the area and talks about the book, which he says was inspired by what he saw as a lost connection.
"I discovered that people have lost connection with nature, because they're on their smartphones and electronic screens," MacDonald said. "Also, I did the book not just for Chicagoans but also for Chicago nature. There's over 350 square miles of nature preserves within an hour's drive of downtown Chicago, but most people don't even know they're there. So I've made it my mission to play matchmaker and to introduce Chicagoans to that gorgeous neighbor next door and to spark thousands and thousands of love affairs."
Below, the introduction to "My Journey Into the Wilds of Chicago."
Come on a journey with me as I guide you through the wilds of the Chicago region, using photography, prose, poetry, and the power of your imagination. But before we embark on the first chapter of our journey, let me provide you with some insight to prepare you for the adventure ahead.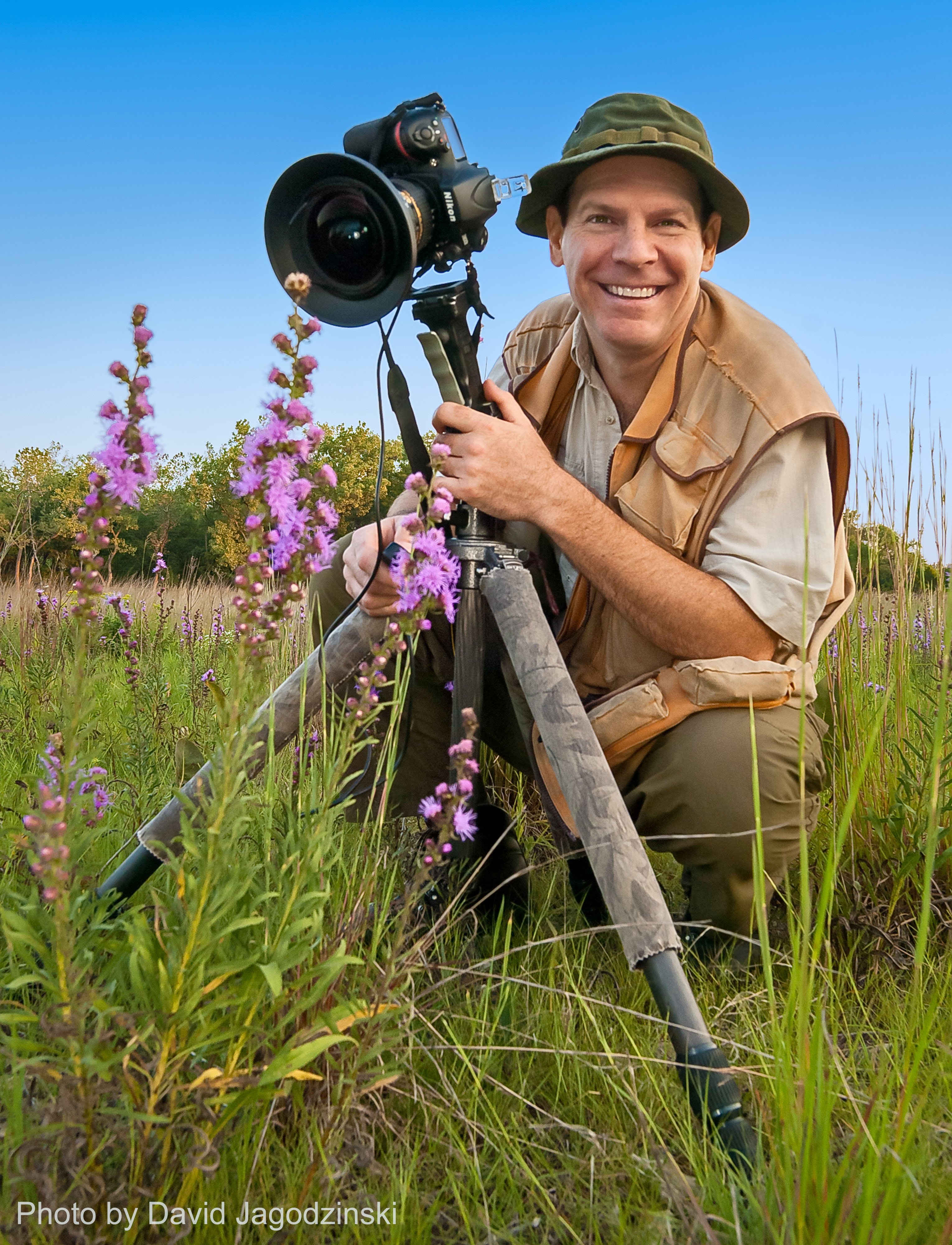 Mike MacDonald
This book is the itinerary for our tour: we depart on the first page and return on the last. And though you may be used to sudden flights of fancy and setting your own course, this time you're along for the ride. Be a falling feather and let the words be the breeze. Follow the prevailing wind and its smooth sailing. Let go, and you won't miss a thing. Each new encounter and new discovery will come just in time, just as I've planned.
Each chapter presents an uplifting, insightful, or fanciful theme, beginning with a short essay embellished with immersive photography and rich captions. And though the photographs are seductive and captivating, the colorful imagery of the words provides the action. Palpable descriptions pull you into the adventure and consume you in the moment.
Along our way, we'll experience the smells of nature: the good, the bad, and the oh-so-bad. We'll ponder the morning and the light, the dew and the don't, the music of the songbirds, the winters and the springs, the magic and the monsters, and the hope that nature brings.
Our itinerary includes visits to two dozen special preserves, inspirational and exciting places that you really must see. In addition to natural beauty, these places possess two exhilarating qualities: biodiversity and an escape from everyday life. But that's a lot different than it used to be.
All of my life, I believed that because nature was green, then all green was beautiful and all green was good. Yet in truth, I was the green one. I had no idea that the emerald fields of my youth may well have been battlefields in a slow, quiet war started by just a handful of olive colored alien marauders. Quickly multiplying, they invade, gradually exterminating vast populations of native plant species and forcing the animals that depend on these vanquished plants to find homes elsewhere—replacing the music and bustle of life with a ghostly silence. Entranced by the green of nature, I was oblivious to my surroundings, unable to discern fact from fantasy, good from evil. Then came Chicago Wilderness magazine and the beginning of my nature education. Soon I arrived at a new definition of beauty, one that required an array of species, a diversity of life. Biodiversity.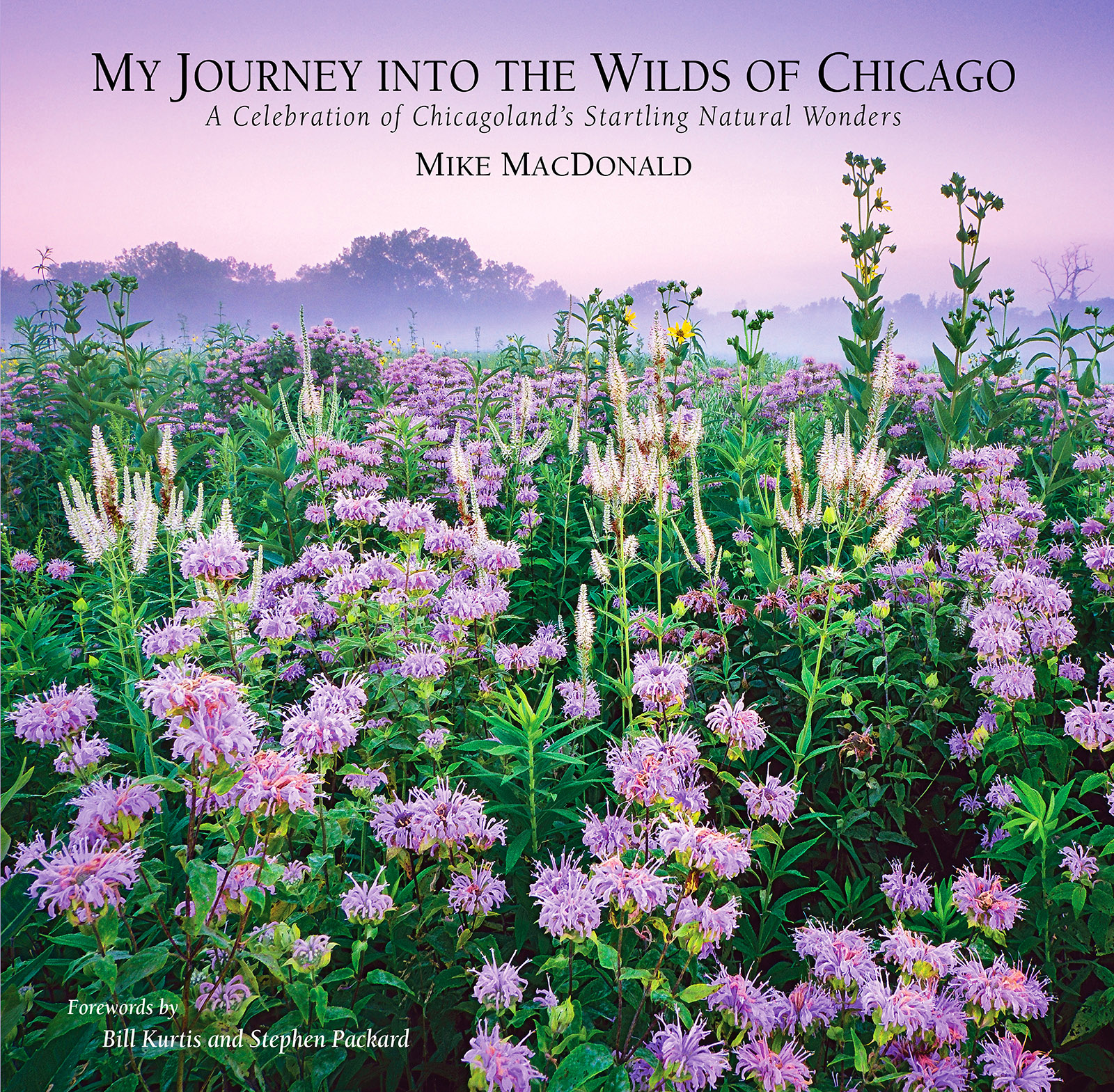 Yet, biodiversity alone was not enough to make me fall in love with a place. I needed an emotional connection and an escape, a sweet retreat from technology and the worries of life. It makes sense, then, that many of my favorite spots are large and show little sign of humanity: no roads, no buildings, no power lines.
Through my eyes and my lens, we will visit many locations: prairies and fens, woodlands and wetlands, sand dunes and sloughs.
You'll be awed by the prairie, as rays of lemon-colored blooms and feathery grasses soar above your outstretched fingers, as pearls of morning dew expose hidden dragonflies and nearly invisible spider webs, as bees emerge from windblown blossoms, and as towering infernos reinvigorate life.
You'll peek through the brush or through the slit of a floating blind as a redeyed hunter lurks in the reeds and a great egret splashes into a great white flight.
You'll experience the emergence of spring, as skunk cabbage melts its way through the snow and blue flowers stretch across verdant woodlands.
And you'll be changed, as you witness an August prairie turn from purple to gold or watch as an amber canopy of venerable oaks is set ablaze by the autumn sun.
You'll discover all of this and more—Chicago like you've never seen it before.
Now you're ready. Strap on your imagination. It's time to go.
---