The video cannot be displayed.
There was once a club scene in Chicago that was something of a rarefied world. Outsiders were welcome, but seemingly few ever joined in. However one night, a photographer who definitely was not part of the scene ventured into one of the clubs.
As the story goes, he wasn't sure whether he'd be welcome to take pictures. It turns out he was very welcome. What he captured was a fantastic nightlife that is now long gone and preserved almost exclusively in that photographer's work. Some of those photographs are now showcased in a new book with an acclaimed poet providing words for the pictures.
Eddie Arruza has the rap.
---
TRANSCRIPT
Patricia Smith, poet: 
Our Father, which art in heaven,
mellow be thy name.
Thy midnight come,
thy will be shunned,
in Chi as it is in this club here.
Give us our jams, our nightly beat,
and forgive gals who won't dance against us.
Lead us straight into temptation
and deliver us from women who are evil.
For mine is the dance floor, with its power and its glory-
Amen.
Eddie Arruza: For some, it may have been a religious experience. It certainly was a soulful one. Chicago's South Side dance club scene of the 1970s was a pageant of far out clothes, dy-no-mite dance moves and a rainbow of attitudes; a scene that disappeared decades ago and which might have only lived on in the memories of clubgoers had it not been for a New Jerseyan by the name of Michael Abramson.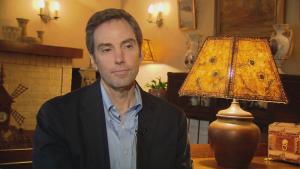 Michael Williams Michael Williams, CityFiles Press owner: Michael Abramson was a photographer who came to Chicago to go to the institute of design in the mid-'70s. The photographs in this book were part of his thesis.
If it wasn't for his photographs, I don't think this portrait of this amazing world would exist.
EA: Over the course of two years, Abramson took an estimated 5,000 photographs at such legendary clubs as Peppers Hideout, Perv's House, the High Chapparal, the Patio Lounge and Showcase Lounge. And some of his finest images are showcased in a new book called "Gotta Go Gotta Flow" from Chicago's CityFile Press. It's not the first published collection of Abramson's South Side photos. But the new book brings a literary element to Abramson's photographic artistry.  
MW: What we look for are collections of photographs that have never been seen before or collections by artists who are not well known, so I think Michael Abramson fit in well to that category.
We always wanted to do a book of the pictures, but for us the real question was: how can we add some text to this and how do you do it without making it too academic?
EA: That's when the publishers turned to Chicago native and four-time National Poetry Slam champion Patricia Smith.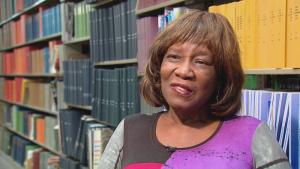 Patricia Smith PS: I got these pictures and not only were they in themselves wonderful, wonderful shots but they reminded me a lot of my upbringing in Chicago, my parents, the music I used to listen to, and I knew that those clubs, if not had totally disappeared, were on the way out. 
And it was great opportunity to be able to capture that time and those sounds, and bring what I learned as a poet to, hopefully, make the pictures clearer for people
When the funk takes hold
When the funk takes over
When the funk won't listen
When the funk keeps yapping
When the funk finds its swivel
When the funk rules the room
When the funk is your mistress
When the funk is your god
When the funk got the gospel
When the funk is your woman
When the funk reaches for bone
reaches for pulse
reaches for your rumble
reaches for crevice
and finds
you
and enters
you
and conquers
you
there's nothing to do
but give
what you got
to the room
MW: We originally just wanted her to take a look at the pictures and see what happened to see if she was inspired by them and the good news was not only was she inspired by them but it was like a launching point for a much greater and much more ambitious project than we had originally hoped.
EA: Patricia Smith ended up writing poems for all the photos in "Gotta Go Gotta Flow," the title of which comes from one of her poems that celebrates the rhythms that propel many of the photos. But there's no ignoring the costumes of the era.
PS:
I don't dress practical, I dress royal, I strut beguiling,
I primp for praise. I am neon stripe and fur, texture
and sheen, I smell flowers that exploded.
I was born with a thousand arms, and there's a woman
waiting for her place inside every one of them.
I squeeze them until breath is no longer necessary-
as long as I'm touching them, they got reason to live.
I'm the extra in extraordinary
so bad I'm jealous of myself sometime.
Line forms to the left, darlin'.
Ask anyone. The wait is worth the wait.
Below, see Smith perform "I don't dress practical."
---
EA: Abramson's massive thesis project earned him a master's degree from IIT in 1977. He went on to become a commercial photographer and photojournalist who traveled the world and photographed many notables from Oprah to Steve Jobs. Abramson died in 2011 at the age of 62. His South Side photos might be his greatest legacy. They have been compared to and may have been influenced by the work of the great Hungarian photographer Brassai who captured the seedy and sensuous Parisian nightlife of the 1920s and 30's. 
In a 2008 interview Michael Abramson said "I realize I have been to every part of the planet.... But I have never been as far away as I was when I was on the South Side of Chicago. Not because it was exotic, but because it was so exhilarating."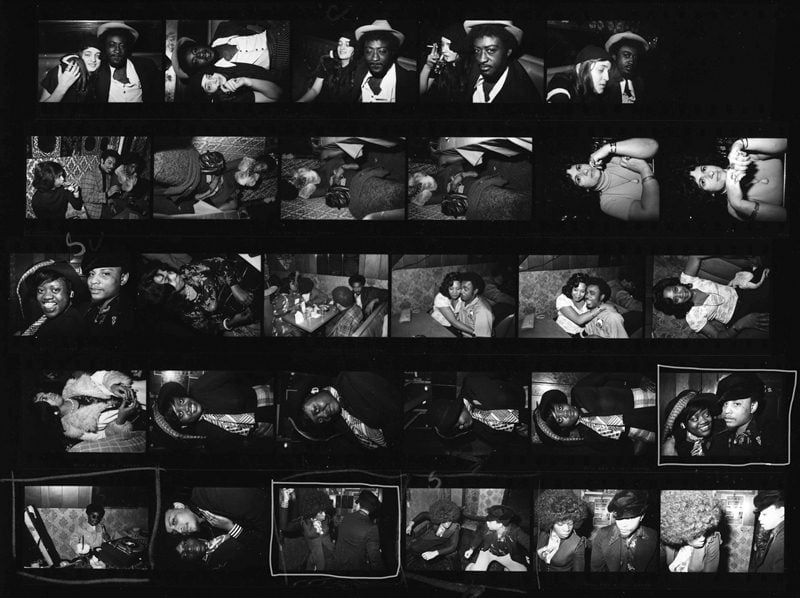 A contact sheet of photos by Abramson. (Michael L. Abramson)
MW: He showed a remarkable degree of sensitivity and empathy for what was going on in these clubs. He wasn't there really as a person trying to grab sensational images. He wasn't—yes the clothes and the fashions are all very interesting, but he was more drawn to the people and the personalities and trying to capture really what was happening in the clubs.
PS:
Get away   go
away
any   way
anyway
Fold your
crave
into a wind
that may
   or may not
carry you
closer to
farther away from
   what you run toward
   what you flee
go anywhere
everywhere
wherever
begin with the
night
and its sly engine
laugh in its face
until you hear it
roar
EA: For "Chicago Tonight," I'm Eddie Arruza.
---