"Chicago Tonight" host Phil Ponce chats with Mikva Challenge students before the forum in April 2015.
On Thursday, "Chicago Tonight" welcomes 50 Mikva Challenge high school students from across the city to participate in a forum on violence.
Students will ask our panel of guests select questions during the taping. We'll share the full discussion online, in addition to a more casual conversation between students, teachers and "Chicago Tonight" staff following the panel.
Advance questions submitted by the students covered a wide range of topics, including segregation in Chicago and how it may contribute to violence; respect between police officers and community members; gang recruitment of teens; how budget cuts may impact safety at school; job availability in high-poverty areas; gun control; and how police officers are trained.
Join us online Thursday for this important conversation. We'll document the students' arrival and share highlights from their day at WTTW. We'll also live-tweet during Thursday night's 7 p.m. airing of the Mikva Challenge forum using the hashtag #ChicagoTonight.
Panelists:
Berto Aguayo

Aguayo grew up in the South Side of Chicago and got involved with gangs at age 13. Through his involvement with Mikva Challenge, Aguayo was exposed to politics and public service and was inspired to get off the streets. He is now a top student at Dominican University, where he majors in political science and economics and serves as student body president. He has also served in Mayor Emanuel's Youth Commission; as the coordinator for the Hoops in the Hood program in the Back of the Yards neighborhood; and as an intern for Sen. Dick Durbin through the Congressional Hispanic Caucus Institute. Aguayo expects to graduate Summa Cum Laude from Dominican University this spring, and he hopes to attend law school in the near future.
Jadine Chou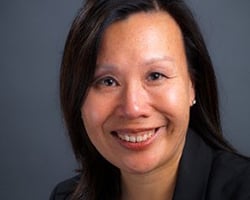 Chou has served as the Chief Safety and Security Officer at Chicago Public Schools since late 2011. According to a CPS release issued at the time of her appointment, Chou will "oversee all aspects of student and school safety and security" and work at "promoting a better climate" at schools. Chou previously was senior vice president of the Chicago Housing Authority, where she secured funds to install 2,700 security cameras; implemented an arrest-notification system to alert residents of potential lease violations; and partnered with the Chicago Police Department to manage the use of CHA cameras and identify hotspots. Chou appeared on "Chicago Tonight" in 2012 to discuss school safety.
Eric Washington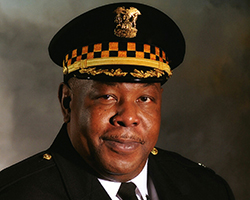 Washington is the Deputy Chief of Community Policing for the Chicago Police Department. The role, announced in late February 2015 aims to "further cement the expanded role community policing and neighborhood partnerships have taken" under Mayor Emanuel's administration, according to a news release. Washington is a decorated 28-year veteran of the CPD, where he has served various roles, including commander of the 11th District and of the narcotics division.
---
Mayor Emanuel and Mikva Challenge Students
Last April, Mikva Challenge students participated in a discussion with Mayor Rahm Emanuel a few weeks after he won a second term in office. They asked about his priorities and how he planned to address issues facing young people in the city. Watch the discussion below and meet some of the students who participated.
---
About Mikva Challenge
In 1999, Mikva Challenge started with two schools and 40 students. Its goal was to get high school students interested in public service. Originally, Mikva Challenge was going to be a scholarship to honor the legacy of Abner Mikva, but conversations with Mikva led to organization focusing its mission on engaging youth in political campaigns and public service. Now there are more than 6,000 students and 130 teachers who participate at 110 schools in the Chicago metropolitan area.
To learn more, read an interview with Meghan Goldenstein, Elections in Action Program Director for Mikva Challenge.
---