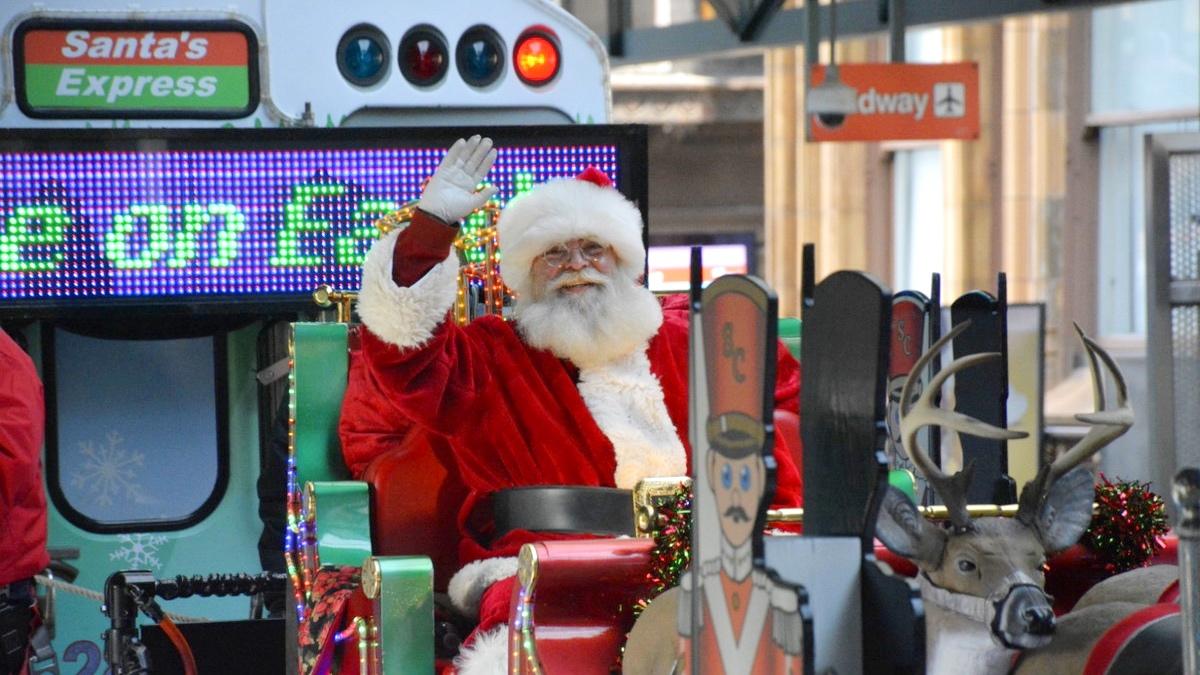 The Holiday Train will welcome riders Nov. 26 through Dec. 22. (Courtesy of Chicago Transit Authority)
The CTA has declared, "The magic is back" with the return of the Holiday Train and Holiday Bus, both welcoming riders in 2021 after running without passengers in 2020 due to COVID-19.
The Holiday Train, now in its 30th year of spreading cheer, will hit the tracks Friday through Dec. 22. The Holiday Bus will pop up along 14 different routes Nov. 30 through Dec. 23.
A few restrictions are still in place to minimize the spread of the coronavirus. All riders, regardless of age or vaccination status, will be required to wear face masks. There will be no photo sessions with Santa and, in the spirit of promoting social distancing, CTA is asking people to not bring strollers onto the train or bus. 
To further discourage overcrowding, CTA won't publish a detailed station-by-station schedule for the train, but is instead providing dates and approximate times for each rail line, adding a retro element of surprise that harkens back to the train's early years. The Holiday Train will, however, be visible in Train Tracker (typically via a candy cane icon), the agency said. 
The Holiday Bus announces its approach with holiday music, and it's hard to miss Santa waving from the roof hatch.
Holiday Train schedule:
— Green Line: Nov. 26, 27 and 30
— Orange Line: Nov. 26 and 30; Dec. 1-4
— Brown Line: Dec. 1-4
— Red Line: Dec. 7, 9 and 11
— Purple Line: Dec. 8, 10 and 11
— Pink Line: Dec. 14-15
— Blue Line: Dec. 16-18
— Yellow Line: Dec. 22
New in 2021: The Holiday Train will travel around the Loop "L" on Dec. 5 and Dec. 12, 11 a.m. to 2 p.m.
Holiday Bus schedule:
Nov. 30, Dec. 1: #56 Milwaukee
Dec. 2: #77 Belmont
Dec. 3: #22 Clark 
Dec. 4: #22 Clark/#97 Skokie
Dec. 7-8: #66 Chicago
Dec. 9 : #126 Jackson
Dec. 10-11: #12 Roosevelt
Dec. 14-15: #62 Archer
Dec. 16: #49 Western/#X49 Western Express
Dec. 17: #79 79th
Dec. 18: #3 King Drive
Dec. 21: #28 Stony Island
Dec. 22: #29 State
Dec. 23: #J14 Jeffery Jump
Contact Patty Wetli: @pattywetli | (773) 509-5623 |  [email protected]
---