It's been a month since Illinois' medical marijuana program began dispensing the drug to patients approved for its use, and the state reports that more than $800,000 worth of cannabis has been sold since Nov. 9.
Dispensary 33, Chicago's first—and so far only—dispensary opened its doors in Andersonville last week. And while medical cannabis dispensaries face a number of hurdles in the city, from location requirements to community objections, the Andersonville shop faced little resistance.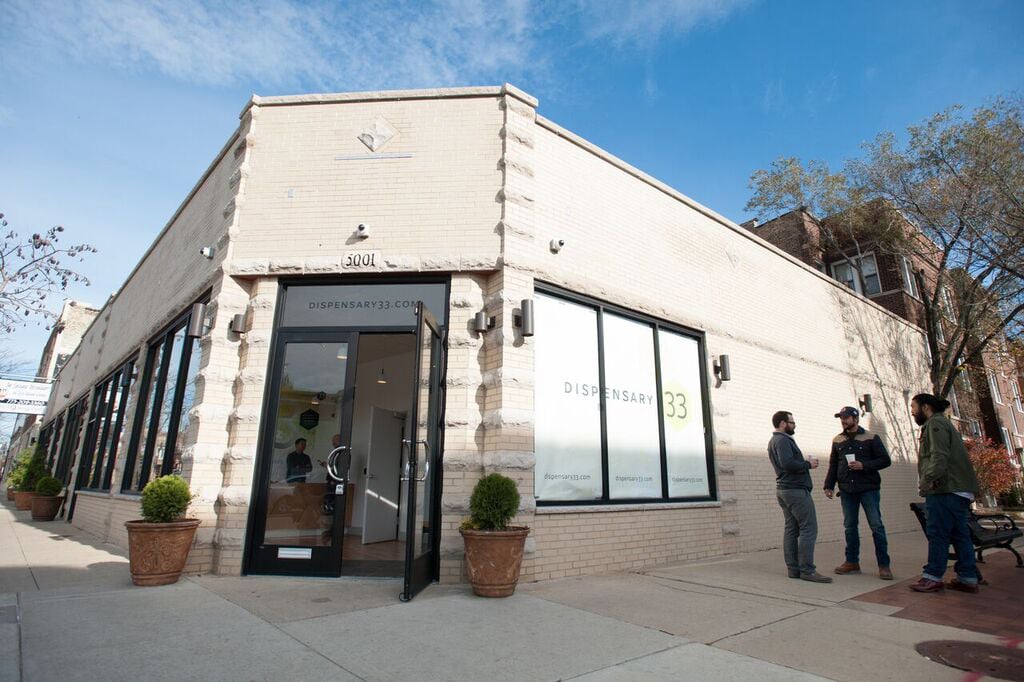 The exterior of Dispensary 33. (Courtesy of Dispensary 33)
There is nothing flashy about Dispensary 33. Nothing drawing attention to it. Its storefront windows are covered in a film with a molecular hexagon design that gives a hint—but not a look—at what's inside. The owner of Chicago's first medical cannabis dispensary says the shop's appearance is meant to offer the respect and confidentiality afforded any medical patient.
"Having interacted with patients now for the last three or four weeks, one of the things that I've really come to understand is how mission-driven of a business we are," said Dispensary 33 owner Zachary Zises. "The people who walk in here are really sick. They are really desperate for the kind of help that medical cannabis provides them and it's really changed my perspective quite a bit on what we're doing and why we're doing it."
Dispensary33 is located on Clark Street in the Andersonville neighborhood, surrounded by auto repair shops and bars. Zises says he named his business 33 after the year in which Prohibition was repealed. And with Illinois joining 22 other states in repealing laws prohibiting the use of medical cannabis, more dispensaries are on the way. But there are still tough laws and regulations governing these new retail stores, especially where they can be located.
"There was an awful lot of competition, but the way the law is built, you have to be 1,000 feet from either a school or a day care facility, including a home day care facility," Zises said. "And, as you may know, there are a ton of people who run day cares out of their homes. For a lot of women it's their only way of making a living while they're caring for their own children. So, really the hardest part, especially in Chicago, is finding locations that can satisfy those setback requirements. There was a lot less competition in Chicago than you would have thought."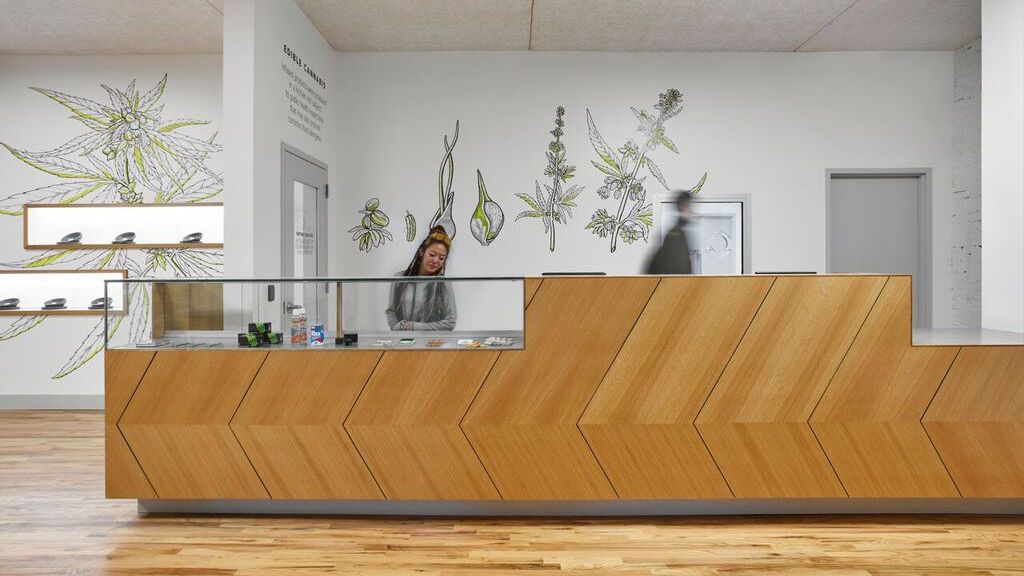 Dispensary 33 is Chicago's first medical marijuana dispensary to open since sales began on Nov. 9. (Courtesy of Dispensary 33)
One major obstacle for any dispensary in Chicago is obtaining a zoning change. For Dispensary 33, getting backing from the community was what Ald. Ameya Pawar (47th Ward) wanted before supporting a zoning change.
"The first thing we did is we met with the governing block club here," Zises explained. "They had a meeting. They had never had more than 15 people show up at one of these meetings and we had close to 100 people there. And they sat there for two hours and listened to us give a presentation and then we went through an extensive question and answer period. And at the end of that, that block club voted overwhelmingly to have us."
[Medical Marijuana Sales Begin in Illinois]
The alderman, state elected officials and a number of community residents took part in the dispensary's ribbon-cutting last week.

"The people who walk in here are really sick. They are really desperate for the kind of help that medical cannabis provides them and it's really changed my perspective quite a bit on what we're doing and why we're doing it."
–Zachary Zises
---
For the time being Dispensary 33 is the only game in town and behind the secure door leading from the reception area to the retail space is the product. It goes by such names as Maui Wowie, Holy Grail Kush and Cheese and Chong. The names may sound like a pothead's dream, but there is nothing dreamy about the more than 45 very serious medical conditions that the state says can be treated with medical cannabis.
Paul Lee is the dispensary's manager. For a decade he worked in California's medical marijuana industry.
"There's only a couple of cultivation centers that are currently online that are selling products, so we have actually visited those cultivation centers and we actually see the product itself so we bring back what we think is the best product available in the state," said Lee. "We try to figure out what symptoms they're trying to relieve with cannabis, and then we do a lot of research into the cannabinoids—the most modern research available—in terms of how they affect different symptoms. We only look at really clinical trials, so we give the patient sort of the most up-to-date information that's available."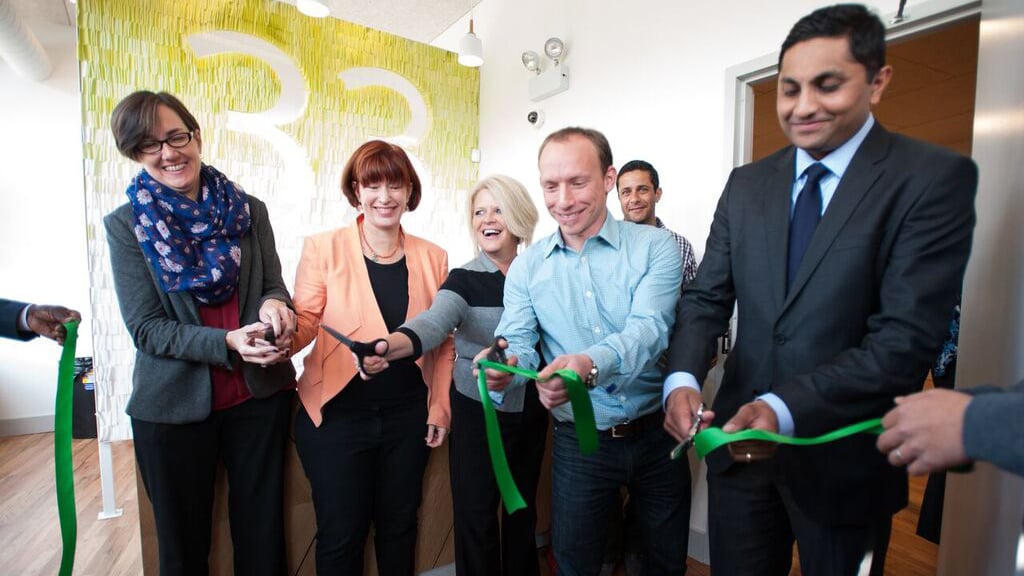 47th Ward Alderman Ameya Pawar (far right) and Dispensary 33 owner Zachary Zises (2nd to right) attend the center's ribbon-cutting ceremony along with elected state officials and residents. (Courtesy of Dispensary 33)
While medical marijuana is now legal in Illinois, it remains illegal at the federal level. The Drug Enforcement Administration's medical cannabis also does not come with medical insurance. All of the 211 patients that have so far registered with Dispensary 33 have to pay with cash.
"Costs are higher than we anticipate they'll be," Zises explained. "We're paying, per pound, somewhere around $4,000, but there's also taxes—there's a 7 percent wholesale tax that's added onto that. And then, because many of these distributors are really far away—one of them is in Vermont, Illinois, another one is in Rock Island, Illinois—there's also an additional transportation tax."
But patients in desperate need of relief from their illnesses seem to be finding the money.
Medical conditions
Starting Jan. 1, 2016 the Illinois Department of Public Health will be accepting petitions by residents to add debilitating medical conditions or diseases to the Medical Cannabis Registry Program. Petitions will be accepted through Jan. 31. For more information about how to file a petition and to access the form, click here.
Currently, people with the following debilitating medical conditions are eligible for the program:
| | | | | |
| --- | --- | --- | --- | --- |
| Acquired Immunodeficiency Syndrome (AIDS) | Crohn's disease | Hydrocephalus | Neurofibromatosis | Spinal cord disease, including, but not limited to, arachnoiditis, Tarlov cysts, hydromyelia, syringomyelia |
| Agitation of Alzheimer's disease | CRPS (Complex Regional Pain Syndromes Type II) | Interstitial Cystitis | Parkinson's disease | Spinal cord injury |
| Amyotrophic Lateral Sclerosis (ALS) | Dystonia | Lupus | Post-concussion syndrome | Spinocerebellar Ataxia (SCA) |
| Arnold-Chiari malformation and Syringomelia | Fibromyalgia (severe) | Multiple Sclerosis | RSD (Complex Regional Pain Syndromes Type I) | Tourette's syndrome |
| Cachexia/wasting syndrome | Fibrous dysplasia | Muscular dystrophy | Residual limb pain | Traumatic brain injury (TBI) |
| Cancer | Glaucoma | Myasthenia Gravis | Rheumatoid arthritis (RA) | |
| Causalgia | Hepatitis C | Myoclonus | Seizures, including those characteristic of epilepsy  | |
| Chronic Inflammatory Demyelinating Polyneuropathy | Human Immunodeficiency Virus (HIV) | Nail-patella syndrome | Sjogren's syndrome | |
---
Below, a map of Illinois Department of Financial and Professional Regulation-licensed medical cannabis dispensary locations:
---
Related stories from "Chicago Tonight"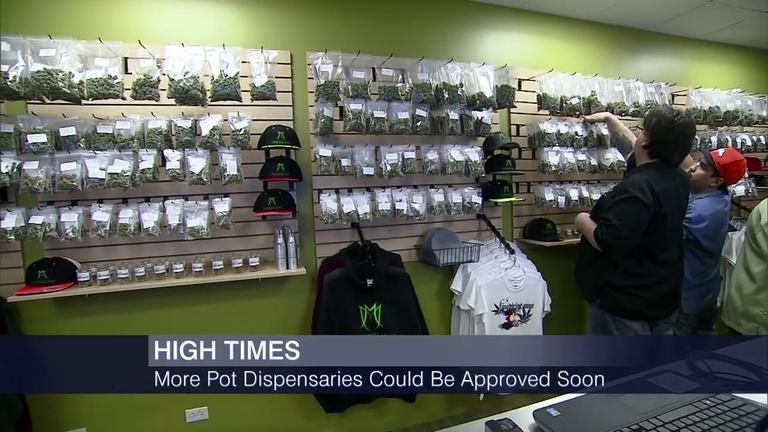 State's Medical Marijuana Program Faces New Crop of Challenges
Some industry observers said there are a couple of major buzzkills facing the state's program. We addressed those challenges with the chairman of the trade group Medical Cannabis Alliance of Illinois and a partner at a law firm representing two dispensaries.
---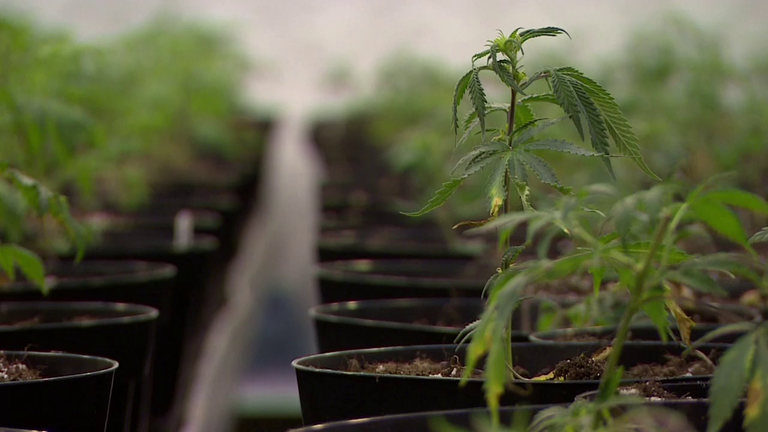 Medical Marijuana Licenses Move Forward
Gov. Bruce Rauner granted licenses to companies to grow and sell medical marijuana in the state. The move came after a review by the Rauner administration and the Illinois Attorney General, amid fears that Rauner would take months to reach a decision on the coveted licenses.
---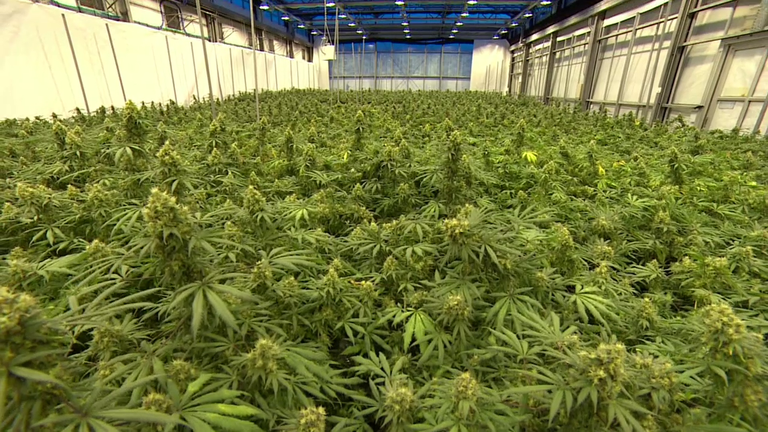 Ironing Out Medical Marijuana Details
As Illinois prepared for the implementation of legal medical marijuana, we took a look at some of the challenges and regulatory hurdles these businesses faced.