Winter is coming, which means it's time to clean up the WTTW organic garden. The Organic Gardener Jeanne Nolan helps us prepare the garden for winter and plant one last crop.
---
Tidying up the garden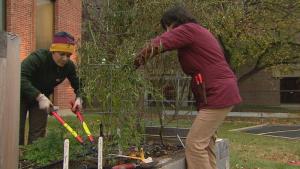 With the gardening season over, Jeanne Nolan and The Organic Gardener maintenance crew member Adrienne Detanico prepared the garden for winter by removing the dead plants.
There are two ways to clean up a garden when removing plants: remove the entire plant roots and all, or remove the plant but leave the roots in the soil. Nolan recommends doing the latter. 
"We usually cut the plants right at the soil level and leave the roots in the ground," she said. "The roots keep the soil healthy and prevent the soil from being compacted as much because they are taking up space in the soil. When you pull the roots out in the spring that will add air to the soil. 
"Also, the roots provide food for the soil for the microbes, bacteria and invisible critters in the soil. It creates a healthier atmosphere for them."
Planting in November?
Yes, there's still time to plant—garlic at least. Garlic can be planted up until Nov. 25 because it's a plant that overwinters. To plant garlic, you can either buy a bulb of seed or certified organic garlic. Break the bulb into its individual cloves and plant the garlic clove with the point facing up and the root (base of the garlic) facing down. Plant the clove 4-6 inches below the soil and 6 inches apart.
Learn more out about the types of garlic we're planting below.
Pehoski: This variety is a purple-striped garlic and extremely flavorful. It's been shared with The Organic Gardener by fellow garden enthusiasts.
Music: This is a hardneck porcelain garlic, which means it is great for storage. The bright white bulb has a hint of light pink and brown, with a mild to medium hot flavor. The large cloves mellow when cooked. With its large clove size, a little goes a long way.
Inchelium Red: Found on the Colville Indian Reservation in Inchelium, Washington, this rediscovered variety is now widely grown for its distinctive taste and vigorous growth.
Siberian: This is a marbled purple-striped hardneck variety. It has a good flavor without being overpowering. This was saved from one of The Organic Gardener's gardens.