In this edition of Ask Geoffrey, our local history expert Geoffrey Baer makes a splash at a long-gone waterfall, visits a bar with an unbeatable view of the Chicago skyline and tells the fishy tale of an Albany Park building.
---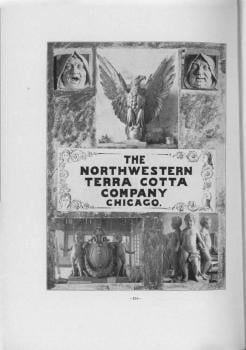 There is a frieze on a building just north of the Loyola Red Line station in Rogers Park. The frieze looks like a panorama of the city as done in painted terra-cotta. It looks to be from around the ' 20s or so. What is it, why was it done and who did it?
–Barbara Strangeman
You wouldn't expect to get such a great view of the skyline from all the way up in Rogers Park. The skyline scene is indeed made from terra-cotta, which is molded and fired clay, a popular ornamental material on buildings from the late 1800s to mid-1900s. However, it's not painted–the color is fired into it. It was made by the Northwestern Terra Cotta Company in 1922 for the building's Art Deco façade. It also includes a scene of Fort Dearborn on the left, which was long gone by 1922.
Northwestern Terra Cotta made ornament for architects like Louis Sullivan and Frank Lloyd Wright. They also made the ornament for some of the very buildings depicted in this 1922 skyline–like the Wrigley Building, the Railway Exchange Building and the Blackstone Hotel. Chicago's cultural historian Tim Samuelson told us that at around the same time the building was being planned, Northwestern Terra Cotta created a souvenir advertising ruler with a very familiar skyline.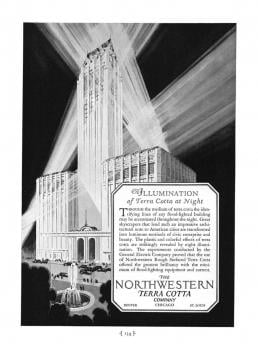 In our research we came across the suggestion that Northwestern Terra Cotta had a showroom at this location and created the skyline as a way to showcase their greatest hits. But according to Samuelson, that was not the case. The building was originally built in 1922 by clothing manufacturer Bernard Kirshbaum as an investment property to house shops and offices, including at one point an A&P grocery store. It was designed by architects Ronneberg, Pierce & Hauber.  
According to an article in the Chicago Tribune, Kirshbaum had been approached in 1921 to purchase the lot for $25,000, but he turned it down. By the time he changed his mind just a year later, Rogers Park had become a hot area for developers and the same brokers told him the new price was $45,000.
Bruno and Tim's Lounge took over the ground-level space in 1956 and it has been there ever since. According to Bruno's, the skyline used to be lit from beneath but the lights burned out decades ago and haven't been replaced.
In the intervening years Loyola University has bought up many of the buildings and much of the land surrounding the Kirshbaum Building, but so far, Chicago's throwback skyline remains preserved.
---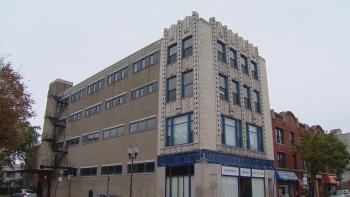 There's a building in Albany Park with elaborate terra-cotta ornament in the shape of fish and shells. What's with all the fish?
–Erica Gunderson, WTTW
From time to time, we at Ask Geoffrey headquarters get to pose a question to ourselves. In this case, I had always thought there was something fishy about a striking blue-and-white Art Deco building not too far from our studios on Lawrence Avenue just east of Kimball in Albany Park.
It was built in 1931 to house the L. Fish Furniture store's ninth location. L. Fish saw an opportunity to reinforce their brand with shoppers by festooning the building in ichthyological iconography. The company's owner David Fish opened his first store on State Street in 1858 (13 years before the Chicago fire). He used his wife Lotta's first initial to create the name L. Fish Furniture.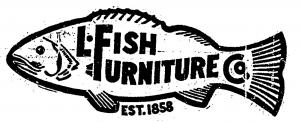 Some viewers will probably remember L. Fish–they had scaled up to 11 locations in and around Chicago by the 1980s. None of the other buildings had this fish theme in the ornament, but they all sported the company logo. L. Fish was so protective of their brand that they sued an actual fishmonger named Salmon for using a fish in his advertising and won.
L. Fish Furniture operated in the Albany Park location until 1942. Today it's home to a blood bank. The last Chicago L. Fish location closed in the 1980s, but L. Fish Furniture is actually still swimming along in Indianapolis. That store is run by David Fish's great-great-grandson 158 years later.
---
Can you tell us more about the special garden that was at the Olson Rug Company whose factory was located at Pulaski and Diversey?
–Elaine Harrington, Chicago
We've gotten this question many times over the years and we answered it once back in 2008. But since then we got our hands on wonderful home movie footage from a viewer named Neil Kane, whose family is featured in it (you can see more of Neil's wonderful family home movies, which were taken all around Chicago, on his YouTube channel.). So it's a good excuse to revisit the story.
Below, see the family's home video of the Olson Rug Company's garden.
Today if you go to the corner of Diversey and Pulaski you'll just find a warehouse parking lot, but it was once a mini-Eden. It was designed to be a little bit of pristine Wisconsin wilderness transplanted to the city adjacent to the Olson Rug Company's plant. The company president Walter E. Olson created the park in 1935 for his employees. He modeled it on the area around his vacation home.  
Olson planted thousands of perennials, as well as pine trees. There was a rock garden, a duck pond and the centerpiece of it all, a three-story tall waterfall. The park also had a Native American theme, with statues of Indians, a canoe and a teepee. The year it opened, 1935, marked the hundredth anniversary of the year Native Americans gave up their land in the Chicago region. At the park's dedication, a ceremony was held symbolically deeding this little patch of land back to the Native Americans.
Olson eventually decided to open his park to the public free of charge. The company decorated the park for holidays including Christmas, Easter and Halloween. Olson Rug (which is still in business around Chicago) sold the building and its park to Marshall Field's in 1965. Field's kept the park open until 1978. Macy's took over the adjacent warehouse until 2008, and this summer it was back in the news when plans to redevelop the site for mixed use were put in place.
---
More Ask Geoffrey: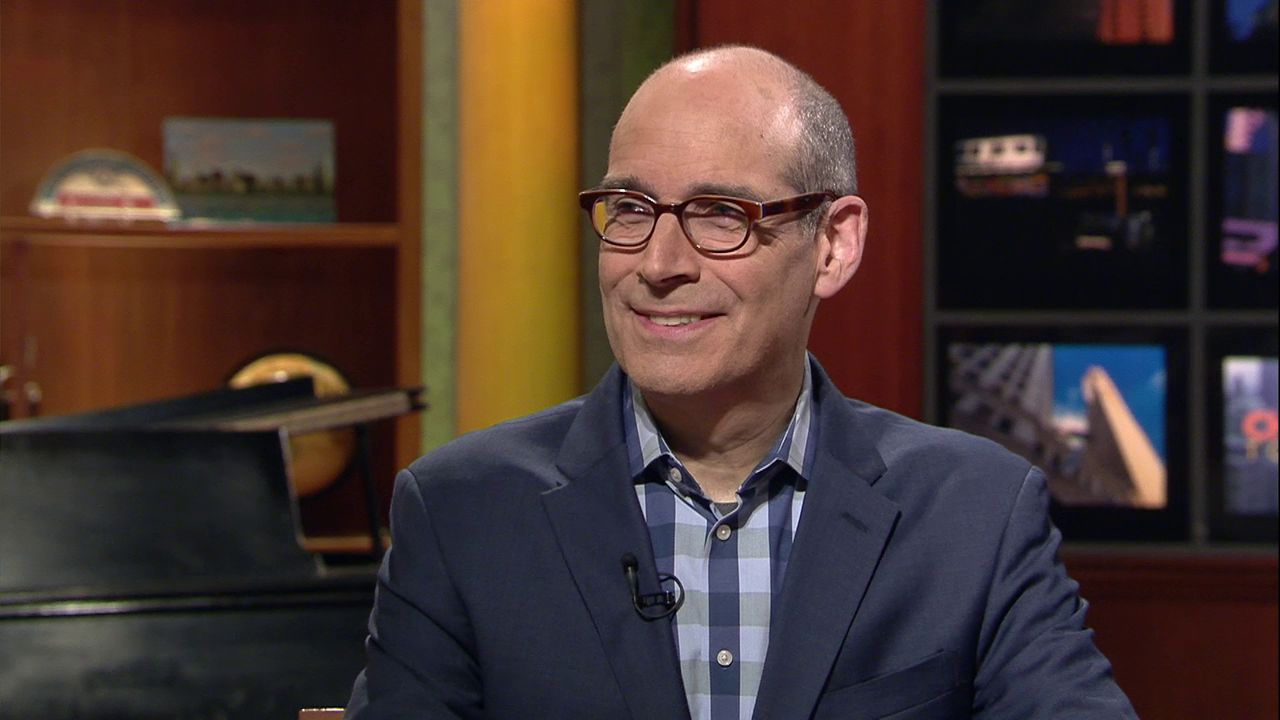 Did you know that you can dig through our Ask Geoffrey archives? Revisit your favorite episodes, discover new secrets about the city's past, and ask Geoffrey your own questions for possible exploration in upcoming episodes. Find it all right here.