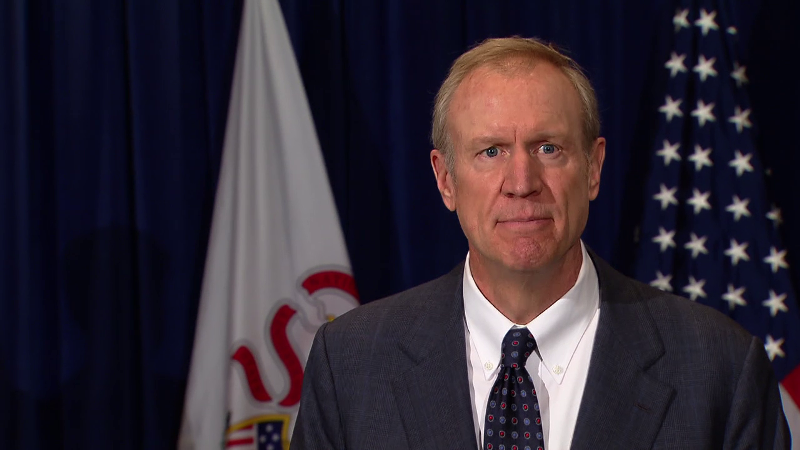 Illinois Gov. Bruce Rauner
A bill that would immediately reopen Illinois' shuttered state facilities passed through the House of Representatives Tuesday but still needs the seal of approval from Republican Gov. Bruce Rauner, who has not yet indicated he will sign the legislation.  
The bill, which passed through the Senate in August, would effectively reopen a small network of state facilities which were officially closed Sept. 30 as a result of the state's inability to pass a budget.  
Those facilities include three art centers, a shooting complex in southern Illinois and two museums: the Dickson Mounds Museum in Lewiston and Springfield's 138-year-old Illinois State Museum.
Tuesday's House vote, which required a two-thirds majority due to the legislative calendar, saw major support from both Republicans and Democrats – with the bill passing 82-32.
"I knew there was bipartisan support, but not to that degree," said Rep. Emily McAsey, (D-Lockport) the bill's chief sponsor in the House. "I'm really delighted with the outcome."
Rep. Tim Butler (R-Springfield) is one of the bill's co-sponsors and also one of the few members of the General Assembly who actually lives in Springfield. He was one of 82 "yea" votes on Tuesday.
"I've been talking to the governor's office, they know how I feel about the museum. I just thought it was the right thing to do," Butler said.
The fate of the state museums now falls to Rauner, who has 60 days to act once the bill is transferred to his office.  
When asked whether the governor plans to sign the legislation, Rauner spokeswoman Catherine Kelly would say only that the bill was "under review."
According to Butler, even if the governor does sign the bill, additional funding options like requiring the museums to charge an entrance fee, need to be considered.
Rauner had initially speculated that the state would save some $6.3 million in closing the museums. But that figure's become increasingly suspect, especially now as union museum workers continue to receive checks due to a pending labor lawsuit against the state.
The governor's office has refused to comment on cost savings to the state since the closure of the museums.
The Illinois State Museum, which is home to the world's largest collection of mastodon fossils, has already been put on probation by the American Alliance of Museums and could lose its accreditation if not reopened by January.
Despite this challenge, museum's board chairman Guerry Suggs said Tuesday's House vote was a win.
"Number one, it shows a great deal of bipartisan support. And number two, hopefully the governor's begun to recognize he's bitten off a little more than he can chew on this particular issue," he said. 
---
Use our interactive graphic to see how your legislator voted.