Four out of 10 Chicago Public Schools principals say they are very likely to leave their jobs in the next three years. A new report from The Chicago Public Education Fund surveyed 65 percent of district principals and found four key ways to keep the city's best school leaders on the job longer.
Illinois State Board of Education Superintendent Tony Smith joined the Fund to release the report today and praised principals for doing the jobs, despite these touchy economic times. Watch Smith's full remarks.
"We have so many good things to build on. Obviously, we don't have a budget. I mean K-12 does which is great, but I would say also that really speaks to the commitment that the governor and others made to say our kids need to be in school. We have to figure out how to get more resources to kids in schools, but I will tell you what we have an inadequate and quite frankly inequitable funding structure in this state that we'll have to continue to rally to fix. But our principals have found ways to manage those resources really in the best possible way in service of kids."
---
TRANSCRIPT
Brandis Friedman: At Healy Elementary School in the Bridgeport and Chinatown neighborhoods, sixth-year Principal Alfonso Carmona is making sure students get to class on time.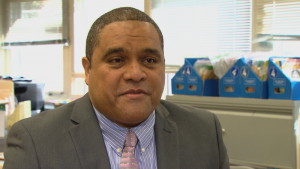 Alfonso Carmona Alfonso Carmona, Healy Elementary School principal: OK guys, hurry you. You guys coming from gym?
BF: Healy is rated a level one-plus school by CPS—the highest rating possible. Carmona is in charge of more than 1,400 students, mostly Asian, some Hispanic and mostly low income. As well as the school performs, Carmona says he has more work to do.
AC: We still haven't achieved what I want to achieve which is to get every single one of our students performing at a high level. So far, we've been able to with regular and with our bilingual students, but not so much with our diverse learners.
BF: Seven miles away in the city's East Garfield Park neighborhood, Principal Lori Campbell oversees a different environment. 
Lori Campbell, Marshall High School principal: Last year at the end of the year, 57 percent decrease in incidents of violence. Kids are more of a healthy student, as it relates to social-emotional.
BF: Marshall High School was once home to a storied sports program, but it's been on intensive support for the last 20 years. 
LC: This year was first year in 19 years that Marshall moved from a level three school to a level two school, which is a huge thing!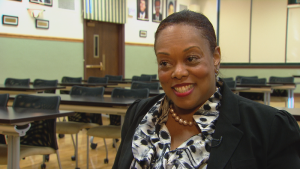 Lori Campbell BF: Campbell is the school's third principal in the last six years. She's used to working in troubled schools and has big plans for Marshall.
LC: I want Marshall to be the premiere neighborhood high school in Chicago, and I want it to be a level one high school.
BF: Lofty goal?
LC: Yea, lofty. A lot of work, but do I think we can meet it? Yes.
BF: What she and Principal Carmona have in common is that they are the kind of principal that experts say can make a big difference for students and Chicago Public Schools should be working to keep.
Heather Anichini, president and CEO of The Chicago Public Education Fund: Four in 10 [principals] said they're very likely to leave in the next 3 years. Four in 10 gone by 2018, that's a real challenge.
BF: Heather Anichini runs The Chicago Public Education Fund, a nonprofit that works to support and invest in Chicago principals. A just released report of CPS principals found that seven out of 10 say the number 1 way to improve their job satisfaction is to reduce compliance paperwork.
HA: Principals fill out a lot of forms. They have to respond to a lot of data requests. This is a city that prides itself on technology; surely we must be able to find a way to automate more of those forms and to get those data requests done in ways that gives precious minutes back to principals.  
AC: The idea of not having to do some of paperwork that we were required to do with the network have freed up principals to do the work that we want to do, which is in the classrooms. Teaching and learning should be our main focus, not the paperwork we sometimes are required to do. 
BF: The report also found that almost half of them feel they don't have the flexibility to use resources to truly benefit students.
HA: You know, the tax code is really complex. Well, Illinois school code is super complex too. But if I'm filing my taxes and they're a pretty simple job, I can use TurboTax. And if it's a more complex job, I can get an accountant to coach me.
We don't provide those kinds of tools for principals to do that same kind of complex work.
BF: Six out of 10 principals leave before the end of their fifth year—right around the time research says they hit their stride. Keeping good principals is why CPS started the Independent Schools program, allowing 28 select principals more freedom and flexibility from the central office.
Janice Jackson, CPS chief education officer: Some of the key concerns are just making sure principals feel that they are able that they have the freedom and the space to be as creative as they need to be. I'm often reminded that being a principal is the best job in the world, mainly because you get to be a CEO of your own building. We just have to make sure we have policies and procedures in place that allow for that creativity. We know from this report that principals care more about that than they do compensation.
BF: The median principal salary is just over $132,000, and only a third of principals surveyed said higher pay would improve their job satisfaction. And 48 percent of them consider the professional development they receive as positive.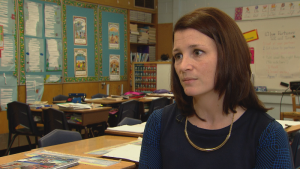 Heather Anichini HA: Unfortunately, the professional and leadership development opportunities that we offer sort of treat a principal in a school like this that has six years of experience about the same as they treat a principal who's brand new in role. We have this one-size fits all approach both here in Chicago and across the country.
BF: What's more, the fund says the city will need more training and development programs to keep and grow the number of well-trained principals. Principals like Carmona and Campbell have plenty of support from both the fund and the district, so for now, neither has plans to go anywhere.
LC: Most of those students in those schools, they look like me. And, I'm a proud product of Chicago Public Schools, from a neighborhood elementary school to Whitney Young High School. And I feel I have a moral obligation to make sure students who may not have a chance, have a chance. 
BF: The report says the district has about 200 principals who're in the sweet spot, with at least two years of experience and whose schools show growth. They, like Carmona and Campbell, have the potential to. It's those principals like Carmona and Campbell that The Chicago Public Education Fund believes the entire community could be investing in. For "Chicago Tonight," I'm Brandis Friedman. 
In the video below, Tony Smith, Illinois State Superintendent of Education, talks about the new report.