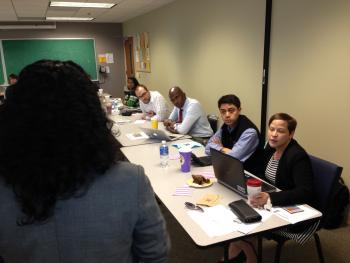 Principals in urban schools have more challenges and responsibilities than ever before. They have to maintain discipline under sometimes difficult circumstances, give teachers the support they need, and perhaps most importantly, ensure that kids get the education they deserve. Finding a principal who can do all that and more is no easy task, but in Chicago, several programs are training principals to try to meet those challenges.
Principal Ernesto Matias runs a tight and disciplined school on Chicago's north side. Like most urban high schools, Wells Community Academy has occasional problems but nothing like what was happening when Matias first arrived five years ago.
"There's a lot of conflicts, a lot of violence. There was a student walkout the year before. There were four teachers in remediation who were taken out of this building not to return. And so that's what I stepped into," said Matias. "A lot of distrust, disunity, and a lot of beating up of staff members here."
Principal Matias also inherited a school on academic probation. For 16 years, it had failed to meet basic standards for test scores, and more than half its students dropped out. In the community, the school's very name became synonymous with failure.
"The acronym was 'We Educate Low Life Students.' And so, we had to do a lot of work to change that, and five years later, we don't hear that stated anymore," he said.
Matias is a new kind of school principal: one carefully cultivated to meet the complex and challenging needs of a 21st century urban school. He is a graduate of the Center for Urban Education Leadership at the University of Illinois at Chicago, which developed a new approach to creating school principals.
Professor Steve Tozer, the head of the program, says in the past any teacher who wanted to become credentialed to become a principal could.
"There's essentially no selectivity in the field," said Tozer. "Our thought was that since we've known for about 35 years that a great principal could improve student learning in schools, that we ought to try to produce such principals instead of wait for them to come along."
So, how do you produce such principals? To answer that question, the university turned to individuals like Cynthia Barron. In a career spanning 40 years, Barron began as a teacher and eventually became a principal by rising through the ranks. At the time, there were no special programs to create the outstanding principal that she became.
"It was really ad hoc; people like me really reached out and found our own mentors kind of in an ad hoc relationship," said Barron. "Some people, I realized did not think that that was important. I certainly did. I kind of built my own cadre of mentorships."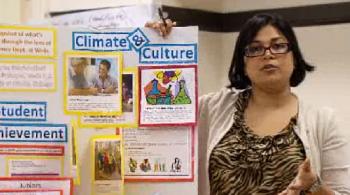 Mentorships are at the core of the program at the Center for Urban Education Leadership, and Barron is now one of those mentors. She is a leadership coach who guides principals-in-training, like 33-year-old Rita Raichoudhuri. For the last year, Raichoudhuri has been a Resident Principal at Wells Community Academy.
"I have my mentor principal who is a principal here at Wells, and then I have my leadership coach," she said. "So, I have two people who are taking me beyond that theoretical knowledge that I'm gaining from my classes, and helping me put them in action in practical terms in the school."
Raichoudhuri has done more than just shadow her host principal. He has given her some real responsibilities.
"I took on the responsibility of really developing the new teachers. My mentor principal never got in the way of me saying, 'hey, you know I want to try this out.' He never said, 'that's going to fall flat on its face because of x, y, and z,'" she said. "He said, 'OK, go ahead and do it and then we'll talk about how it goes.' So, there were times when I was successful, and there were times when I implemented theory by the book and I wasn't successful."
The nonprofit organization New Leaders also has been preparing principals to take the reins in struggling urban schools. It has training centers in 12 cities across the U.S. And, like the university program, it has a tough screening process for its candidates.
"We're looking for their own track record in their classroom," said Maggie Blinn DiNovi, Executive Director of New Leaders in Chicago. "Have they shown significant student growth in their classroom? Have they been an effective teacher themselves?"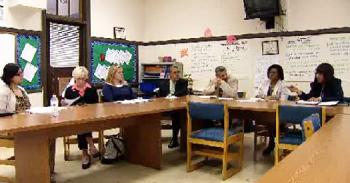 The individuals who make it into the program become part of a cohort that takes classes and meets on an ongoing basis. They discuss their ideas and share their progress in the schools where they are resident principals, all under the watchful eyes of already successful principals.
Over the last decade, the Chicago Public Schools system has hired dozens of principals that have come out of these training programs, and school officials say they want a lot more.
"We want our people not only to have the training, but to go through an intern process that really prepares them to step in the front door and do the work," said CPS CEO Barbara Byrd-Bennett. "And you learn that, I believe, from exemplary principals who are doing that work."
Exemplary principals like Ernesto Matias. Wells Community Academy was taken off probation two years ago as test scores improved and the graduation rate began to climb. Rita Raichoudhuri will likely be facing similar challenges at her own school next year. She'll have the title of principal, but Cynthia Barron will still be there to back her up.
"Kids really observe what adults are doing. When adults are modeling that they collaborate, that they are a team, then the students start feeling that this is a school that has high expectations for me and will not let me slip through the cracks," said Raichoudhuri.
Raichoudhuri has been given the support she needs to become successful, but soon it will be her turn and her challenge to ensure the children under her watch receive the same.
Last year, Loyola University and Teach for America joined forces with the two programs featured in this story to form the Chicago Leadership Collaborative. CPS says it hopes to hire hundreds of graduates from the programs in years to come.