FRIDAY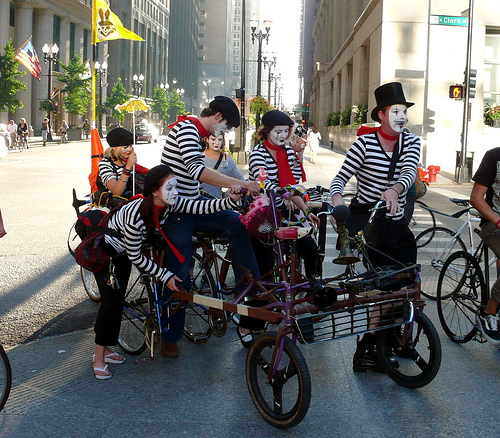 Critical Mass Monster Prom
Corner of Kedzie and Carroll avenues
Critical Mass is that group that bikes, en masse, around the city. Join them for a pre-Halloween bike ride and party that will leave your calves stretched and your demons exorcized. The 13-mile bike ride begins at Daley Plaza at 5:30 p.m., party starts at 8 p.m. The Monster Prom party includes a bonfire, projections, and music by Beer the Band, Panda Riot and Medicine Bear and the Herbal Remedies. BYOB. Be there or be monster square. 
---
Also on tap Friday:
Halloween Extravaganza at Sheridan
Sheridan Park, 910 S. Aberdeen St. 
Head to the North Side for Halloween crafts and treats courtesy of the Park District. Good for kiddos ages 3-12. 4-6 p.m. Free.  
Rocky Horror Picture Show Live (Thursday-Saturday)
Music Box Theatre, 3733 N. Southport Ave.  
Channel your inner Tim Curry at midnight screenings of "The Rocky Horror Picture Show," Richard O'Brien's 1975 cult classic. The Music Box provides a cast of live actors to lead you through all the film's zaniness. I see you quiver with antici...pation! 10 p.m. Thursday; 11:59 p.m. Friday; 11:59 p.m. Saturday. $15-$18.
Chicago Horror Theatre Festival (Thursday-Nov. 7)
Stage 773, 1225 W. Belmont Ave.
A festival celebrating the murderous and macabre, with sketch comedy, cabaret, dance, burlesque and one-act and full-length plays. Shout out to Sunday, Nov. 1, a day of special children's programming with treats. Thursday through Nov. 7, various times. $15-$200.
---
Edgar Allan Poe Readings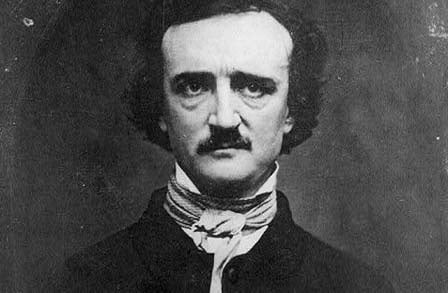 Clark House Museum, 1827 S. Indiana Ave. 
Few things are more Halloween than listening to tales from that master of all things freaky, Edgar Allan Poe. And what better place to do that than within the confines of the Clark House Museum, with its restored 1850s interior. Actors from Lifeline Theatre present staged readings of Poe's stories and poetry – you just have to react in horror. Readings at 5 p.m. and 8 p.m. $22-$25.
---
Also on tap Saturday:
Monster Dash Race
Grant Park, 337 E. Randolph St. 
Costumes are encouraged at the Monster Dash, which includes 5K, 10K and half marathon races. The 5K includes trick-or-treating at water stops, a costume contest, and a Monster Dash race jacket. Spooktastic. Half-marathon starts at 9 a.m.; 10K at 9:20 a.m.; 5K at 9:40 a.m. $64.99-$99.99.
Northalsted Halloween Parade
Belmont Avenue and Halsted Street
Boystown on Halloween is about as serious as it gets. If you think you can play with the big boys, don a costume and head to the Northalsted parade and compete for prizes including "Scariest," "Drag," "Group" and "Orginal." Parade registration at noon; 4 p.m. parade. Free.
Halloween at the Violet Hour
1520 N. Damen Ave. 
Sit in fancy plush chairs and relish in magicians, mystics, and, of course, the ultimate voodoo of a good cocktail. 10 p.m. $100. 
Spooky Pooch Parade
1000 Lake-Cook Rd., Glencoe
A costume party for dogs and the people who love them. If you're just going to check out the action, it's free. Plus the one time of year dogs are allowed in the Botanic Garden. Everybody wins. 11 a.m. $19-$25.
---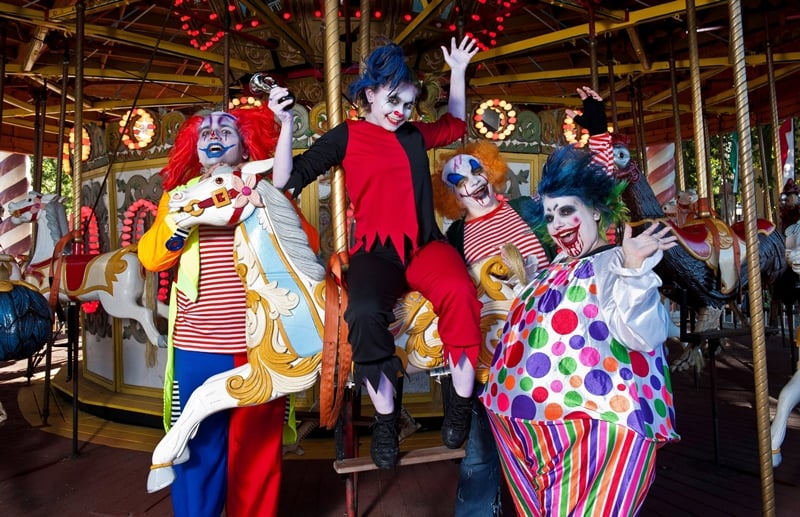 Last Day of Fright Fest 
Six Flags Great America, 1 Great America Parkway, Gurnee, IL
Halloween may be over, but you can still get your freak on at Fright Fest one more time. Get chased around the park by creepers, scare yourself out in haunted houses and enjoy the general terror. 11 a.m.-midnight. $34.49-$53.99.
---
Also happening Sunday:
Palatine Ghost Walk
Smith Street Station, 180 N. Smith St., Palatine
Take a two-hour tour of all Palatine's best haunts, with ghost stories dating back to the 1800s. 6 p.m. $5 adults; $3 children 12 and under.
Day of the Dead Festival at the National Museum of Mexican Art
1852 W. 19th St. 
In Mexico, it's the day after Halloween – Dia de los Muertos (Day of the Dead) – that's all the rage, with sugar skulls, marigolds and fruit acting as offerings for the dead. The museum curently has an entire exhibit devoted to the holiday, but on Sunday the celebration expands with complimentary pan de muerto and hot chocolate, musical performances, face painting and art activities. 4-9 p.m. Free.  
---
Events listed are subject to change. We recommend double-checking times and locations before you head out the door. Want to share your upcoming events with us for consideration in a future roundup? Send us an email.