He's only 25 years old, but composer, poet and conductor Matthew Aucoin is already a major sensation in the classical music world.
The Metropolitan Opera, Chicago Symphony Orchestra and Los Angeles Philharmonic are among the top flight musical institutions that have tapped into Aucoin's prodigious talents.
And now, Lyric Opera of Chicago has commissioned the young composer to write an opera for the company. It's called Second Nature, part of Lyric Opera's Lyric Unlimited Initiative, and it receives its world premiere this week at the historic Café Brauer at the Lincoln Park Zoo. The composer, who also wrote the libretto to a story he conceived, will be conducting.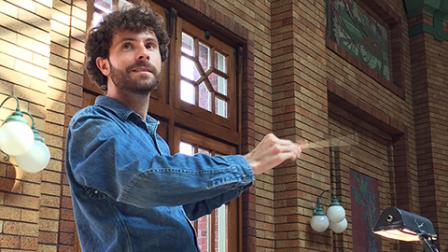 Matthew Aucoin
We speak with this classical phenom about his beginnings as a composer while he was still a young boy, his adventures in jazz and rock as a teen and what lies ahead for this very much in demand young man.
Anti-establishment 
It's not the typical setting for an opera, but then, it's not your typical opera, nor is its young composer just another up-and-coming musician. Matthew Aucoin composed his first work more than 20 years ago when he was just 4 years old. Two decades later, his musical gifts are being compared to those of Mozart and Leonard Bernstein. Like his growing body of work, his reaction to those comparisons can be characterized as anti-establishment.
"It is absurd," said Aucoin of the comparison. "It reveals something deeply messed up with classical music in our world, that the first name anybody reaches to – and it has nothing to do with me – if anybody comes up in classic music, people reach for Mozart, Leonard Bernstein, because they're not familiar with what's actually going on today."
What's going on today for the 25-year-old artist is a series of commissions and associations with major musical institutions that are tapping into his many talents: composer, conductor, poet and instrumentalist. Earlier this year, Aucoin completed a two-year long conducting apprenticeship with the Chicago Symphony Orchestra. And he was hired as the youngest associate conductor at the Metropolitan Opera where he is also developing a work.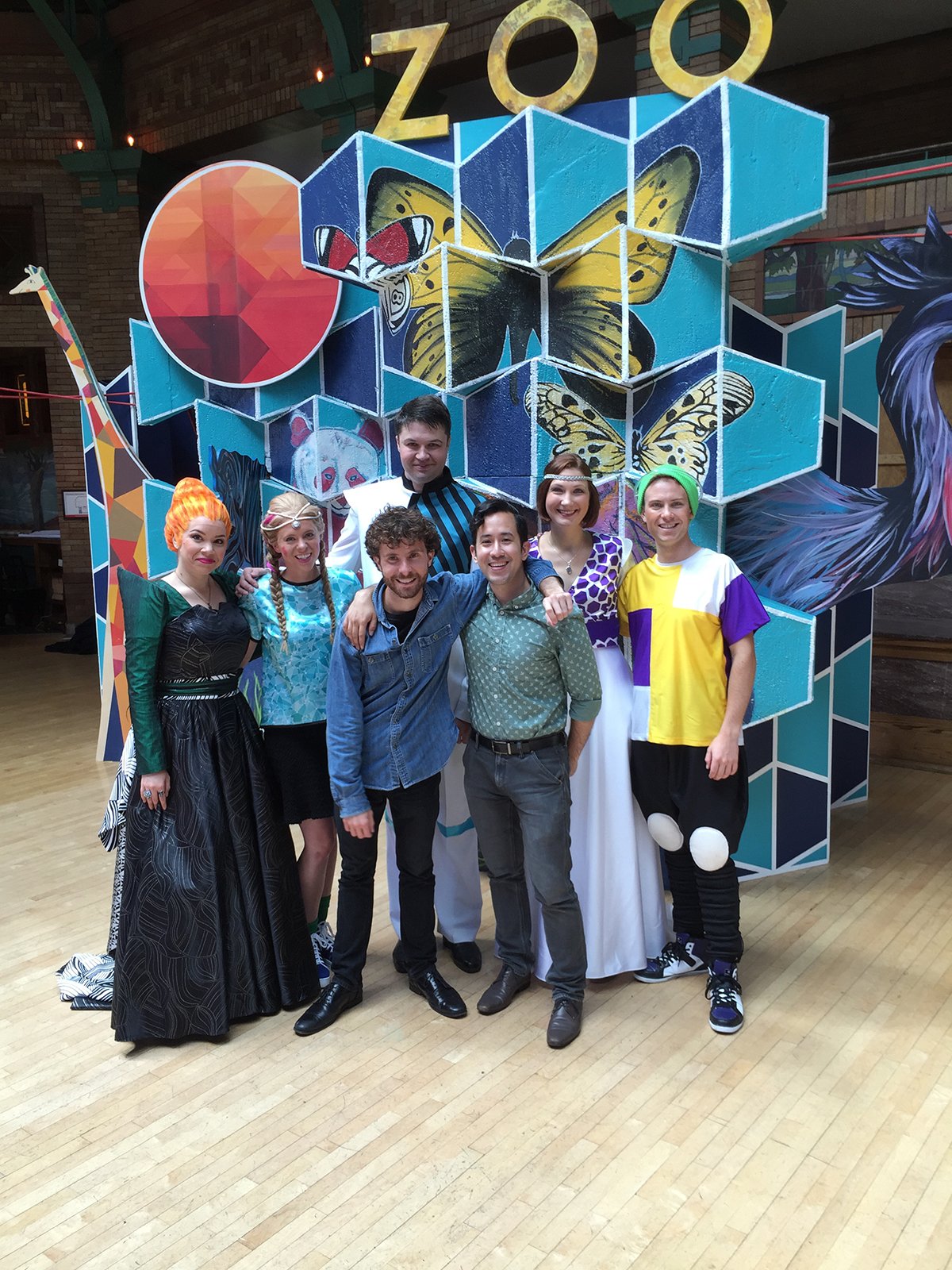 Matthew Aucoin, director Matthew Ozawa and the cast of 'Second Nature.'
This week, an opera by Aucoin commissioned by Lyric Opera of Chicago gets its world premiere at Café Brauer on the grounds of the Lincoln Park Zoo. It's called Second Nature, and the 45-minute work is geared toward younger audiences. Aucoin fashioned it for the setting where it will be performed.
The story is described by Aucoin as a "dystopian fairy tale." He says the opera is "set in the future, in which we humans have screwed up the environment so badly that we have decided to live in a kind of zoo-like habitat."
It might not sound altogether kid-friendly – either musically or thematically – but the moral of the opera is not as grim as the tales told by the brothers with that name. As for the music, Aucoin says many people assumed he would tone it down.
"A lot of people have asked me, 'So, did you kind of tame your music? Did you make it -- sort of -- cutesy and kid-friendly?,' and I think kids are some of the most open-minded listeners, because they don't have preconceived ideas of what opera's supposed to be," he said.
Aucoin came to the attention of Lyric Opera of Chicago through its superstar creative consultant Renée Fleming, whose daughter introduced her to Aucoin when they were both students at Harvard. As for the Lyric, Aucoin was the perfect composer to for its Lyric Unlimited initiative.
Aucoin's rare talent was becoming evident as a preteen when he composed his first opera at age 11. But then he gave up on classical music to join a rock band, Elephantom. Aucoin then went on to work with jazz musicians. All of which eventually brought him back to the classical realm. His musical output as a grown-up is not easy to categorize.
Second Nature is Aucoin's second world premiere opera in the last three months. In May, a more adult work called Crossing – about Walt Whitman's work with wounded Civil War soldiers – was highly praised by the New York Times, who called Aucoin "opera's great 25-year-old hope." But while his star rises, some seasoned professionals are offering him advice to ensure he has an even more stellar future.
"I think there's a real danger that someone of Matt's talent, which is already widely recognized, nationally and internationally, that he will burn out if he's not careful," said Anthony Freud, general director of the Lyric Opera of Chicago. "But ultimately, the most important word in the vocabulary of a prodigiously talented artist is, 'No thank you.'"
Among Aucoin's other gifts is a level-headedness that appears to indicate he can handle the great expectations many have for him. For the time being, however, he's focused on a work for young audiences which, much like the composer himself, is optimistic about the future. 
Below, sketches by Second Nature costume designer Sally Dolembo.
Where: Café Brauer in Lincoln Park Zoo, 2120 N. Stockton Drive
When: 10:00 am, 12:00 pm on Wednesday, Aug. 19; 4:00 pm, 6:00 pm on Thursday, Aug. 20
Tickets: Free, but reservations are no longer being accepted due to demand. A limited number of tickets will be available on a first-come, first-served basis immediately prior to each performance.
Additional performances take place at 2:00 pm on Saturday, Oct. 17 at Francis W. Parker School, 330 W. Webster St. Tickets may be reserved starting at 10:00 am on Saturday, Aug. 22.
More: "Nature has been the thing that doesn't change for writers": Aucoin talks to our sister station WFMT about the inspiration for his new opera.
---
You may also like these stories: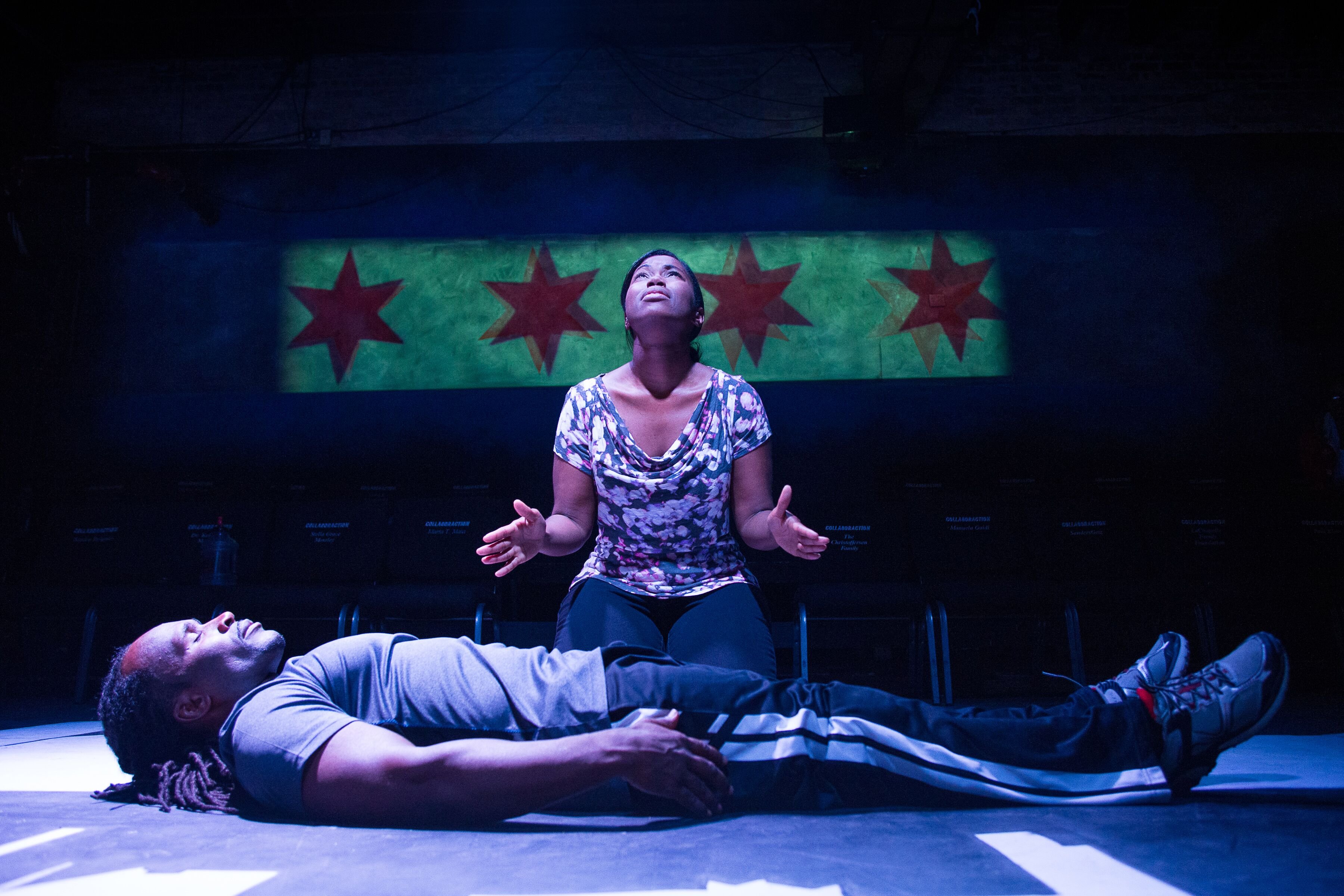 • Theater Group Collaboraction Examines Impact of Chicago Gun Violence
• Bringing Statues to Life in the City of Chicago