Watch the video: Two leaders in the Illinois House of Representatives join Phil Ponce on Chicago Tonight to discuss the budget stalemate in Springfield and a possible property tax freeze.
Below, highlights from the discussion with guests State Rep. Barbara Flynn Currie (D-Chicago), the Majority Leader; and State Rep. Patti Bellock (R-Westmont), the Deputy Republican Leader.
On what's happening behind the scenes of the budget stalemate
Barbara Flynn Currie: I would say not enough. I don't think we're close to a settlement and I think we ought to be. I don't think we should continue on this pace with what some are saying 90 percent of our state budget is already going out the door. We don't have enough money in this fiscal year to spend as we had in last fiscal year. What will happen come April if we don't get some kind of a settlement sooner?
On the consequences of spending money from the old budget when cutbacks go into effect
Patti Bellock: The sooner we solve this crisis the better. I think the governor has stayed with his message that Republicans, Democrats, and Independents elected him on, that he wants to look at reforming government in Illinois before revenue. I think we need to just get to the solution, move forward, and get to a compromise between Republicans and Democrats.
On former Gov. Jim Edgar's opinion that Gov. Rauner should focus on the budget and wait on so-called 'turnaround' issues
PB: I don't agree at all. I agree that we need some reforms in government, I think that the state of Illinois taxpayers are tired of the tug of war between Democrats and Republicans, and they are most of all tired of the status quo. So I agree with the governor that he needs to move on his turnaround agenda. He's shown his willingness to compromise. He originally started off with 40 reforms; I think he's now down to six.
BFC: As a House Democrat, I worked closely with Gov. Edgar. I agree with Gov. Edgar that it's time for Gov. Rauner to get off the dime and figure out how we're going to spend money sensibly and decide together how we're going to make it throughout the fiscal year. We can't tell exactly how much money is going out the door because the administration won't even come and tell us.
On the claim that the administration is not showing transparency regarding the state's finances
PB: I think there is a lot of transparency. I think the majority of people know what we're spending. We know what we've spent on the state employees, we know what we've spent on group insurance, we know what we've spent on pensions, we know what we've spent on Medicaid… So, all in all, we can total that up, so there is a lot of transparency with that.
On reports that Gov. Rauner is paying his staff approximately $1 million more than previous Gov. Quinn
PB: I don't know if that includes his entire staff. We went through this with the secretary of education and they showed that there was at least six or seven other people that had been paid that amount.
BFC: I think that it's a mistake for the governor not to be open with us about what he's actually paying. When we say we've figured it out and say 'you are paying more than Gov. Quinn did,' his administration says 'we don't like your numbers.' But they don't come and tell us where we're wrong, they just write rude letters saying 'we're not going to participate.'
On the current nature of communication and the relationship between Republicans and Democrats
PB: I don't know when they had last communicated; I know that they had communicated as of a couple of weeks ago. I'm not sure.
Interview highlights represent a condensed version of our conversation. Watch the video to see the full discussion.
---
Gov. Bruce Rauner on Monday morning spoke about the proposed Local Government Taxpayer Protection Act which includes a two-year statewide property tax freeze as well as local control of collective bargaining issues and prevailing wage. Watch the press conference below.
View our interactive graphic to see how Senate members voted on a bill freezing property taxes on Aug. 4.
You may also like these stories: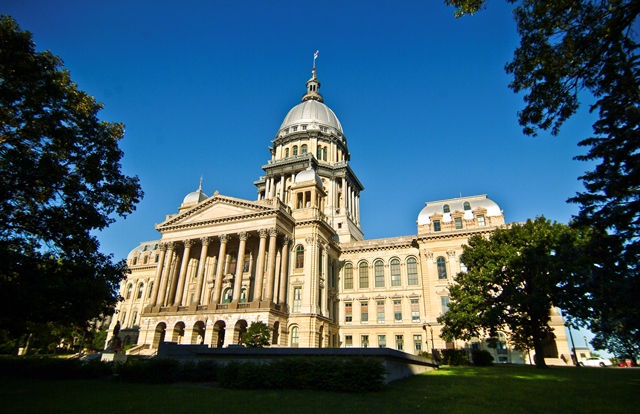 • Budget Stalemate Day 41
• State Budget Stalemate: Week 3