Crain's Chicago Business deputy managing editor Ann Dwyer takes a closer look at the major job cuts at Kraft Heinz, the NFL Draft returning to Chicago in 2016, and Apple pulling up its Magnificent Mile roots to move further south.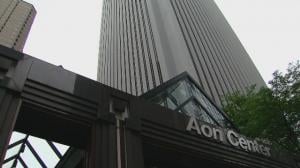 Aon Center Kraft Heinz Cuts Staff
Food giant Kraft Heinz slashes 700 positions at its Northfield headquarters. A total of 2,500 employees in North America will laid off by Kraft Heinz in an effort for the company to reduce costs by $1.5 billion by 2017.
The newly merged company is planning to move out of its massive suburban complex to the Aon Center in the Loop.  Second quarter sales declined for both Kraft and Heinz. Second quarter sales declined for both Kraft and Heinz.
NFL Draft Returns to Chicago
Chicago beat Los Angeles in its bid to host the 2016 NFL Draft. The free public festivities will return to Grant Park as the draft itself will be held in Roosevelt University's Auditorium Theatre from April 28-30.
Organizers commissioned a study that reports the NFL Draft added $44 million to the local economy in 2015. But the final figures on how much the NFL Draft cost the city are yet to be revealed.
Apple plans to move its Magnificent Mile store about a half-mile south to Pioneer Court at 401 N. Michigan Ave. next to the Chicago River. Although much of the store will be underground, the entrance is reportedly to be located on the plaza with a glass structure similar to the Apple store in New York City.  
Apple reportedly started eyeing the move out of its 30,000-square-foot building last year.  It opened at 679 N. Michigan Ave. in 2003. Since Millennium Park has become a top tourist destination, more development is popping up around the Chicago River. Surrounding properties include the Wrigley Building and the Tribune Tower.