Watch the video: Jay Shefsky goes kayaking where paddlers rarely go – the busy and industrial Calumet River.  
---
The Chicago River buzzes with life. There are new sections of the riverwalk downtown, kayaks on the river, water taxis – the city is embracing its river like never before. 
But what about that other hard working river, the Calumet, on the Southeast Side? 
When Jay Shefsky met a couple of local kayakers who regularly venture into the Calumet River, he asked if he could tag along. 
Here's what they found.
Chicago's other river
Sharon and Alec Bloyd-Peshkin have paddled their kayaks many places in the world, from Lake Superior to Wales.
They run Have Kayaks Will Travel and they coach, teach classes and lead trips in both beautiful and challenging waters.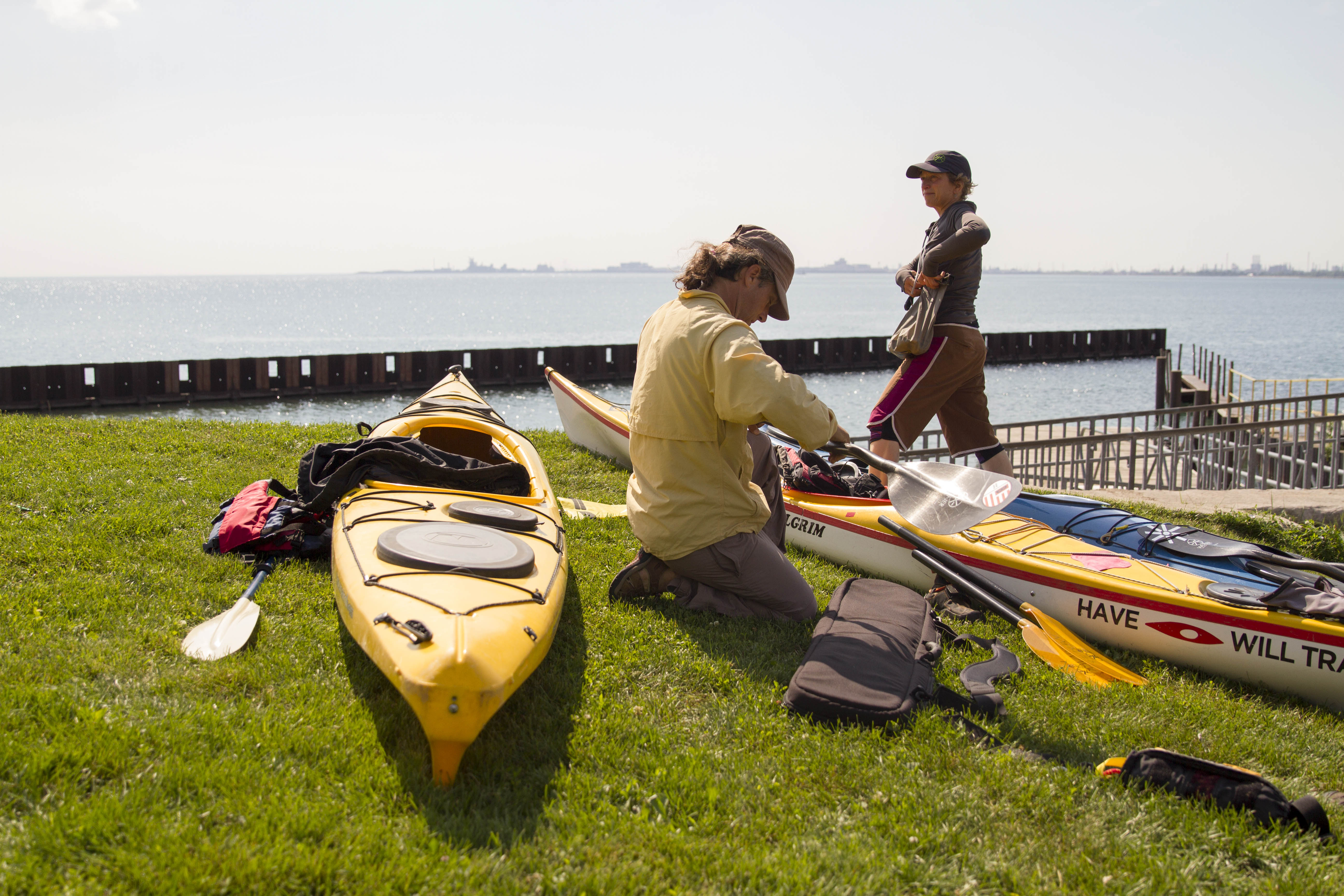 Planning for our paddle along the Calumet River. (Luke Brodarick / Chicago Tonight) As lifelong Chicagoans they also use their small boats to explore the city, starting with Lake Michigan.
"The lake is our big natural resource," says Alec. "That's how we think of it. You know, in Chicago we don't have great opportunities for hiking or for camping but we do have the lake, and to view it from a kayak gives it a unique perspective that we always find new things every time we go out."
Today they've invited me to join them. But we're not heading for the lake.
Instead, we'll be paddling a waterway where Sharon and Alec say they've never seen another kayaker.
They're taking me into the Calumet River.
Parts of the Calumet are quiet, green and kayak-friendly, but we're going into the busy, working part of the river.
It's on the far Southeast Side of the city, close to the Indiana border. Since the late 1800s this has been an industrial core of Chicago.
"We'll expect to see some barges, some tugs, some freighters, probably some commercial traffic, there may be some pleasure boats," says Sharon. "There's some spectacular bridges in here."
We start out in the lake, from Calumet Park at 95h Street and paddle north for about three quarters of a mile toward the mouth of the river.
But before we get into the river, it's clear this is going to be very different from any place I have paddled before.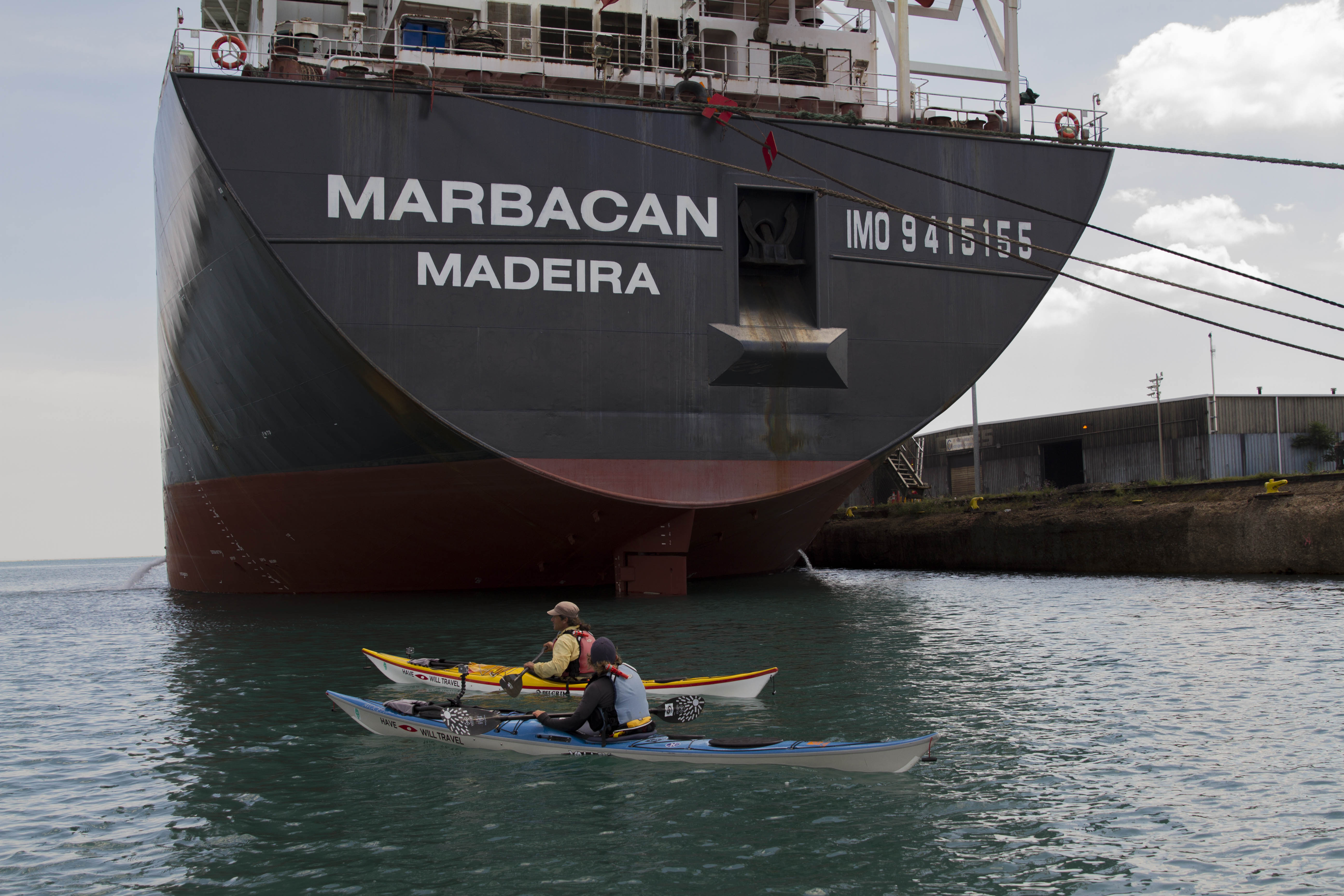 An ocean-going freighter in the Calumet River. (Luke Brodarick / Chicago Tonight)
Amazingly – to me – we see an ocean-going freighter.
We find out that the ship is from Portugal and is picking up a load of steel coils.
As we paddle away from the ship and cross to the north bank of the river, it looks surprisingly green and natural.
It turns out that this stretch was once anything but. In fact, it was the home of the U.S. Steel South Works.
Steel was produced here from 1882 through 1992, employing some 20,000 people at its peak.
Today the land is mostly empty.
Since the early 2000s there has been talk of redeveloping the site as a major residential and commercial area called Lakeside.
But as we paddle alongside it, nothing seems to have been developed yet. (See "Lakeside development update" below.)
Alec and Sharon point out that U.S. Steel has left behind some artifacts: what look like rocks along the shore are actually "slag," a byproduct of steel production.
And then there's the railroad bridge up ahead.
"Oh I love this bridge," says Sharon. "It's sort of like the iconic entrance to the Calumet River. It was built by U.S. Steel to move coal into the South Works plant for use in the blast furnaces, and that was its sole purpose, that was the only thing it did."
While the U.S. Steel site may be quiet, most of the rest of the river is still working hard.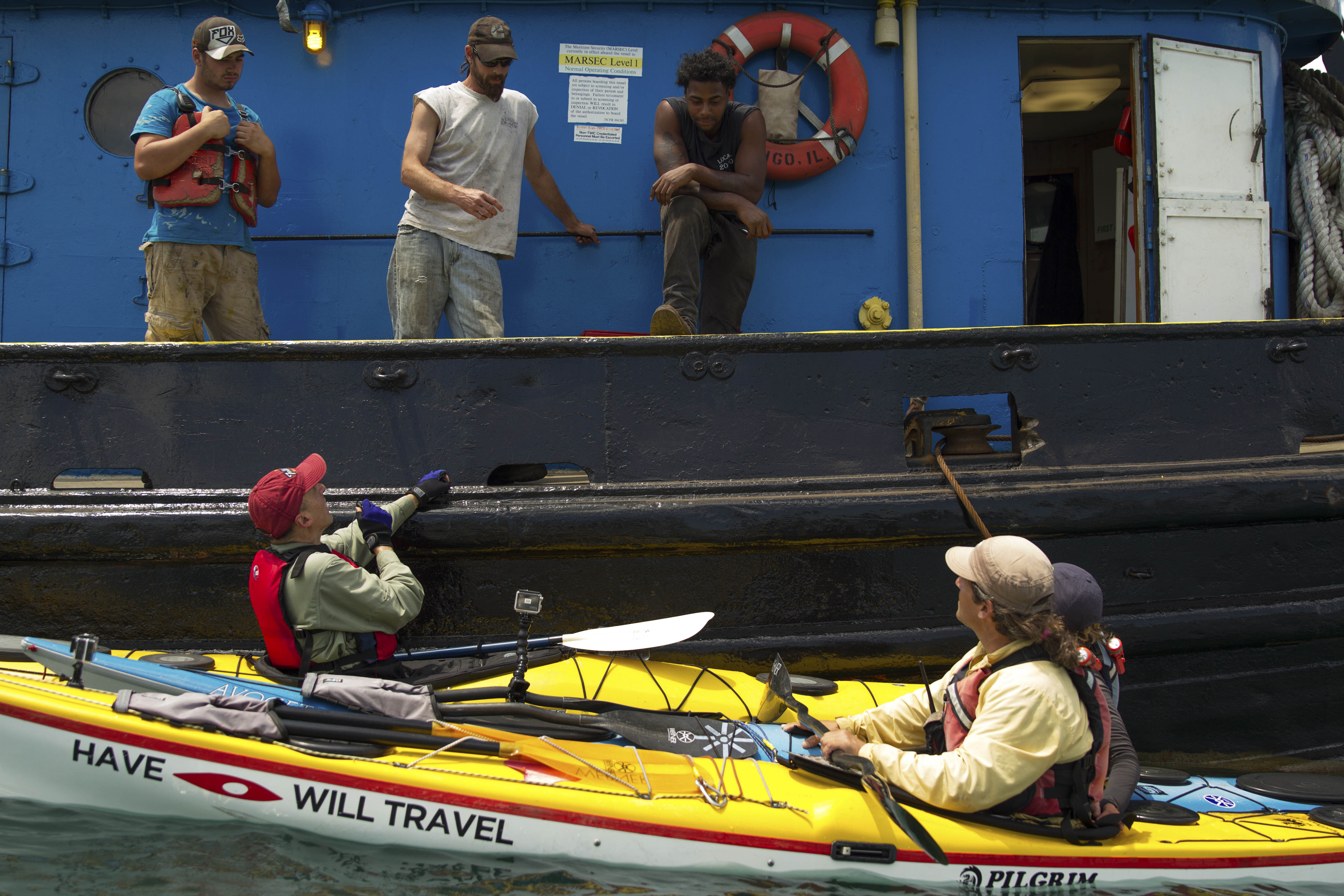 Chatting with a tugboat crew in the Calumet River. (Luke Brodarick / Chicago Tonight) Among the vessels on the Calumet today is a tugboat called the Terry D. When they pulled into a slip, we stopped for a chat.
"I started out as a deck hand in 1993," Brenden Bayer tells me. "I became captain in '97 and I've been doing it ever since."
His coworker, Bud Clarke, has been at it for 13 years. Working his way up from the lower Mississippi.
Sharon asks, "Once you're on your boat, are you on for weeks at a time or do you get on and off?"
"I've worked for a couple different companies, and I worked for one where I worked 28 days on and then 14 days at home. That's a hard life," says Bayer. "I go home every day or most days, and I like that because I have a family at home."
I ask what they think of kayakers on the river.
"Watch out," Clarke tells us.
"I'm a big fan of water sports," Bayer adds. "So I think I wish I was doing that instead of this. But yeah, it's a dangerous river especially between this river and the river downtown there's a lot of commercial traffic and it's a dangerous place."
I ask my guides to talk about the danger of paddling back here.
"We don't really think of this as a beginner paddle because there's a lot of commercial traffic," Sharon tells me. "There aren't really a lot of opportunities to get out, and you can get boat wakes and other things coming through that people with less experience might not handle so well."
We decide to go somewhere quieter. Alec and Sharon say there is one big advantage to a kayak's small size. We paddle inside the support structure of a bridge.
Sharon says, "We can get to places and see things that larger boats can't see, people on land can't see, so it's a vantage point that's unusual, and we're always discovering new stuff."
In this case, we're underneath the ruins of a bridge that met a rather dramatic end.
"This is a relic, a bridge that was actually built by Joseph Straus, the bridge builder who built the Golden Gate Bridge," explains Sharon. "In 1988, an inbound boat struck the bridge and ended up getting wrapped in the leaf of the bridge, destroying both the bridge and the ship."
The Calumet River had to be closed for 10 days.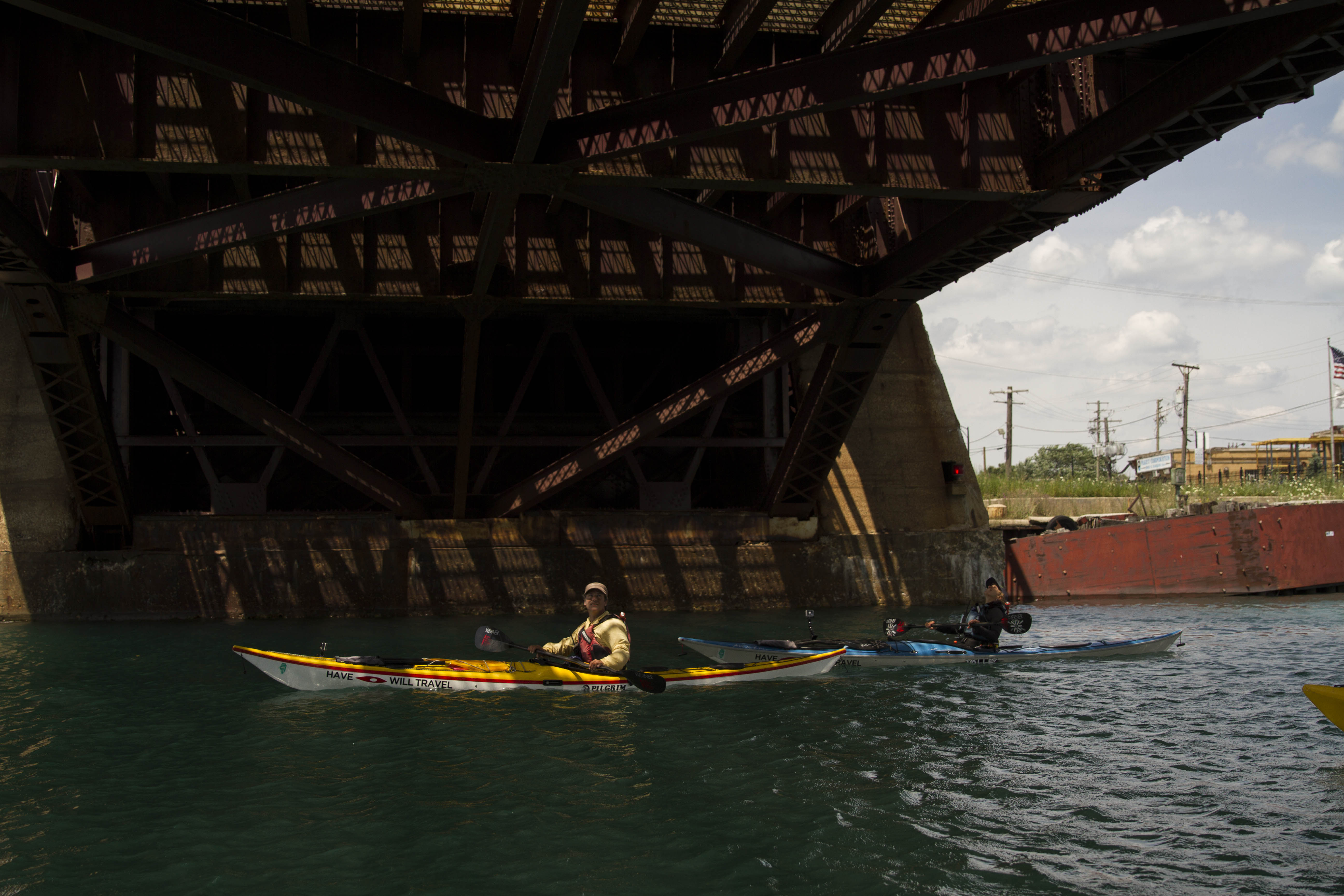 Paddling under a bridge made famous by the Blues Brothers. (Luke Brodarick / Chicago Tonight) There are lots of great bridges remaining. Here at 95th Street is a bridge made famous by the Blues Brothers, in a scene where they jump their car over the opening bridge.
Next is a magnificent trio of vertical-lift railroad bridges. And just beyond that, the Skyway bridge. It's 125 feet above the river, and so is a guy on top, whom I hope is up there for some good purpose.
As we make our way back, I'm struck by how much of this city I have left to explore, and how much more you can see, up close in a kayak.
Just north of the Calumet River sits the old U.S. Steel South Works plant, which has been dormant since it closed in 1992. Developer McCaffery Interests Inc., in partnership with U.S. Steel Corp., negotiated with the city of Chicago for years on how to transform the expansive site. What they came up with is a tremendously ambitious $4 billion project known as Chicago Lakeside development.
Some have deemed the project "a city within a city," which will take 25-45 years to fully complete. All in all, the nearly 600-acre tract will be home to nearly 14,000 single family dwellings and high-rise units, more than 17 million square feet of retail space, a 1,500-slip boat marina, its very own high school, and 125 acres of natural spaces, parks, and bike paths. One area of the expansive parcel was pitched as the potential home for Barack Obama's presidential library, but is no longer in the running. Lakeside development is also slated to be LEED certified.
According to Dean Welch, the development's project manager, McCaffery Interests is in the design and leasing stage for part of the first phase of the project, a 400,000 square foot shopping center that will be anchored by a Mariano's. Welch estimated that construction would begin in late 2016.
One portion of the project that's already completed is Steelworkers Park, which opened in May and is located at East 87th Street and Lake Michigan.
Last year, McCaffery Interests donated area set aside for another park, currently being called Park No. 566, back to the Chicago Park District in hopes that they'll begin development on it next year.
Welch said construction on part of the marina would also begin after the retail facility is completed.
Along the way, the developers have taken into consideration feedback from potential retailers and community members. Initially, the design for the project's first phase had the retail space on the north side of the site. Per retailers' request, it was moved to 87th and Lake Shore Drive to be closer to public transit options and more connected to the surrounding neighborhood.
Throughout the process the developer has been hosting open houses, which serve as opportunities for community members to visit the site and discuss the project. The next open house is scheduled for October 17-18.
-- Steffie Drucker