Watch the video: A group of aldermen is telling the Mayor they believe the city can get billions in new revenue without a big property tax hike. How do they plan to do it?
---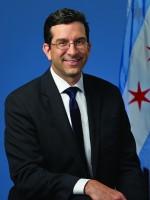 Ald. Scott Waguespack (32nd Ward )
The parade for new city taxes continued Thursday as a group of aldermen made their case to Mayor Emanuel that powerful corporations and the wealthy should shoulder the burden of tax hikes to help plug a massive budget hole.
The aldermen are also targeting the private law businesses of powerful political figures Ald. Ed Burke (14th Ward) and House Speaker Michael Madigan. Why do they believe doing so might save hundreds of millions of taxpayer dollars?
The most striking proposal on Thursday from the City Council's Progressive Caucus calls for an "Alternative Minimum Property Tax" for Chicago's central business district.
This is meant to target big companies and commercial buildings in the Loop that often go before the Cook County appeals board and get their property taxes reduced, sometimes by millions of dollars.
Companies that do this often have successful attorneys who advocate on their behalf, none more successful than House Speaker Michael Madigan and City Council Finance Committee Chairman Ed Burke, both of whom have private law practices that represent wealthy clients and specialize in property tax appeals.
If they are successful in reducing the property taxes of the big commercial buildings they represent, other property owners see theirs spike to make up for that shortfall, because the overall tax levy for agencies like the City of Chicago and Chicago Public Schools stays the same.
An alternative minimum property tax could alleviate this by setting a minimum standard at a time when property taxes are almost certain to go up for everyone.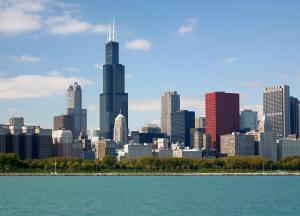 "What we see right now are large buildings getting exemptions that create an imbalance in our property tax system so that homeowners are paying a disproportionate amount for the taxes that larger buildings should be paying," said Ald. Scott Waguespack (32nd Ward). "And that means the city going out there and finding a way to fight back against these exemptions and reduced assessments the big buildings are getting."
The aldermen say that when a big property goes before the three-member Cook County Board of Appeals to reduce its property taxes, often with a lawyer from Madigan's or Burke's law practice, the mayor should send the city's lawyers to argue against it. They say it rarely if ever happens now and could save hundreds of millions of dollars a year.
The progressive aldermen also laid out a laundry list of other tax and fee proposals at a press conference, immediately after discussing them in a meeting with Mayor Rahm Emanuel and City Budget Director Alexandra Holt.
Those include a tax on services like real estate agents, dentists, etc., that could bring in $400 million annually but would need approval from state lawmakers and the governor.
They are also calling for a luxury tax on goods such as yachts and fur coats, a tax on polluters in the form of emissions taxes, and an added water tax on big-box retailers that they say overburden the city's drainage system. Also proposed, a financial transactions tax that would hit LaSalle Street bankers.
"The most important thing to do is find a good package of all of these things that can alleviate hitting the button on property taxes only," Waguespack said. "The number that's been thrown out is close to $1 billion in property tax hikes over the next four years. That's something that's not palatable to taxpayers anywhere in the city."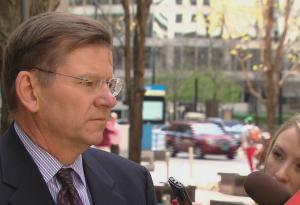 Laurence Msalll, president of The Civic Federation. But other budget watchdogs are not sure of the legality of a financial transactions tax and say businesses will not be able to shoulder the budget burden alone.
"That business will leave Chicago faster than they'll pass an ordinance, so that reality needs to be faced," said Laurence Msall, president of the nonpartisan budget watchdog The Civic Federation. "In terms of targeting other types of business, Chicago needs to attract business. Chicago businesses already pay the bulk of property taxes, much larger share than individual residents."
Both the aldermen and representatives from the mayor's office say Thursday was fruitful as a starting point in negotiations as the mayor's office is sure to reveal higher tax proposals in the coming months.