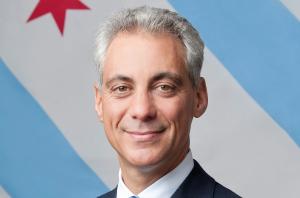 Wednesday night, Chicago Mayor Rahm Emanuel sat down for a one-on-one interview with Chicago Tonight's political correspondent Paris Schutz for the first in a planned series of regular conversations. The interview focused on Moody's Investors Service downgrading of the city's debt to junk status – which will likely cost taxpayers significant money.
In a wide-ranging conversation, the mayor repeatedly said Moody's got it wrong. And he returned to a familiar campaign talking point, asserting that he had balanced the city's budget in each of the last four years.
But budget analysts and journalists say the record is far muddier. While the budgets may have been balanced on paper, the path has been paved with restructured debt and borrowing that mask the reality that Chicago is still living beyond its means.
For example, in one part of the Chicago Tribune's extensive look at the city's practice of issuing bonds that will cost taxpayers huge sums down the road, its reporters wrote:
"In 2011 and 2012, Chicago issued $844 million in taxable general obligation bonds, more than any other unit of government in the country except the debt-plagued state of Illinois, according to Bloomberg data analyzed by the Tribune." Since Emanuel took office, some of the money from the bonds (which are, in essence, borrowing) was used not for major capital projects, but to pay the city's bills.
Source: City of Chicago and Chicago Tribune (Note: Tribune's report came out in 2013 and did not include calculations for new bonds issued in 2013 and 2014)
The mayor has also pushed payments the city owes further into the future using a debt restructuring practice called "scoop-and-toss." In the mayor's budget that passed in November 2014, the city managed to avoid $120 million in debt payments through scoop-and-toss – which will cost taxpayers $228 million in interest down the road, according to the nonpartisan Civic Federation.
The mayor recently pledged to stop "scoop-and-toss," a practice of the previous administration that he continued during his first term.
In 2014, his administration also put off making a $550 million dollar payment to police and fire pensions until the end of this year. That may have helped keep a potential property tax hike out of the budget that was approved last November, and delayed a decision on how to pay for it.
During Wednesday's interview, Emanuel reiterated that revenue is on the table as part of a solution when negotiating a pension deal. He also said he's not ready to discuss which taxes will need to be raised because he doesn't want to undercut the city's position when negotiating pension concessions with the police and fire unions.
Source: City of Chicago
Emanuel also characterized the budgeting methods whose repercussions now plague taxpayers as inherited problems. "None of these situations that we face was created overnight," Emanuel said. "They're not going to be solved overnight."
There is broad consensus that the borrowing and budget gimmicks started under Mayor Richard M. Daley. And according to a Tribune analysis, Mayor Emanuel has "issued far less long-term debt than Mayor Richard M. Daley did during his final term." 
But Chicago is still facing a structural budget problem. Engaging in borrowing, delay tactics, and scoop-and-toss to balance budgets without raising property taxes (though other taxes, fines, and fees have been hiked by hundreds of millions during the mayor's first term) are not practices of a city that's living within its means.
View a graphic of measures used to close the budget gap in the past four years and Civic Federation positions on each measure. Sectors colored blue are supported by the Civic Federation, sectors colored red are opposed, and sectors colored gray were left unanalyzed by the watchdog group due to a lack of information and/or details. (The Civic Federation noted in FY2015 that the City has dramatically reduced its reliance on one-time revenue sources and formalized the TIF surplus policy, making it a recurring source of revenue.)