The race for the open seat in Chicago's 11th Ward has gone to a runoff between Patrick Daley Thompson and John Kozlar. Thompson is an attorney and Water Reclamation Commissioner. He's also a nephew of Richard M. Daley and grandson of Richard J. Daley. Kozlar is a law student and neighborhood advocate who ran and lost in the 2011 race. They join us.
---
Click the dots in the image below to read candidate bios.
---
11th Ward
A Historically Political Ward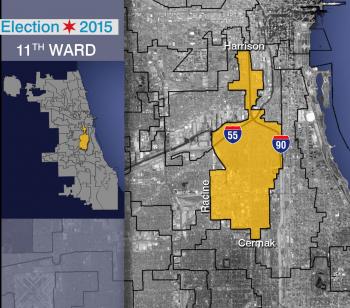 The 11th Ward includes the most politically rooted neighborhood of Chicago: Bridgeport. Five mayors, whose years of service span from 1933 to 2011, have come out of this Irish-American enclave. Bridgeport is also home to the center of the Cook County Democratic Party. The 11th Ward also includes one of Chicago's oldest neighborhoods, Canaryville. The new ward map cuts out McKinley Park to the west and adds portions of the Pilsen and Little Italy neighborhoods to the north.
For the first time in 45 years, the seat for alderman in the 11th Ward is open. Since 1969, the alderman of the 11th Ward has been appointed or re-elected into position. The runoff candidates are Richard Daley Thompson, grandson of former Mayor Richard J. Daley and nephew of former Mayor Richard M. Daley, and 26-year-old law student John Kozlar. Thompson has responded to accusations of nepotism and corruption surrounding his famous family name by bluntly stating he isn't "running from [his] family, nor [is he] running on [his] family name." While Kozlar is a young candidate, this will be his second time running for 11th Ward alderman.  He ran in 2011, the year he graduated from The University of Chicago, and came within 1,255 votes of a runoff election with then-incumbent Ald. James Balcer.
Heliport Debate
One of the issues up for debate is the construction of a $12.5 million heliport at the bank of the Chicago River's South Branch. The company behind the plan will offer helicopter flight tours and a riverside observational deck to view the city from above. The initiative was passed by City Council last year and has created a schism between 11th Ward residents. Some say the attraction will bring economic activity that will trickle down to local businesses while others bemoan the arrival of a facility perceived as noisy and intrusive.
Attractions
U.S. Cellular Field, the home of the Chicago White Sox, is located in the 11th Ward. The ward also boasts an eclectic blend of ethnic restaurants ranging from Mexican to Chinese to Italian cuisines. Business owners along a three-block stretch of South Halsted Street are eager to make a commercial comeback after a sewer repair project closed off the street and rerouted traffic and transit paths. The construction began last November and wrapped up just weeks ago. To offset losses in revenue, some businesses offered free delivery for customers who couldn't reach them by foot.
Racial Makeup
While the Bridgeport and Canaryville neighborhoods were once synonymous with racial intolerance, the 11th Ward is one of the most diverse areas of Chicago today. Asian and white residents almost equally comprise more than two-thirds of the ward's racial makeup. Hispanic residents make up 23 percent of the ward's remaining population, while black residents represent less than 5 percent.  
---
Both candidates were sent questionnaires to fill out and send back to us. Read their unedited responses below.
John Kozlar

Age: 26

Place of Birth: Chicago (11th Ward)

Current neighborhood: Bridgeport

Family: Father Ken, Mother Nancy, Brothers Michael and Louis and Sister Michelle

Occupation: Law student and President of Little League Baseball and Softball

Previous political experience: Candidate for alderman of the 11th Ward in 2011

What is your vision for the 11th Ward?

I want to improve communications and services. I want the residents to know that they come first. They deserve to be heard and get a response in a reasonable period of time. We will have service hours that reflect their schedules and have community meetings for them to voice their ideas and concerns. They should not be the last to hear about developments that directly affect their lives.

What is the most pressing issue in your ward?

Economic development: The business district needs a good scrubbing and fixing up and revitalization that will bring developers and businesses to the area. It has been so sorely neglected that Halsted Street is one of the most blighted business areas in the city. I'd begin with a short term plan by cleaning up Halsted Street by repairing sidewalks and other structural needs. I would inventory all the closed up storefronts and vacant properties and meet with the owners to figure out what options are available and what their plans are for the sites. Then we would have neighborhood forums to discuss what the needs of the community are and what type of businesses they would like to see developed.  I would then meet with developers and appropriate city departments to create a long term plan that would include how we can incorporate TIF funding into the needs of our business district. Approximately over $69 million dollars rests in the collective 11th Ward TIF accounts. This is outrageous that we have such need and so much money to address these needs and nothing was done. I would also want to make it very clear to developers and businesses that hiring ward residents must be a priority.

What is your plan for fixing Chicago's financial situation?

We need to continue asking the state legislature for extensions on mandatory pension payments. We need to stop paying suburban teachers pensions with city property taxes.  The suburban towns/districts should fund their own teacher's pensions.  In addition, the state needs to approve a city owned casino. Estimates state that a casino can generate $400 mil to $1 billion annually in new revenue. 80% of the budget is wages. Talks need to continue with our labor unions and contracted services to cut back cost to operations and reduce pension debt burden. A review and audit of TIF funds should hopefully find we can transfer a portion of those funds back into the taxing agencies of the city and the city's operations account. Also, we should look at a commuter tax as well. 11th ward residents have made it clear to me that they do not want a raise in property taxes. They feel that the agencies increase their taxes enough on an annual basis and want the city to hold the line at that point. With this said, everything else should be closely monitored to secure our city's finances.

How do you think the city has handled the severe weather this winter?

Over all I believe the city work force did a good job. There were management issues and minor coordination problems but that can be expected. It is important to have our main streets cleared first, and to have side streets cleared as soon as possible, and I think the crews got to the side streets in a reasonable period of time. I think residents exercised patience as the crews opened up passage for them as fast as they could. A review of each storms response with input from the residents as a standard procedure will aid us in the future.

Do you support Mayor Emanuel or County Commissioner Garcia in the mayoral race?

I'm concentrating on my candidacy to become the next Alderman of the 11th Ward and hope to work diligently with either mayoral candidate winner. I will be voting with my heart on April 7th.

What is your favorite restaurant in Chicago?

The 11th Ward has so many it is impossible to choose. 
Patrick D. Thompson

Age: 45

Place of Birth: Chicago        

Current neighborhood: Bridgeport

Family: wife Katie, daughters Nora and Grace, and son Patrick

Occupation: Real Estate Attorney

Previous political experience: currently Commissioner of the Metropolitan Water Reclamation District

What is your vision for the 11th Ward?

My vision for the 11th Ward is to make it a vibrant celebration of our diverse neighborhoods.  From University Village, through Chinatown, Bridgeport and Canaryville the 11th Ward celebrates the diversity that makes Chicago great. By revitalizing and redeveloping the Halsted corridor, we'll attract jobs and economic development here.  I also want to focus on improving constituent services by using technology and social media to improve the delivery of ward services.  I intend to have expanded evening and weekend office hours, regular community meetings and open a satellite office on the north end of the ward to be responsive to my constituents.  We also need to protect public pensions guaranteeing that no one loses what they earned. I am also focused on public safety through more police bike and foot patrols in the ward.

What is the most pressing issue in your ward?

We have an opportunity to develop a vibrant, walkable retail district on Halsted Street. I hear from residents all the time that they would love to see more retail activity on Halsted. They would like more opportunities to shop locally. I couldn't agree more. People should be able to walk throughout their community to get errands done, do some shopping in boutiques and have a nice meal all within a well-planned space that serves as a catalyst for local commerce, jobs and economic development. We also have a great opportunity with the Stockyard Industrial Park and currently available land in other areas in the Ward to expand current businesses and attract new ones. We need to capitalize on the momentum that has been established with the expansion of South Chicago Packaging and the relocation of ComEd and Vienna Beef to the Ward.

As a member of the South Loop Chamber of Commerce, I know how to attract and retain businesses. As a real estate attorney, I have been involved with millions of dollars of development and I understand the importance of zoning and how to effectively utilize the government tools to incentivize development. I also know how to identify and solve the challenges companies face when trying to relocate and/or expand. Finally, as a business owner, I am keenly aware of how important decisive leadership is because business will not allow government to stop progress.

What is your plan for fixing Chicago's financial situation?

I understand that the City has significant obligations that it must meet in the near future. If elected by the voters, I will draw upon my experience as Commissioner at the MWRD, where we have been leaders on pension reform by adopting a disciplined approach to meeting these obligations without adversely impacting our operational mission. The MWRD approved a pension reform package in 2011, one that I supported, and we have voted every year since to meet our obligation. In the ongoing discussion of how to best reform our pension system, everything needs to be on the table. We need to find new streams of revenue that would be strictly dedicated to funding pensions for retirees. I will also be watching closely as the Illinois Supreme Court considers the lawsuit brought on challenging the pension bill that was enacted one year ago. It is my hope that the Supreme Court provides ample guidance on how we can proceed in a way that delivers on our obligation to retirees while also putting the state on sound financial footing going forward.

How do you think the city has handled the severe weather this winter?

I think overall the city did a good job dealing with the weather this winter but I think there are some things that could have been handled better.  As I was going door-to-door throughout the 11th Ward, it was clear that we have to do a better job of handling the severe snow on interior streets.  That's why I proposed a snow removal system where one day we plow one side of the street, ask residents to move their cars to that side and plow to the last space on the other side.  Then remove the snow with front-end loaders and haul away. 

Do you support Mayor Emanuel or County Commissioner Garcia in the mayoral race?

I am supporting Mayor Emanuel in the race for mayor.

What is your favorite restaurant in Chicago?

Wow, that's a tough one-we have some great restaurants in the Ward. I guess my favorite depends on what I feel like at a particular time.
---
Click on the map below for vote percentages in all 50 wards.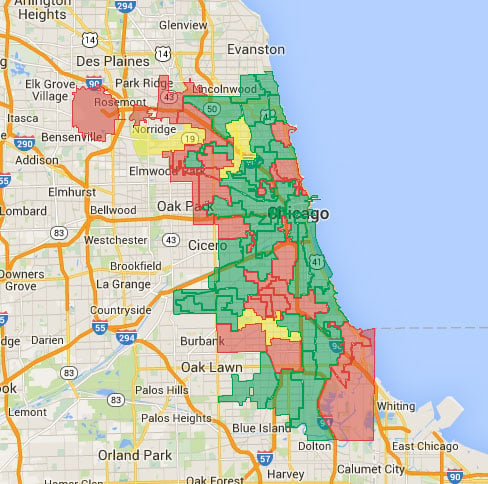 Click the dots in the image below to learn the percentage of votes each candidate received in the Feb. 24 election.
-- Graphics by Kristen Thometz and Linda Qiu; Yasmin Rammohan contributed