As aldermanic races heat up across the city, the 11th Ward stands out as another Daley makes a go at public office in City Council. We sit down with candidates John Kozlar, Maureen Sullivan and Patrick Daley Thompson to discuss ward issues and City Council politics.
View an interactive graphic to learn more about the candidates. Hover over the blue circles to read their bios.
-- Graphic by Kristen Thometz
---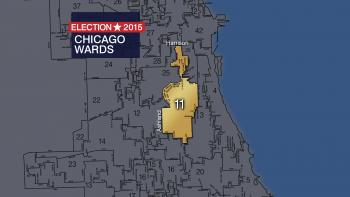 The name Daley is one familiar to many Chicagoans. It's even more familiar to the Bridgeport neighborhood, located within the 11th Ward, where Patrick Daley Thompson's grandfather, former Mayor Richard J. Daley, grew up.
It's the same neighborhood where his uncle, former Mayor Richard M. Daley, was born and raised. That Daley appointed Ald. James Balcer to the 11th Ward in 1997. Eighteen years later, Balcer is ready to retire and the 45-year-old Thompson wants to take a crack at the political action.
Thompson, who recently secured a $1,000 campaign contribution from the White Sox, is asking voters to consider his experience as Metropolitan Water Reclamation District commissioner and a former attorney, instead of his famous family name.
Labor groups, the Fraternal Order of Police and the Chicago Federation of Labor, have endorsed him. He had the Chicago Teachers Union in his corner until they switched their support to community activist Maureen Sullivan.
Sullivan, who is one of 16 women running for aldermanic positions, has an uphill battle in defeating a name steeped in Chicago politics. So does the other choice of 11th Ward alderman, John Kozlar, a law student at John Marshall Law School. Depending on who you talk with, the controversial Daley family name may work against or in their favor.
All aldermanic hopefuls will have the responsibility of cleaning up the fiscal mess that they and other politicians have left the city with.