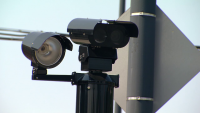 Mayor Rahm Emanuel announced Sunday the removal of 50 red light cameras at 25 intersections where the number of crashes has fallen. These cameras stopped issuing tickets at 12:01 am on Friday, March 6.
The mayor also proposed changes to the remaining 302 cameras that would "enhance the transparency, community input, and public safety," according to a news release.
Potential reforms include requiring public community meetings before alterations to cameras; hastening the installation of pedestrian countdown timers at intersections without them; and giving first-time offenders the choice to take online safety classes instead of paying the $100 fine.
Days before the announcement, mayoral challenger Jesús "Chuy" García said he'd abolish the right light camera program if elected and called it a way for Emanuel to siphon money to "his corporate backers."
Since the program started in 2003, it has generated more than $500 million in fines. Last year, the city retired 32 cameras at 16 intersections.
The 25 intersections colored yellow in the map below are scheduled to be removed. Intersections colored green are the city's top revenue-generating red light cameras, according to a Chicago Tribune investigation.
--Map by Kristen Thometz