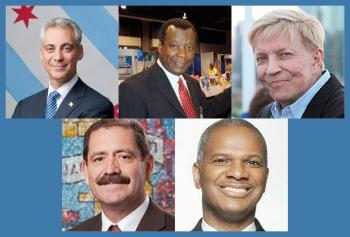 The race for mayor is now a dash to the finish line, with incumbent Rahm Emanuel dramatically outraising and outspending his opponents.
Over the weekend, the mayor pumped up his efforts to court African-American voters with a television commercial featuring remarks from President Obama's visit to Pullman last week. But will it be enough to put the mayor over 50 percent, the mark he needs to avoid a runoff? According to a new poll, that question is too close to call.
Candidates lined up their schedules today with L stops, churches, retirement homes and more – searching every corner of the city for votes.
The independent polling firm Ogden Fry has Emanuel in the lead with 48 percent, Jesús "Chuy" García  in second with 26 percent, Willie Wilson at 15 percent, Bob Fioretti with 6.8 percent, and William Dock Walls trailing at around 3 percent.
The poll has a margin of error over three which means Emanuel may or may not have the 50 percent +1 he needs to avoid going into a runoff election, in which he'd face his top challenger in April.
Perhaps that's why the mayor is taking this final push so seriously. This morning, he made a series of stops at nursing homes, stumping on his well-worn campaign themes.
But some aldermen who are supporting him may be distancing themselves just a bit – a handful are choosing not to include him on the palm cards they hand out to voters – something the García campaign says is a sign that their constituents don't like the mayor. But, Emanuel says it's not an issue.
"Every campaign is individual," Emanuel said. "I'm being very clear about the decisions we have to make for the future. People will run their own races depending on what they think it necessary."
Meanwhile, challenger García has been at it since 6:00 am, visiting colleges like UIC and DePaul making his final push to voters. García says his campaign has seen momentum in the last few weeks and says he's confident that tomorrow is not the end of the mayoral race.
"Chicagoans need a robust debate, a second round, one-on-one to drill down deeper into the issues," García said. "Tomorrow, we'll work hard to deliver every vote to make sure Chicagoans can go to round two."
Also millionaire candidate Willie Wilson and Bob Fioretti have been making the rounds. Wilson believes he'll make it to a runoff. Fioretti has been the odd man out, losing support among progressive groups, like the Chicago Teachers Union, as they've fled over to the García camp.
If early voting is any indication, tomorrow may produce a sizable turnout. So far, the Board of Elections has reported around 90,000 people casting ballots; that's up 23 percent from four years ago, but they caution it does not automatically signal heavy election day turnout.
Today, voters were taking advantage of some last minute in-person absentee voting at election headquarters at 69 W. Washington in the Loop.
Much of the turnout will be driven by the aldermanic races that are the most contested. Since there are so many that are not, it might serve to depress turnout a bit. In 2011, 42 percent of city voters went to the polls.
Watch Chicago Tonight's Feb. 4 mayoral candidate forum.
Click the dots in the image below to learn more about the candidates.
-- Graphic by Yasmin Rammohan
Click the dots in the image below to learn more about the candidates' positions on key issues.
-- Graphic by Travis Cornejo
Prior to our Feb. 4 forum, Chicago Tonight sat down with all four mayoral challengers for one-on-one conversations. Watch the interviews below. The candidates are listed in the same order they will appear on the ballot.
The last time Mayor Rahm Emanuel sat down for a one-on-one with Phil Ponce was June 4, 2014. Watch the interview below.
View a graphic of key endorsements in the Chicago mayoral race. Click the dots in the image below to learn more about endorsements received by candidates. 
--Graphic by Kristen Thometz; Eman Shurbaji contributed