When Gov. Bruce Rauner announced the hiring of former Hawaii Gov. Linda Lingle, he called the two-term Republican a "superstar governor" with a proven track record. We'll learn more about Lingle's time in office and her legacy in Hawaii from Chad Blair, political reporter for the Honolulu Civil Beat.
---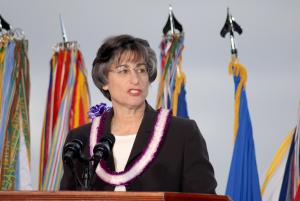 When she was elected in 2002, Linda Lingle became the first woman and the first person of Jewish descent to serve as Hawaii's governor. She was also the first Republican elected in more than four decades, defeating then-Lt. Gov Mazie Hirono.
Lingle was reelected in a landslide in 2006. During her second term, she was criticized for vetoing a bill legalizing civil unions in Hawaii and faced a contentious education debate during which protesters camped out in her office at the capitol. She ran for United States Senate in 2012 against Mazie Hirono, in a rematch of the 2002 gubernatorial race. Hirono defeated Lingle by 25 percentage points.
Lingle has been hired as a senior adviser to Illinois Gov. Bruce Rauner and is set to start serving in the newly created position of Chief Operating Officer later this year. Rauner described Lingle as a "superstar" and touted her as a key player in his bid to turn around Illinois.
Lingle is one of several outsiders Rauner's recruited to work for his administration. He has hired conservative budget expert Donna Arduin to work as the state's Chief Financial Officer on a four-month, $120,000 contract. He's also brought on Trey Childress, former COO of Georgia, as Deputy Governor.
-- Graphic by Travis Cornejo
Read Lingle's bio and view a timeline of her career.
Linda Lingle, Senior Adviser

Linda Lingle was the first woman elected governor of Hawaii, serving two terms from 2002-2010. Gov. Lingle oversaw a $10 billion annual budget and made state government more transparent, responsive and accountable. Prior to her role as governor, she served as the Mayor of Maui County for eight years, and was a member of the Maui County Council for ten years prior to that. Gov. Lingle began her career as the founder, editor and owner of the Moloka'i Free Press. She earned a bachelor's degree in journalism from California State University, Northridge. She is a native of St. Louis, Mo. 
-- Timeline by Travis Cornejo