Illinois' new Gov. Bruce Rauner gave a preview of his State of the State message today, once again outlining the massive budget problems. This time, he took particular aim at public employee unions and public employee salaries. Are state employees overpaid? Are they helping drive the budget deficit, and will today's comments affect the relationship between the governor and state workers? 
The state's largest public employee union, AFSCME, has a contract of tens of thousands of state workers that expires in June – the two sides have yet to sit down to negotiate a new one, according to the union.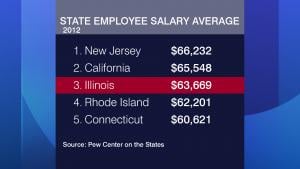 Today, Rauner spoke before a classroom of college graduates at The University of Chicago, the latest in a series of speeches highlighting the state's massive budget problems. One of his main points was the cost of state employees, saying that the actual workforce has gone down in recent years but total state payroll has gone way up. He cited numerous statistics, including the average salary of a state employee in Illinois is more than $63,000 – the third highest in the country, trailing California and New Jersey.
He also highlighted how much it costs the state to pay employee health care, saying Illinois ranked second among Midwestern states with an average premium of just under $1,200.
But that the average employee contribution in Illinois was near the bottom at 12 percent, with the state picking up the rest.
He also sought to compare the average public sector salary with the average private sector salary, finding that state government workers in Illinois make much more than private sector counterparts. In fact, 22 percent more – whereas across the country, public sector workers tend to make 9 percent more.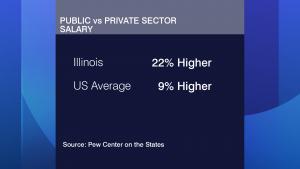 "And this doesn't count health care and pensions, and work rules and vacations," Rauner said. "When you layer in all that stuff -- big gap. Your average taxpayer in Illinois doesn't get to retire in their 50s, retire with escalators for life, or get free health care. I want government workers to have a good life, but it's got to be fair. We got to be competitive. This is completely unsustainable."
One student who was present at the lecture identified himself as a state worker and said he felt there was no incentive for him to stay in state government because a worker with his level of expertise makes much more in the private sector.
"Most of my friends that are engineers make way more than me in the private sector," said Antawn Williams, a graduate student at U of C's Booth School who currently works as an engineer with the state's EPA. "You reach a ceiling in government. I don't see anywhere where I can go after I get my MBA within state government."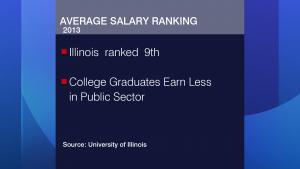 In fact, a study by the University of Illinois actually shows that workers with a bachelor's degree and above earn far less in the public sector than private sector, while workers that have not attained a bachelor's degree tend to earn marginally more in the public sector than their counterparts in the private sector.
Meanwhile, the public employee union AFSCME says Rauner's statistics don't add up.
"Public sector workers are actually underpaid versus comparable workers in the private sector," said AFSCME's Anders Lindall. "[Rauner] is comparing apples to oranges. Police officers, firefighters, [and] correctional officers obviously are going to be better compensated than a service worker in the private sector."
The hole in the coming year's budget could be as much as a whopping $9 billion, according to a new U of I study. The state is, in many instances, running out of money for this fiscal year which continues until July. Rauner has only said he plans to freeze non-essential spending. But, given the fact he is highlighting state worker costs, it's fair to presume this is an area he will be looking at for big savings, especially as a contract negotiation with all those workers looms in the coming months.
The governor also announced today some new hires into his administration, including the former governor of Hawaii, Linda Lingle, as the state's Chief Operating Officer. Read the bios of Rauner's Turnaround Team below.
Donna Arduin, CFO

Donna Arduin has established a reputation for bringing government spending under control through long-term policy planning and fiscally responsible budgeting. She is a veteran of state budget management and tax reform and as budget director, led toward responsibility the budgets of Michigan, under Governor Engler; New York, under Governor Pataki; Florida under Governor Bush; and California, under Governor Schwarzenegger. A graduate of Duke University, Arduin graduated magna cum laude with honors in economics and public policy. Prior to her career in the public sector, she worked as an analyst in New York and Tokyo in the private financial markets for Morgan Stanley and Long-Term Credit Bank of Japan.
Trey Childress, Deputy Governor

Trey Childress served as the COO for the State of Georgia under two governors. He was responsible for leadership and supervision of Georgia's 50 state departments, agencies, and boards and commissions while leading government transformation initiatives. Prior to that, he served as the Director of the Governor's Office of Planning & Budget, and was responsible for the State's $32 billion budget, annual capital outlay portfolio of $1 billion and state business planning during the unprecedented revenue losses of the Great Recession. Childress previously served as Senior Adviser and Director of Policy for the Office of the Governor with the successful passage of more than 30 signature policy initiatives in education, health care, transportation, taxation and natural resources. He began his career in public service working with the former Georgia Information Technology Policy Council, the Georgia Technology Authority and the Office of Planning & Budget. During his service, Georgia was recognized as one of the best managed states in the country by Governing Magazine. Childress earned a master's degree in public policy and bachelor's degrees in industrial and systems engineering and international affairs from the Georgia Institute of Technology in Atlanta.
Linda Lingle, Senior Adviser

Linda Lingle was the first woman elected governor of Hawaii, serving two terms from 2002-2010. Gov. Lingle oversaw a $10 billion annual budget and made state government more transparent, responsive and accountable. Prior to her role as governor, she served as the Mayor of Maui County for eight years, and was a member of the Maui County Council for ten years prior to that. Gov. Lingle began her career as the founder, editor and owner of the Moloka'i Free Press. She earned a bachelor's degree in journalism from California State University, Northridge. She is a native of St. Louis, Mo.
Read my live tweets from Rauner's speech at the University of Chicago Booth School of Business.