Theater folks famously avoid saying "Macbeth." It's considered bad luck, so it's usually referred to as "the Scottish play." It must be liberating then to be in a production of Macbeth and have to say the tormented king's name over and over again.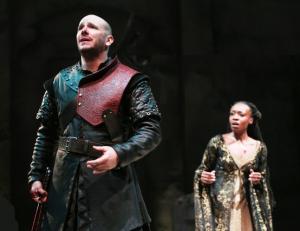 Director Kirsten Kelly ingeniously reworks the set from the last production in the Courtyard Theater, Pericles, and sharpens the focus of this brooding, bloody play.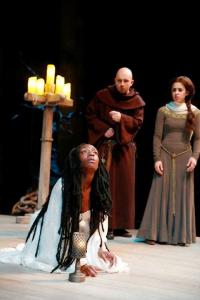 What remains is a runaway train of tragic decisions and some of William Shakespeare's boldest and most memorable moments, from Macbeth's soliloquy "Life's but a walking shadow…" to his lady's guilt-ridden cry of "Out, damned spot!"
At the top of the heap of the uniformly excellent ensemble is Lanise Antoine Shelley as a marvelously fluid and physical Lady Macbeth. She moves like a dancer possessed by a demon. And the three weird sisters are given a creepy update that might appeal to fans of recent zombie movies – they are as twitchy as they are witchy.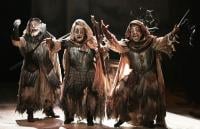 Amid the supernatual and the slaughter, you'll find an epic struggle of ambition and consequence. This action-packed, barely 70-minute production is a great introduction to Shakespeare for mature children ages 10 and up.