We check in with the leaders of Get In Chicago, a violence prevention group started by the city in response to the national attention paid to Chicago's gun violence. Jim Reynolds, Chairman and CEO of investment firm Loop Capital, and Tom Wilson, Chairman, President and CEO of Allstate, discuss the work they have done on behalf of the organization and tangible effects.
---
Chicago Tonight interviews Jesse Ruiz, a Get In Chicago board member, and Vice President of the Chicago Board of Education.
How did you first get involved with Get In Chicago?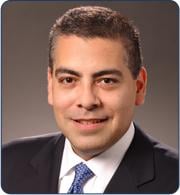 Jesse Ruiz I first heard about it through the mayor's office. [Mayor Rahm Emanuel] reached out and asked if I'd be willing to serve on the board of directors. That was two years ago. The very first meeting was held here in my office. It was in March of 2013.
What does your involvement include?
I'm on the board of directors.  And I also serve as pro bono legal counsel, helping draft bylaws and helping to incorporate us. It's basic corporate nonprofit organizational matters.
Can you talk about your experience, in regards to reducing violence and creating more opportunities for youth?
I grew up in the Roseland neighborhood of Chicago on the far south side of the city. That community has seen some challenges. After undergrad, I went back to live at home in Roseland. I was concerned about a young nephew and what he was doing with his free time.
I was asked to coach a Little League team. It must have been the summer of '89. Working with those youths kept them busy, which in turn kept them out of trouble. I would talk with them about what they wanted to do. They were about 11 years old, around that age. I coached them for four years. And so that's what sparked my interest in working with youths and seeing how you can make a difference for youths surrounded by an environment where they can easily veer off path.
Unfortunately, some of those kids have been murdered or gone to prison. But a lot grew up and studied in college or even graduated. You see that—kids who I coached for four summers, wanting to do something more impactful.  It led to my involvement with the school board because education is critical. I took them to the University of Illinois in Urbana-Champaign. The company I was working for lent me a van. I loaded it up and took them down to show them the campus. Most had never seen a college campus. But that's small scale [involvement].
When this opportunity came up, it helped focus the attention and resources in finding solutions to a problem that we all acknowledge exists. How can we harness the city's resources and get results as quickly as possible? The mayor was pivotal in bringing Tom Wilson and other CEOs and funders to the table and bringing additional resources so we can be innovative.
What's Get In Chicago currently concentrating on?
We have a design completion just released today, asking folks to innovate and be the seed funder in new ideas. There are some great organizations that are already at work in this area.
Every year, there's hundreds of lives lost to youth violence, countless shootings. There's not a second to waste. There's a great sense of urgency. How can we be more effective? How can we focus and channel to become more effective in stemming the tide of youth violence?
We have some near term success in our second summer of getting evaluations back. We keep perfecting how we go about what we do--challenging ourselves. The goal is to move this work forward in a short time frame. We can only pray we're incredibly successful because there's way too much at stake. 
---
Watch First Lady Michelle Obama speak in support of Get In Chicago.
---