Chicago Public Schools will be closed for a second day tomorrow because of the extreme weather.
So far, the start of 2015 is much like the start of 2014 for CPS students: the winter break ends, but frigid temperatures force the district to close schools through Thursday.
It was around the same time last year Chicago experienced the crippling polar vortex, causing schools to close for a couple of days at the time.
And though classes are canceled through Thursday-- buildings will be open and principals and custodians will report to schools. Teachers, though, will not.
David Belanger, principal at Hanson Park Elementary, with a population of just under 1,600 students, says it can be tricky to maintain the momentum after just returning from winter break.
"We had lots of things happening at Hanson Park today," he said. "We were going to get started with our fourth and sixth grade kids taking their Northwest Educational Association (NWEA) winter assessment. We had teacher professional development after school today. We also had some barometric screenings today at Hanson Park, for the staff that needed to do their well-being checks."
Because the buildings were open, some students could have still gone to school, they just wouldn't have had class. But CPS says very few, if any, students reported to schools today, which is why Belanger was dressed so casually.
Many parents either found backup child care or were able to stay home. But, from talking to the principal and the folks at the YMCA of Metro Chicago, who work with families, that second and third day of closings is when it gets challenging. Parents were able to take that one day off, but after a second or third day, it gets harder to explain that to the boss.
"Parents are reacting as fast as they can to find care for their children," said Stephen Vick, of the McCormick-Tribune YMCA. "I think yesterday it was called at around 5:00, and then we had to react and make a decision. So what happened, is that we got about 12 children here today at our YMCA. I think there are a few other Ys that have that number—maybe others with a little less."
Vick said earlier if CPS cancels Thursday classes and the YMCA stays open, they'll probably see more kids, because the YMCA will be able to make that call much sooner, and parents can respond and react.
On Wednesday, the YMCA, along with the Chicago Public Libraries and the Chicago Park District were able to receive students.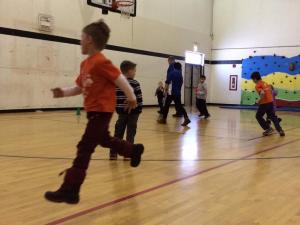 At the McCormick-Tribune YMCA in Logan Square, about 12 students showed up. The YMCA was offering its "School Days Out" program at nine of its 23 metropolitan centers. Kids get plenty of activities, two meals, a snack, and a little bit of fun.
Joey Clark, 6, said the day included painting, lunch, and a relay race.
"I kind of like school, and I kind of like the Y, so I don't want both of them to be closed forever," said 7-year-old Sam Clark.
With schools closed again Thursday, parents have numerous options on where they can take their kids. For Friday, CPS is monitoring the weather conditions, since the highs are again predicted to be in the single digits.
-- Travis Cornejo contributed to this report.