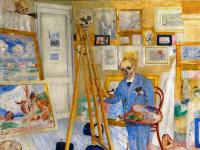 Think of a Belgian painter of strange images, and the surrealist Rene Magritte may come to mind. But another artist from Belgium made provocative pictures that are arguably weirder than the paintings of Monsieur Magritte.
James Ensor was a creator of paintings, prints and drawings in the late 19th century. He worked out of the attic in his parents' home, creating visionary works that defined the avant-garde and influenced artists of the 20th century.
After an early career exploring conventional subjects like seascapes, Ensor rejected the French Impressionism of the era and began to populate his works with devils, skeletons and grotesque people. He skewered authority figures with derisive glee. One of his more nightmarish images is "Skeletons Fighting Over a Hanged Man" (see slideshow).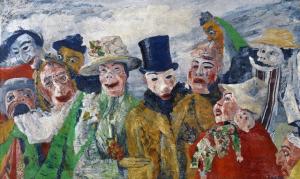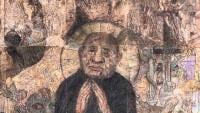 The centerpiece of The Art Institute show is a large work acquired by the museum in 2006. The Temptation of Saint Anthony is nearly 6 feet tall and made from 51 separate drawings. Obsessively detailed, the drawings show the saint with his eyes tightly closed to the evils that swirl around him.
The work was painstakingly restored by The Art Institute because it had been damaged by a bomb blast during World War II. James Ensor had chosen to stay in Belgium during the war, and he kept this masterful work on view in his home where it was hit with shrapnel during the Battle of Belgium. Ensor survived the war and died in 1949 at the age of 89.
For the first time, The Art Institute has made an online catalogue free for a temporary exhibition. The scholarly volume delves into the history and context for Ensor's works, and it details the restoration of The Temptation of Saint Anthony.
After perusing the catalogue, you'll want to see the work in person. Temptation: The Demons of James Ensor exhibition continues through Jan. 25, 2015 at The Art Institute of Chicago.
View a slideshow of Ensor's work.