Last week, the General Assembly passed the Illinois Secure Choice Savings Program. Gov. Pat Quinn is expected to sign the measure into law before leaving office, and in doing so will make Illinois a pioneer among states looking to defuse a retirement time bomb.
In 2012, California Gov. Jerry Brown signed a bill into law which will eventually require businesses with five or more employees that do not offer a retirement plan to enroll them in a new type of savings plan based on IRAs. The state of California has established the California Secure Choice Retirement Savings Trust and board to oversee the program, which has started a market analysis and feasibility study. Several other states, including Oregon, Vermont, and Connecticut, are evaluating the feasibility of establishing a public retirement plan.  
The simple fact is that most Americans do not save enough for retirement -- a retirement savings deficit that can be counted in the trillions. Under Illinois' new plan, employers could divert 3 percent of an employee's paycheck to a state sanctioned Individual Retirement Account or IRA. State Sen. Daniel Biss, one the chief architects of the bill, explains the new law that will impact 2.5 million workers.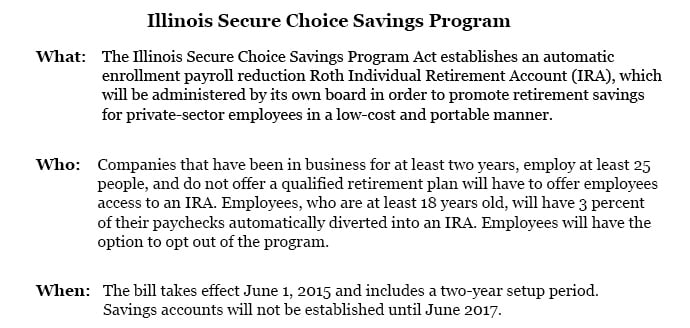 A new board, the Illinois Secure Choice Savings Board, will be established to oversee the program. Click the dots to learn more about the board and its composition.
The percentage of workers confident about having enough money for a comfortable retirement increased in 2014, according to the Employee Benefit Research Institute. Each year, the institute conducts a Retirement Confidence Survey, asking respondents to rate their level of confidence—from very confident, somewhat confident, not too confident and not at all confident—on a variety of retirement issues. Click the graphs below to learn workers' confidence in having enough money to live comfortably throughout their retirement years, their confidence in having enough money to take care of basic expenses in retirement, and their confidence in having enough money to take care of medical expenses in retirement.  
The Secure Choice Savings Program was one of several bills passed by the Illinois General Assembly. Click the red dots to learn more about the bills.