As a Democrat who voted for Republican Bruce Rauner, former chairman of the Federal Communications Commission and adviser to President John F. Kennedy, Newton Minow, joins us to talk about his 10 tips for our new governor-elect to help make him an effective governor. The day after the election, Minow's op-ed ran in the Chicago Tribune. In March, Minow penned an op-ed in the Chicago Tribune detailing why he was voting for Rauner in the November election. 
View a timeline of the state's governors.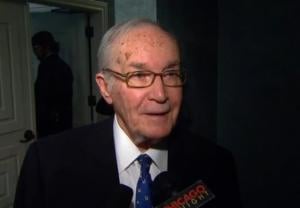 Minow, a WTTW trustee emeritus, has been senior counsel to the law firm Sidley & Austin since 1991. Prior to that he was a partner with the firm from 1965-1991. In 1961, President John F. Kennedy appointed him to serve as the chairman to the board of the Federal Communications Commission. During his inaugural public address as chairman to the board of the FCC, Minow described the programs on TV as a "vast wasteland."
He served in the Kennedy administration until 1963. Minow served as a law clerk to Fred M. Vinson, Chief Justice of the United States, and as Assistant Counsel to former Illinois Gov. Adlai E. Stevenson. During World War II, he served as a U.S. Army sergeant in the China-Burma India Theater. He graduated from Northwestern University, where he is the Walter Annenberg Professor Emeritus. He's the recipient of 14 honorary degrees and numerous awards, including the American Bar Association Silver Gavel Award, Federal Communications Bar Association Lifetime Achievement Award, and the American Lawyer Lifetime Achievement Award.