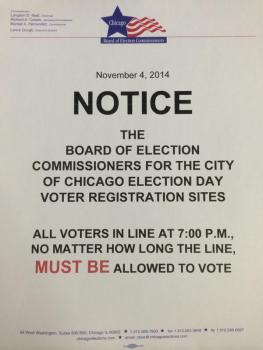 Chicago voters turned out in monumental numbers for same-day registration and voting today causing long lines at all five sites. The Chicago Elections Board reported that it had moved additional equipment and judges to those locations to help move lines along. Notices have also been posted indicating that all voters in line at 7:00 pm, MUST BE allowed to vote.
Despite the massive lines, voter turnout in Chicago is projected to be "nowhere near" the 53 percent turnout of the last governor's election, according to Chicago Board of Elections spokesman Jim Allen.
"It was a rocky start in a number of polling places where we had insufficient judges and/or equipment issues with electronic poll books taking too long to boot up," said Allen. "In most locations, the judges were on hand and able to start administering ballots."
Allen says that they are asking the court to extend voting hours by one hour at six locations for various reasons. The following precincts and wards affected are below:
Precinct 9 - 49th ward - The Leona's restaurant at 6935 N. Sheridan Rd did not open. "We had to force the door open at 7:30 am. That was an issue with the proprietor," said Allen.
Precinct 36 - 46th ward: Condo building at 3550 N. Lake Shore Drive. "The ward had only two judges, and they could not get the equipment set up and began advising voters to go to 69 W. Washington downtown to vote. We sent an investigator and a backup team and the polling place opened at 7:30 am."
Precincts 35 & 41 - 5th ward: Condo building at 1700 E. 56th St. "We are not sure why but judges at that location could not locate the election supply carriers. We sent an investigator who got there and located the two election supply carriers at either end of a basement area and it was opened up at 7:10 am.
Precincts 25 & 39 - 3rd ward: Soka Gakkai International at 1455 S. Wabash. "They did not get the polling place set up completely until 7:58 am."
View a map of the locations staying open until 8:00 pm.
Also, standby election judges were called to report to polling places as several election judges didn't show up after reportedly receiving malicious and misleading robo-calls.
"We will do a thorough examination. We are concerned about the robo-calls and the allegations that people were told they had another training session to attend or that they had to vote a certain way," said Allen.
In response to reports that some voters had to wait in line for more than two hours for same day registration and voting at the downtown precinct, Allen says "we've had grace period registration going on since October 8th. This is a program that's for procrastinators who blew the standard registration deadline. We've seen this happen in a presidential election. It's a very time-consuming process."
---
Check out the top issues in Illinois that are being tweeted about today.