This summer 500,000 people in Toledo had their drinking water cut off due to a toxic algae bloom in Lake Erie. That led 40 million people, who receive their drinking water from the Great Lakes, to question the quality of their drinking water and whether it was at risk. The Clean Water Act of 1972 had been remarkably successful at cleaning up the Great Lakes by imposing tough regulations to control pollution from industry and waste treatment plants. But one area of pollution was left unregulated, agricultural runoff. Elizabeth Brackett details the latest efforts to protect the Great Lakes drinking water.
For additional information on "Pay for Performance" contact Winrock International, Sand County Foundation and the Delta Institute.
---
To combat the growing pollution problem, nonprofit organization Everglades Foundation promises a lofty prize to scientists who can develop a technological solution. Last week, the organization joined Mayor Rahm Emanuel and the Great Lakes & St. Lawrence Cities Initiative to announce, "The Grand Challenge," a $10 million science prize to anyone who can successfully develop and execute a process to remove excess phosphorus from waterways.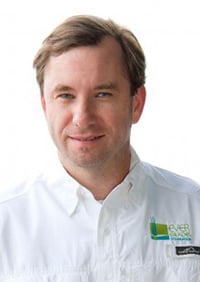 Read an interview with Eric Eikenberg, CEO of Everglades Foundation.
What is the Grand Prize Challenge?
The Everglades Foundation is looking to find technological solutions to removing excess phosphorous from lakes. We decided we would create a $10 million multi-year prize competition for this problem. We're hoping this competition will bring technology innovation to the market. We're excited for this and hope we can come to a breakthrough. The technology will be tested in warm and cold water. The winner has to prove that it works in cold climates. This is not a prize centered on a specific region, state, or water body. This is a global problem that needs a global solution. Government can't do it alone.
Why did Everglades Foundation create this challenge?
In Florida, the water quality is vital to a healthy Everglades. The problem that the Everglades are having is too much excess phosphorous. There's phosphorous in the lakes coming from agriculture and runoff, and this caused water quality problems for Florida. The key moment was last summer. Lake Okeechobee filled up with heavy rains, and there was a concern that the dike was going to release. So it would have cost millions to clean up. We needed a technological solution. And in August this year, Toledo had to shut down its drinking water for three days. National attention and the need for change is why we created this challenge. We got word there was a summit taking place, and we were invited to Chicago to announce this competition. What Toledo has taught us and the challenges here is the current practices aren't enough. We need a game changer. People are looking for a solution that has a scalable impact. It has to be scalable, workable and it has to remove the phosphorus for the Everglades.
What's the timeline for the challenge?
The goal is to have the prize conclude in 2022. Mid-month, we'll solicit third parties to manage the prize. The prize is already designed but we need a third party to manage it. February 2015 we will formally kick off the process. We will continue conversations with federal and state agencies. Once we launch in 2015, our hope is to begin to accept applications. During the seven-year competition, there will also be various sub-prizes that total $1 million. If [participants'] data, research, and technology meet the criteria, they could win the various sub-prizes.
How will Everglades Foundation work with the winner?
Once the prize is awarded and we find a technological breakthrough, the idea here is to allow them to market that technology to companies and the government, and have that technology implemented. We want them to market it, so we can see positive results on the environment.
Why is phosphorous pollution hazardous to the water?
Phosphorous pollution comes from phosphate. Phosphates are then composed as phosphorous for fertilizer. People use it for food, lawns, and to grow things. It's a component for growth. The problem is too much excess phosphorous. When there's too much and it gets in the water, it produces algae. Algae can then cover the water supply, kill fish, and diminish healthy drinking water. There are many health risks. It's a public health concern but also water quality concern. There are a handful of phosphate mines around the world. There was a report that shows diminishing phosphate mines around the world.
Interview has been condensed and edited.